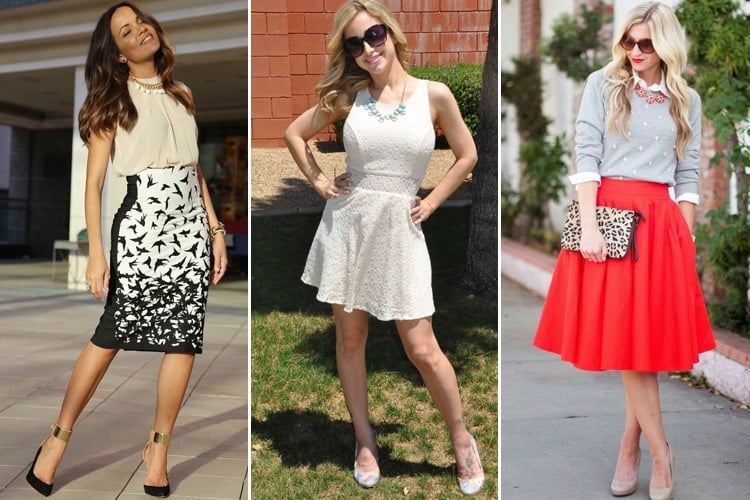 You know there was a time when most church going ladies had to face the fear of what will people think if they go dressed in shorts or flip flops. Naturally, such kind of wardrobe would attract stares from fellow church goers, especially if you are seated a few rows ahead of them.
In biblical times, wearing robe-like cloaks was a common practice among men and women along with sandals. Today, the call is what to wear to church, when going to seek blessings from Jesus Christ.
[Also Read: Spring Outfits Ideas For Women]
Take Inspiration From The Below Listed Church Outfit Ideas
I have rolled up some church outfit ideas that are simple, modest and somewhat conservative plus also things like what not to wear to church. Jesus is a great listener and when he sees you dressed suitably while praying in a church, he might grant your wishes. Here are some tips on what to wear to church which should do you good.
Rule 1
A church is a place of worship, not a place to flaunt your long legs. So by all means wear skirts but those that are long enough to hide your skin show. Sometimes beauty is best when shown less.
So make sure that while deciding on what to wear to church, you keep your shorts and skirts at the back of your closet.
Rule 2
Try not to wear any clear or transparent dress. Tank tops, or for that matter tube tops can be worn but wear undershirts beneath that.
The below kind of tops are a strict no-no for church. Always remember this dress code for church.
[Also Read: What To Wear For Thanksgiving]
Rule 3
By all means take into account which kind of church you will be attending. Sometimes dress code can vary between churches.
Rule 4
The bottoms that you wear to a church should be appropriate. They can range from nice looking casual or formal skirt to pants.
Baptist and some independent churches expect you to wear longer skirts. And so a maxi (ankle length) or midi (calf length) skirt would be following the rulebook. Whereas Catholic and Protestant churches are a bit liberal and like you to wear skirts that reach or cover your knee. If mini-skirts and above-the-knee dresses are on your mind then save them for the rest of the week i.e. non-church days.
If you are thinking what to wear to church in summer, then we would suggest you opt for maxi dresses and avoid the below kind of dresses.
Rule 5
Ladies are expected to cover their head when they go to a church. But do your research before visiting a church whether you need to do that. Head-covering is a rule in Eastern Orthodox churches and some Southern Baptist churches.
[Also Read: Awesome Ways To Wear Plaid Skirt Outfit]
Wear a hat (not a baseball cap though) in order to cover your head. You can also wrap around a scarf or a shawl or any piece of fabric around your head so that most portion of your hair remains covered.
Once again there is a variation between a Baptist and Catholic church. In the former, a hat is okay, whereas in the latter, a chapel veil or mantilla is allowed. In an Orthodox church, a hijab style covering is expected more.
Ladies church suits can be accessorized with the right hats. Take a look at the below image.
Rule 6
A nice looking shirt makes terrific sense when it comes to church outfit ideas. But try and evade a low cut dress. Though collared shirts and blouses are good to go as far as young women are concerned, but they are not required that much.
[sc:mediad]
It goes without a saying that the below kind of dresses should be completely avoided while deciding on how to dress for church.
Rule 7
Ripped up jeans are a no-no. Since you are in the presence of God, you have to show respect as much as you can. If your question is can you wear jeans to church, yes you can. But make sure you don't wear crop tops, spaghetti straps or show too much of your cleavage.
We sincerely pray that you give your ripped jeans a rest on church-going days!
Rule 8
As far as girls go, closed-toe shoes are appropriate. Flats are welcome so try to keep the heel low. Avoid flashy and over the top shoes. The main thing is to keep it casual, but neat.
Rule 9
The outfit you wear to church should be such that you can easily wear it to the cafe or cinema without feeling the need to change it.
[Also Read: How To Style Your Sequin Skirt Outfit This Season]
Rule 10
When you are at the church, stick to using simple accessories. No flashy or disco shimmers, no sunglasses and no heavy perfume and make-ups. Wearing loud and eye-catchy attire is a no-no.
Rule 11
With white being the color of peace and tranquility, you can stock up your wardrobe with some white church dresses. Take a look at some of the elegant church dresses in white.
Rule 12
Take a look at the below image to understand what to wear to church in winter. The best option would be to wear a long sweater over tights and pair it with ankle length boots. You could also add a scarf or a beanie cap to keep the chill away.
Rule 13
Church is definitely not the place for you to go all flashy and show off your high-style. You need to respect the place and environment and dress accordingly. This does not mean that you have to be dressed formally. You can also wear casual church outfits.
Now that you know what to wear to church, how to dress for church, various outfit ideas for church,how to wear woman's church suits and hats, etc., do tell us your thoughts about the same.