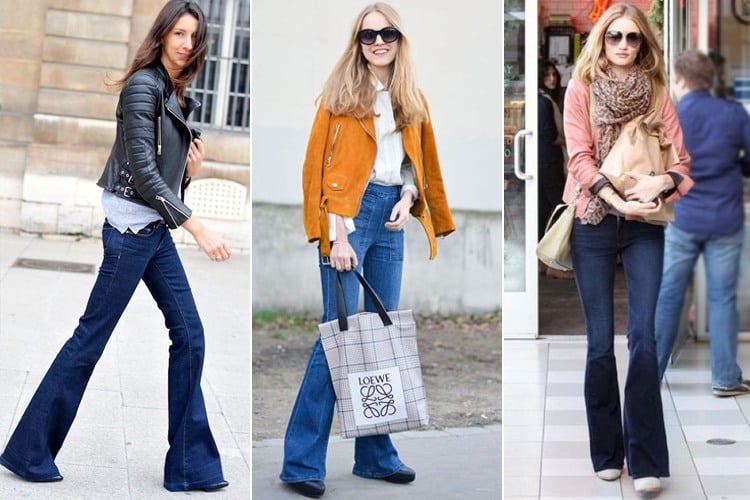 Wearing flared jeans may remind you of the 70's no doubt, but they were admired then and are back in vogue in 2016. Flare jeans are an exciting prospect after the prolific penetration skinny jeans and has already captured the hearts of many again. But to get the perfect look, flare jeans should be worn right and here we will discuss a few to rules on how to wear flare jeans right.
How To Wear Wide Leg Jeans a.k.a Flare Jeans: Styling Tips
Here are a few styling tips on how to rock that wide leg jeans, also known as flare jeans.
1. The hem of your jeans should not be too long or too short but should hit the perfect spot of your chunky sandals to get that perfect look and wear the jeans right. Too short or too long flare jeans look bad and not cool at all. So always keep this in mind and get the right length for flare jeans.
2. Play with the volume, layering should be sensible. Three quarter trench coat above these flare jeans help to bring out their fluidity or team it up with flowing kimonos for a boho-vibe.
3. Embrace the high-waist, though it may sound a little out-dated but the style suits best with flared bottoms. It will superbly flatter your figure by adding a bit of structure when flaunting loose ends! Fine-tune your silhouette by adding some serious heels.
[Also Read: Bleaching Jeans]
4. Accentuate your look by adding a waist-belt. Flare jeans with belts look great as it adds some structure to flowing lowers and lends a simple, staple, streamlined appearance. Alternatively, you can tuck-in your shirt or t-shirt to rock this 70's style.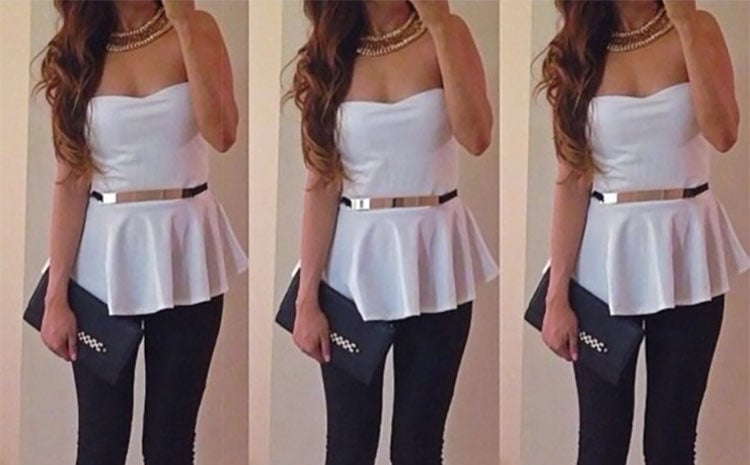 5. Heighten the fun quotient by pairing your flared denims with neon jackets or pattern bags. The pop of colour with distressed flares will add vibrancy to the entire look and exude the playful aura in you.
[Also Read: What To Wear With Flare Jeans]
6. You can also make your flare jeans look professional with a solid button down top and a fitted blazer. So inspite of the denims and the flared one, you can look all proficient and business-like. Complete the look with pumps and sexy pair of glares. Include this style in your "Friday office wardrobe".
[sc:mediad]
7. Break up the proportions to avoid looking bobbly. Look casual chic with a tank top and a long flowy vest or scarf. Alternatively opt for crop tops, but ensure your high-waist flared denims does not showcase any midriff slip-ups.
8. Getting the shoe right is also a part of wearing the flare jeans right. High-heels or wedges bring fluidity to these pants and balance the bottoms. Flats, sandals or sneakers should be paired with caution with flared bottoms to avoid looking like a sloppy teenager.
9. Give a contemporary twist to vintage fashion with a pop of colour. Opt for tinted wide-leg jeans or try one with patterns! Turn up the punk quotient with bright, funky shades. Keep rest of the look minimal to avoid looking over-the-top or gaudy.
[Also Read: Ways to Style Those Sexy Bell-Bottoms]
10. Take your flares look from casual to classy in no time by paring your denims with flowing silk shirt. Just make sure it does not have too much frills else it will lend a much bulky appearance.
11. Fitted tops or sweaters are a great way to balance out when wearing flared denims as the lowers are loose, else would make your figure appear broad and bloated.
12. Denim on denims in similar hue is the sabotaging style element and fashion quotient, don't make this blunder when teaming your wide leg jeans. If at all teaming with a denim jacket make sure the jeans is distressed or the jacket washed.
13. When opting for flared jeans make sure the denims are fitted up to the knee and then flare out in a subtle manner, being widest at the bottom.
14. Don't wear the same denims with flats which you pair with heels. You may end up opening the hem or tearing the bottoms of your pants.
If you have been an ardent skinny jeans follower but don't love the claustrophobic feel it lends, you can wear the wide leg denims. If you are flare intrigued, but confused on how to wear your flare jeans, we have rounded up a list of definitive do's and don'ts to look suave and sexy even in this 70's style!