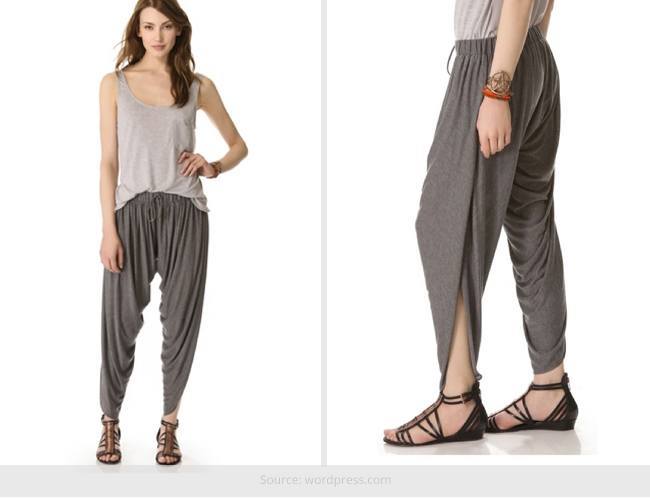 Harem pants originated in Persia, around the 16th century. The world got to know about this particular style of pants through exotic belly dancers of the Middle East who frequently wore it during their performances. Harem pants have a loose fit with the fabric gathering at the ankles to form a billowing structure. These pants have enjoyed on and off success with the fashion world. It has become more of a fashion statement than a symbol of rebelliousness, the harem pants do stand as a symbol of a free-spirit, one who is not bound by society's ideals.
Here's How To Wear Harems The Right Way
People seem to either love the harem pants for the comfort and laidback style it has to offer, or hate it for its shapelessness and bulkiness. If you belong to the first category, then this article will be helpful in guiding on how to style your harem pants with tees to create a fusion look.
[Also Read: How to Cut a T-Shirt]
While you can wear your harem pants with pretty much anything from shirts to sweaters and camisoles, razor-back tees are a particularly great choice as they are styled along the same lines as harem pants – with comfort as the focal point.
1. Harem with Razorback Tee
You can wear your harem pants with a braided racerback t-shirt (like the one showed in the below picture) and put up your hair in a bun to show-off the back.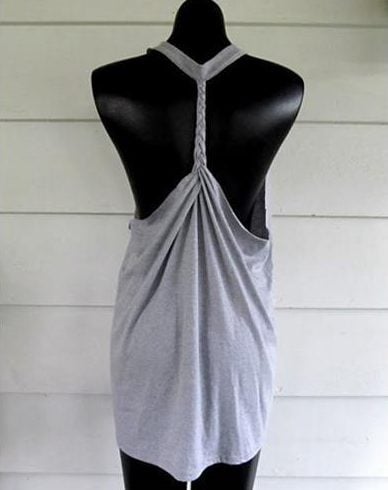 Or how about this spiderweb racerback tee? Wouldn't it look super cool with black leather harem pants? You can wear them for a night out of clubbing.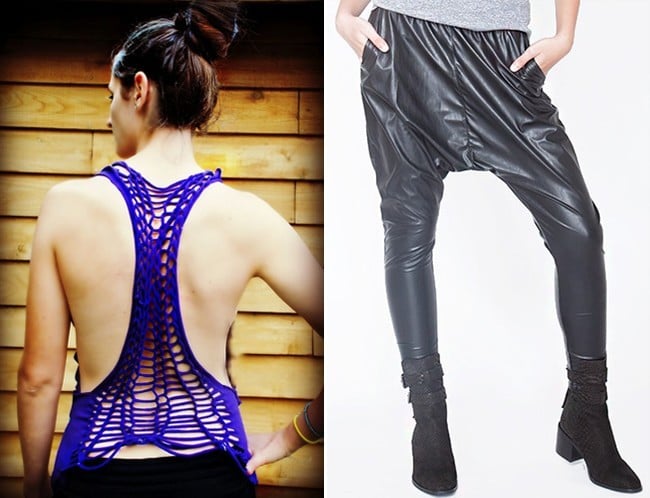 There are so many options and looks, that you can create with racerbacktees and harem pants. You can combine bold printed harem pants with neutral coloured racerbacktees (shades of grey, black, and white) to keep the look casual.
[sc:mediad]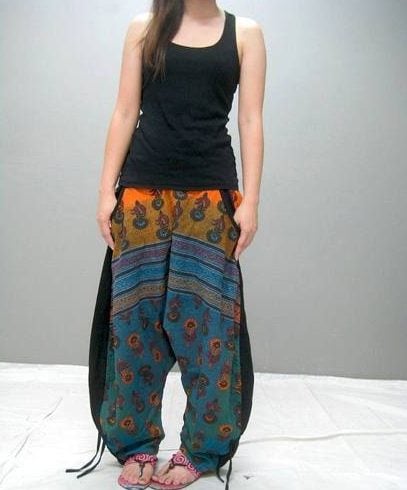 2. Harem with Leather Jacket
A simple tee with a leather jacket atop is a casual day out an outfit, looking sophisticated and trendy, all at once. A stylish pair of sandals or wedges will complete the teamed look. As we all know, a leather jacket adds oomph to any style which applies in this styling too.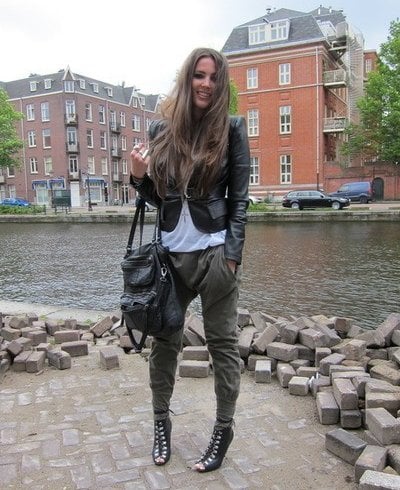 3. Harem Pants with Crop Top
As tricky as harems can be to pair, the crop top craze never fades and there are crop tops of every kind. Harem pants can be accessorized with a crop top and accessories to your choice to keep the look chic. This look works best for taller girls and gives a classy outlook. So, harem pants with a crop top are your easiest wardrobe hack!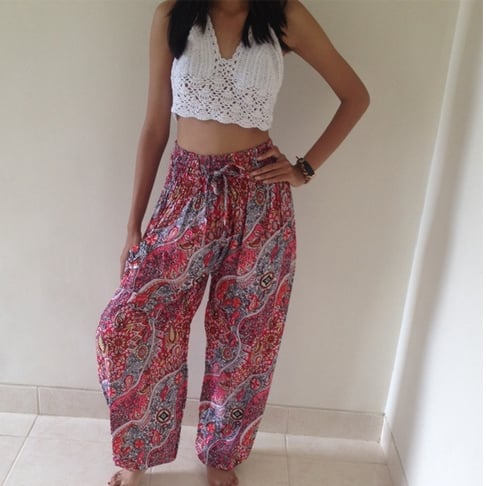 4. Harem in Street Style
Street Style is something that we all love to drown in cause there is nothing as comfortable and chic as that. What top to wear with harem pants? So pick a tee the same colour as your harem pants, and match it with a contrasting jacket that'll set in the right style.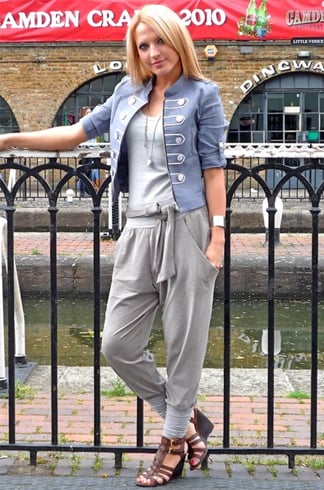 Where To Wear The Trendy Harems
Be extra comfortable on a date, in harems, instead of that little black dress that you're so conscious about. Harems can be worn anywhere, you name the occasion and harems have a solution to your fashion style.
Let's see a few places where the harems are rocking it.
5. Harem On a Beachy Day
So a beachy day calls for harem pants too. An almost full sleeved top with puffy sleeves calls for the best pairing with harems, as it even proves to prevent a tan on our arms. The right shoes, whether flats or pumps, would be the perfect cool outfit to go out on a sunny day and embrace your beach side.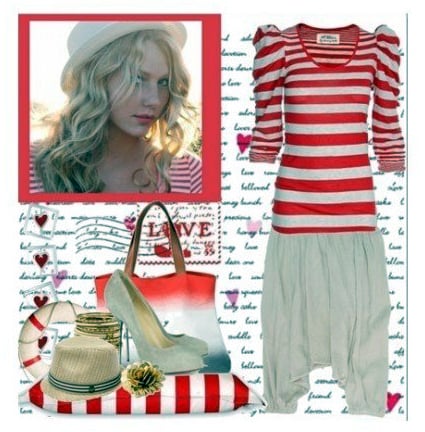 6. Harem In winter Cold
So winter calls for jackets and sweaters, everything remotely warm. So how would you use harem pants to your advantage here? Harem with a tee, paired with a stylish denim jacket does the trick. Be sure that the tee is contrasting to the harem pant, in order to look prim.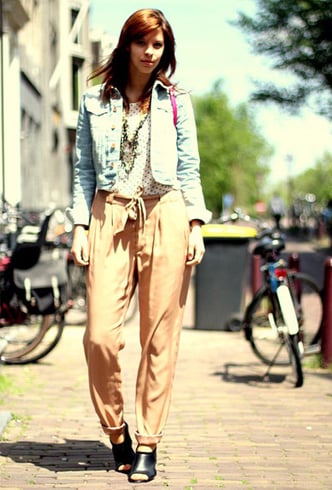 7. Harem to your Dance Class
Those harem pants that you bought because they looked so unique and swagger? Still not able to pair them or wear them on a day out? So, why don't you wear them to that dance class you've always wanting to attend? Pair these harem pants filled with swag with a casual tee and look dance ready.
Whether or not to tuck in your tee depends on the length of the tee and the length of the harem pants. Just go with your instinct and whatever you feel looks good. There are no definite dos and don'ts when it comes to wearing harem pants.
So go ahead and try this combination of harem pants with numerous styles on endless occasions and seasons. You can even add a blazer and scarf to make it a layered look.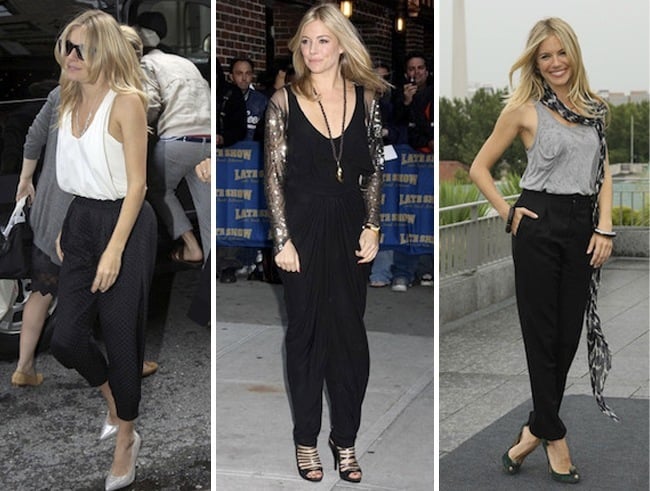 Here are some celebrities who wore harem pants. Who do you think nailed the look and who looks awkward in it?
Images Source: Pinterest