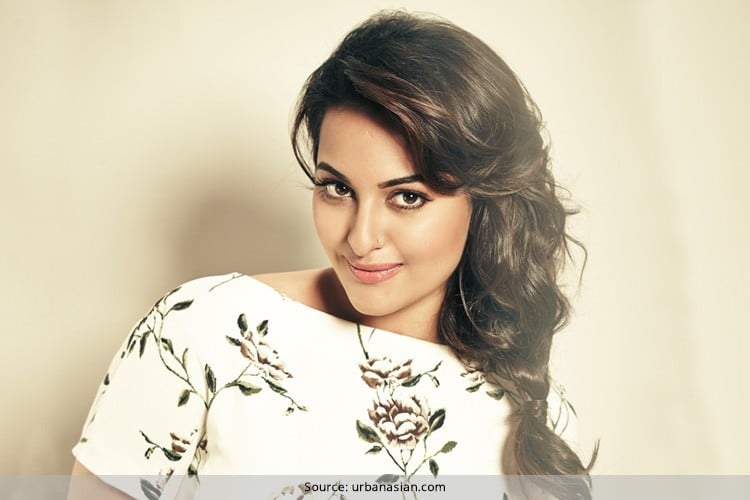 I just don't get it why people stereotype Sonakshi Sinha as a typical "gaon ki gori." Yes the girl has some striking Indian features, but shouldn't that be a complement? I mean ask any Sona fan and they admit to fantasizing about the actress in sarees and braids. Like okay, I don't disagree she has rocked the plain village belle to death, but she can certainly style in a million different ways, and play around with her hair as well. Take a look for yourself at Sonakshi Sinha haircut and hairstyles.
[Also Read: Sonakshi Sinha Fashion is All About Curves]
She just doesn't need any makeup. That is exactly how glowing the Dabangg star is. On a regular day at her terrace, like you or me, she bundles up her hair carelessly in a messed up bun and secures it with a clutch. Is not she just the girl next door, yeah the girl next door who is also a Bollywood star.
Sonakshi Sinha Hairstyles For You to Replicate
Yayyy!!! Cheer up guys, coz this is how the shotgun junior ties her hair when shows up in your dreams. Sonakshi Sinha's hair secret here is a bottle of coconut oil into her hair and after 30 minutes of head massage, tied her hair up in a braided and made you cardamom tea. But you guys know it better that you would ditch a super model for this simple one, won't you?
1. Hair Braid
But Sonakshi knows how to transform from a plain looking village Belle to a gorgeous Bela of the ball in a minute. And her manes have a major role to play in her transformation. In a carefully messes up up-do emerging from a side partition Sona is the ultimate queen of glam. And because she is wearing the no-make up look in this photo shoot, her hair is basically doing all the talking. Those loose curls hanging about her face make the look super feminine.
2. Messy Hair
From messy buns let's move towards messy braids. Side swept braids were never the kind of fun this woman makes them look. Not to mention that her face is absolute gorgeous here, but let's focus on Sonakshi's hair style for now. She curls her mid-length hair, teases them to add some volume, and then pulling them aside, confines those mad curls in an easy plait.
3. Side Corn Rows
From super feminine, to super edgy – here is another hairstyle of Sonakshi Sinha. Somehow this picture and the look reminds me of Demi Lovato, but may be that is just me. What the actress has done here might look complicated but let me break it down for you. Sonakshi's Sinha's hair cut in this pic is the good old bob which is divided by a deep side partition. And then she secured the side with less hair with two corn rows and tucked them with bobby pins.
Now if you are curious as to what exactly wheeled Sonakshi's love for corn rows, I might take an educated guess. How about this scene from Holiday? When a delicate diva turns into a fierce fighter, this is perhaps how she looks. With a sweat washed face at the arena, she is all set to get the enemy. Just to make sure her locks don't cause any interruptions, she tied them into rows and rows of corn rows.
4. Short Blunts
And here is Sonakshi Sinha's Short hair appearance again. During an interview the other day, the Holiday actress showed up rocking some fiery red on her hair, and who on Earth can help falling in love with Sonakshi Sinha's hair color here. While mostly the Bollywood girls go for streaks, Sonakshi knew ombre was the new 'in' thing and did just that to her lob.
Sona chose to go full on retro for this one and textured her lob into beachy waves. Further she opted for a dramatic pouf, signature to the retro style, and backs it up with a girly bow hair band.
[Also Read: Celebrity Hair Makeovers That Left Us Shocked]
5. Curly Hair Don't Care
Curls owe their fame to Madhri Dixit, but sonakshi does a god job in replicating the dhak-dhak girl's signature hair do. Parting the hair at the side, used a curling wand to style them. The trick with this one is that the curls are big to begin with and get tighter towards the tip.
[sc:mediad]
6. Side Swept Fish Tail
Another side swept plait but totally different from the one above. We can make out that she started weaving the front hair into a French braid. But that intricate fish tail brad hanging by her neck is to die for.
7. Poker Straight Mane
Not much to do with hairstyling here though, I find this look extremely interesting. What you take away from this one is with plain poker straight hair divided at the center you can look one hell of a goddess if you know how to use some unique hair accessory.
Phew!!! That was quite a task. Even I didn't quite gaze that Sonakshi had worn so many different hairstyles, each better than the other. I can't decide which is my favorite, can you?