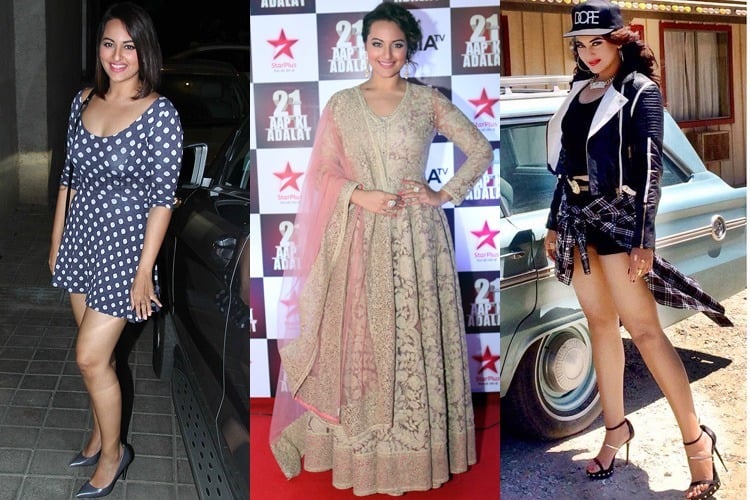 On a very popular show, Bollywood diva Sonakshi Sinha was once asked by an audience member, why she wasn't aiming to be thin like other divas around, to which she candidly with a hint of sarcasm replied "I am here to be a hero and not to aim for size zero"- ENOUGH SAID! The audience cheered and the bloke who asked her that question sat down with a mouse face.
Dear girls with plenty of curves, it is your confidence that does the talking and not the shape of your body. Anyone telling you otherwise should be shown the door, no questions asked! In line with the gorgeous Bollywood diva's stance, here are a couple of Sonakshi Sinha fashion trends that you as a curvy lass can emulate and look haute. Read on!
Sonakshi Sinha Style
Sonakshi Sinha In Black Saree
Even in a gorgeous black saree, the waist chain looks sensual and with the Bollywood diva wearing it, she looks hot and sizzling, isn't it? If you have baby fat around your waist and would like to accentuate the hips, you could also try and emulate the Sonakshi Sinha fashion trend.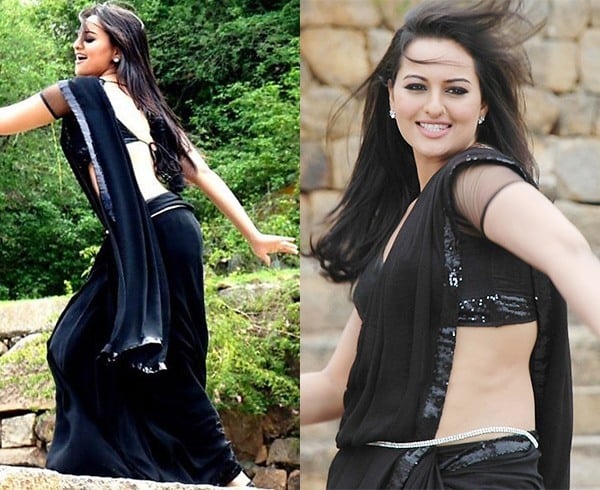 Sonakshi Sinha In Lehenga
A tip for the girls who have a little weight around the torso and the abs, and would like to wear their favorite Indian ethnic ensembles, stick to long tops and keep it minimal above, while your lehenga or the skirt below can grab attention in chunky embellishments.
Sonakshi Sinha In Black
A deep V Neck long black dress as worn by the diva and one of the hottest Sonakshi Sinha fashion trends seems to draw the eyes more to the neckline than areas she doesn't want to flaunt. An amazing style tip for those who want to flaunt their curves and dress chic too!
[sc:mediad]
Sonakshi Sinha In Nilkhil Thampi Dress
Chunky large waist belts instead of the thin one helps the actress flaunt her curves and brings about one of the coolest Sonakshi Sinha style factors in a mermaid ensemble for evening wear, don't you think?
Sonakshi Sinha In Abu Jani Sandeep Khosla
Flattened poker straight hair tied into a ponytail helps contour the round face, creating an illusion of slimness on the neck. An ombre shaded ensemble draws more attention towards the feet than any other part of the divas' personality, making her look tall and slim.
[Also Read: Reasons Why We Love Sonakshi]
Sonakshi Sinha In Blue Ritu Kumar Saree
When you learn to drape your saree right, even when plus size and wearing a netted blouse or sari, you would have the confidence automatically to flaunt those curves, without inhibitions. As seen on Sonakshi, the saree and blouse are embossed with chunky motifs at the right place; drawing no ill-eyed attention to the problematic zones.
Sonakshi Sinha In Nude Sabyasachi Floor Length Anarkali
We've previously mentioned in our posts that long sleeves in net or lace can help camouflage bulky arms, and Sonakshi proves just that in one of her chic numbers. What we love about Sonakshi Sinha is that she flaunts her curves without bothering about the media critic's talks.
Sonakshi Sinha Wearing Manish Malhotra
In a simple pink saree with yellow borders, Sonakshi Sinha looks every bit the haute diva plus sized PYTs can relate to. Sonakshi Sinha height is further accentuated with the drape of the garment, which twirls pretty around her curvy hips and on the shoulder too.
Sonakshi Sinha in Polka Dot Dress
A polka dotted skirt is all that you would need to wear when going out with the girls for coffee. Polka dots help balance the look of a broad shoulder and waistline, plenty of curves; creates an illusion of height too.
Sonakshi Sinha in Crop Top and Skirt
Distract the onlooker with a chunky neckpiece, a cropped top in full sleeves and a floral long skirt for the spring summer parties that you would be attending. Do it like Sonakshi and wear heels to further accentuate the look!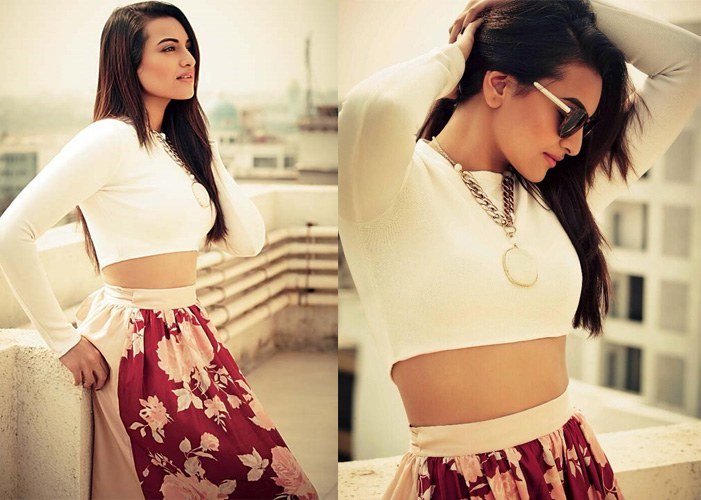 Sonakshi Sinha Photo Shoot
Says who that girls with plus size bodies cannot wear hot pants? Take a look at how Sonakshi wears it!
Inspired already with the plethora of cool Sonakshi Sinha dresses and trends? Now's your turn to up the ante, go right ahead and make a splash!