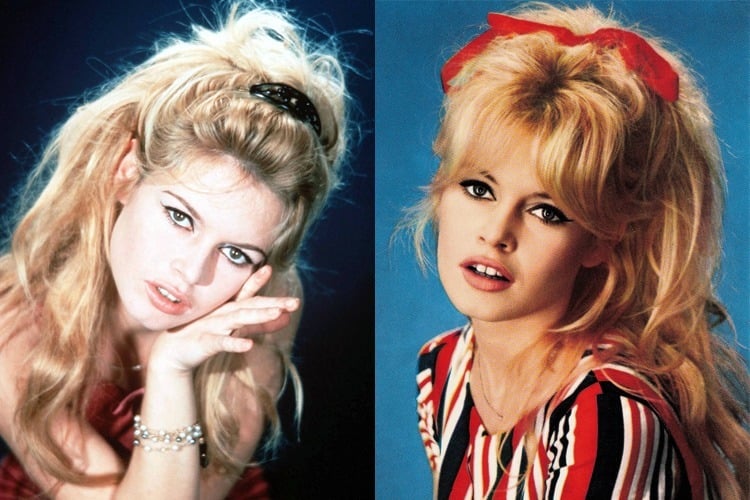 There is always something magical and beautiful about the vintage days gone by; their fashion sense and chic looks especially. Agree or not, most of us PYTs would take time out to emulate the old-world glam sham sometime or the other, wouldn't we? Maybe with the girls over coffee or alone at home on a lazy Sunday noon, but we surely would want to try a vintage look out. So here it is, the Brigitte Bardot hair tutorial for us all to know about and learn from.
BRIGITTE BARDOT STYLE
Talking about Brigitte Bardot fashion style, and to complete the look since you have done her hair on yourself so well, here are your options!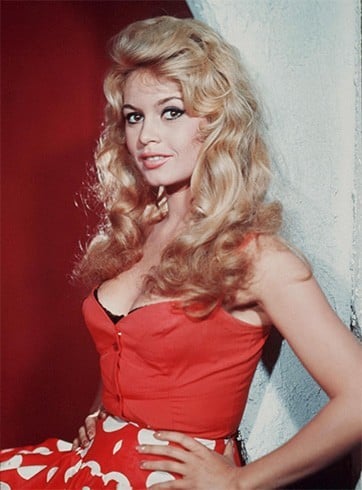 1. A sleeveless top with polka dotted pants, and to complete the look she wore the french braid bouffant hairdo!
[Also Read: Deepika Padukone Hairstyles]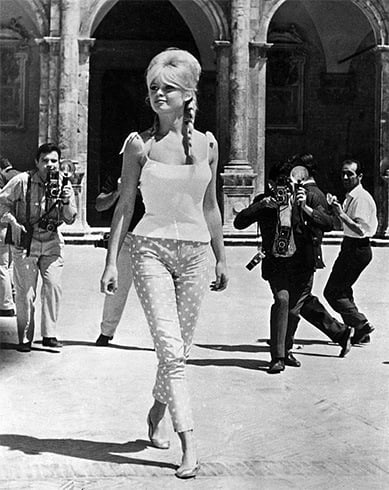 2. A short skirt with a cropped top jacket and a large hat. She left her hair running loose and amok, and that's what made her iconic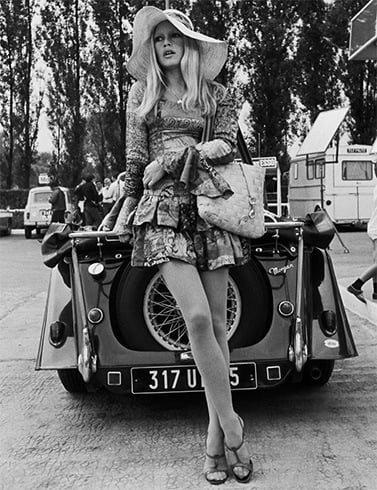 3. A high ponytail with a large ribbon for cover, a white shirt with a polka dotted half tie and worn with skirts or pants, you can emulate the divas look too!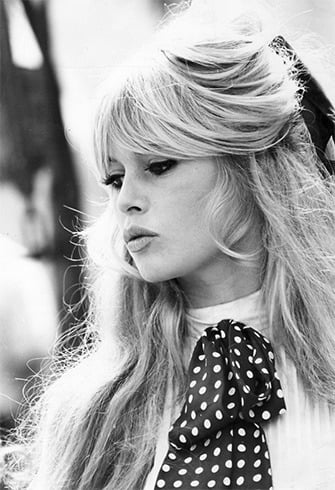 4. Mustard and reds on rompers, bare feet and hair running loose once again. Brigitte showed PYTs how to make a statement at the beach and pool parties back then.

5. Bring back those check skirts and the black collared tops for girls, and bring them back for the casual college look too!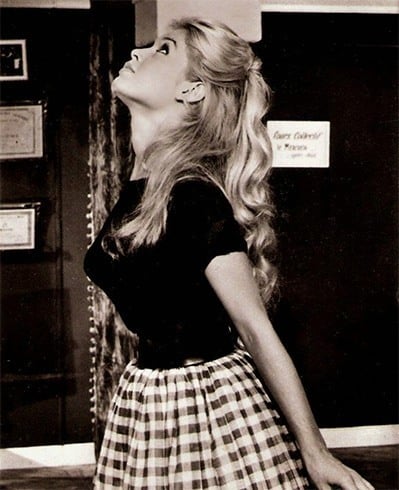 6. Striped tops with a blue cropped coat and pants for the bottoms, she wore her hair secured with a large forehead hair band!
[Also Read: It's All About Buns This Season]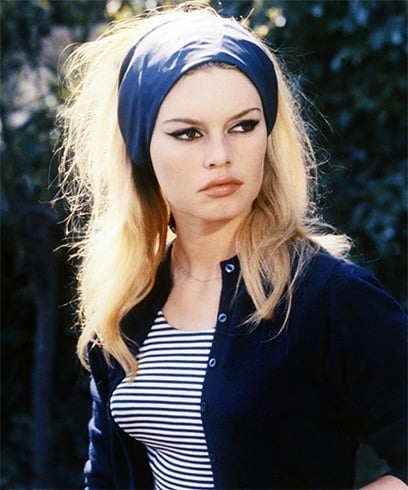 7. Black chunky midi skirts and a white shirt for a party, and only Brigitte Bardot could dare carry off such a nonchalant look when other PYTs were busy adding pink to their cheeks!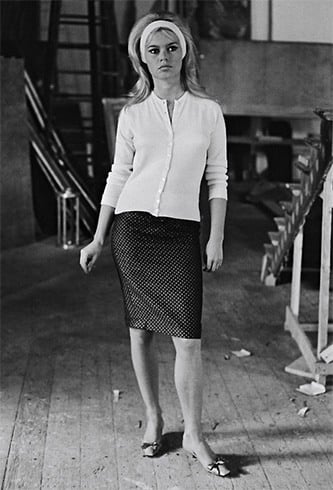 8. A simple round necked pink top and a knee length printed skirt can do wonders! Don't you think? Don't miss out on the pigtail hairstyle.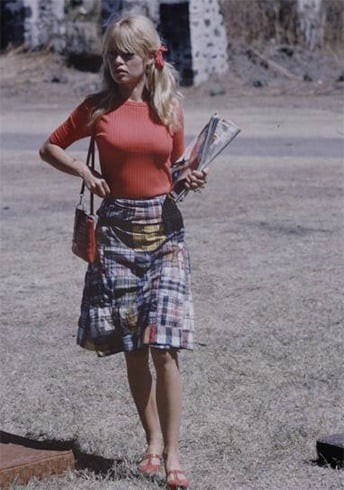 [sc:mediad]
9. Need inspiration on how to wear your trench coat this winter? Take a look at what our diva, Brigitte Bardot shows us!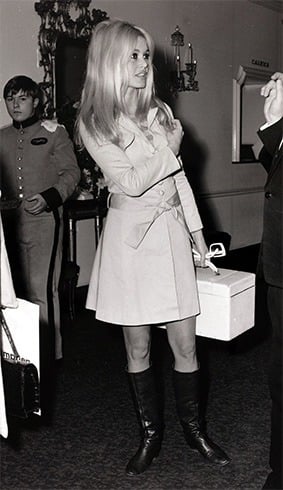 10. A low V Neck black tee and a chunky neckpiece with harem pants in black, brings out the feisty girl in BB!
[Also Read: Hairstyles For A Girls' Night Out]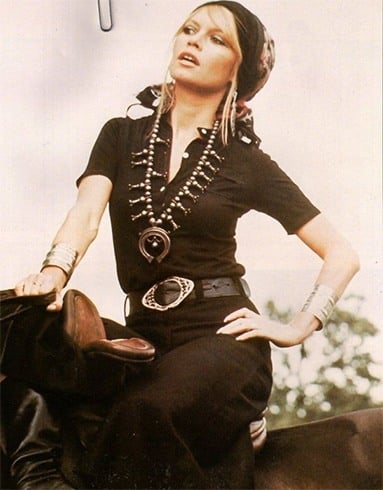 Let's Delve Into The Famous Brigitte Bardot Hairstyle
To get the easy weasy Brigitte Bardot hairstyle done, what you would need are the following items kept ready.
Grab hold of a curling iron which has a clamp, and it should be of medium size
A teasing comb for the soft touches
A soft bristle brush
A couple of nice hairpins and a hair ribbon
An elastic band in black or closest to your hair colour, and
Hairspray, like plenty of it!
Furthermore To The Brigitte Bardot Hairstyle, We Ask You To –
First blow dry your hair if its wet, and sit in a comfy place
Place a full-length mirror in front of you, so you could see the progress on your attempt at the Brigitte Bardot style
Instructions to follow
Here are easy instructions to follow on how to get Brigitte Bardot hair.
1. The hair, all around your head and in very small sections should be curled, backward motions should be used with the curling iron.
[Also Read: Headband Hairstyles]
2. When the curls are ready, use the soft bristle brush to brush them out, which brings about bouncy waves and body to the hair.
3. The next step would be to make one half ponytail on the crown of the head, and secure the sides of the hair with pins. Spread the ponytail on either sides of the head, and add more pins to secure the look.
Place an elastic band around the pony tail to hold tight and then the large ribbon.
4. The remaining hair should be sprayed with hairspray and brushed backwards, so that more fluff and bounce is created.
5. Do the same for the ponytail as well, for more bounce, sans the flatness!
6. You now have one of the many Brigitte Bardot inspired hairstyles to flaunt for the parties!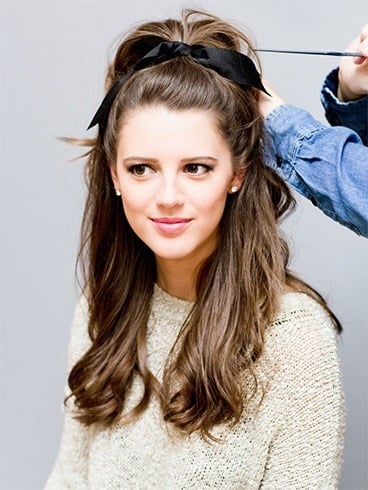 Known as a 'sex kitten' back then, Brigitte Bardot had the confidence and guts to carry off anything she chose to lay her hands on! Impressed already, try them out then!
Image source: pinterest.com