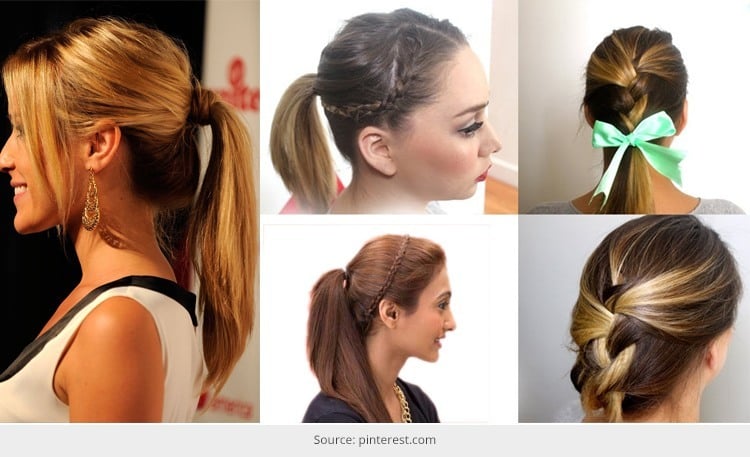 Whether you are getting ready for college or school or a girls' night out, you really need a hairstyle which is easy, fast and elegant at the same time. Easy to do hairstyles are not that hard and once you learn a trick or two, you can experiment anytime you want!
[Also Read: Cute Hairstyles for Girls]
Here Are Ten Simple Hairstyles For Girls
What's so great about these simple hairstyles for girls, you ask. Well, the good news is, these are easy hairstyles to do at home. So, you can apply them as easy hairstyles for school or even as easy hairstyles for college! Take your pick!
1. The Messy Bun
The messy bun is one easy hairstyle that every girl loves. This will hide your bad hair day and it just takes two minutes to put up! You don't need accessories (of course, if you do want to prep it up, you can always give it a personal touch!) and all you have to do is pile your hair at the top of your head and secure it with a scrunchy or a band. If your bun is not staying put, you can use bobby pins to fasten it a little. Check out some messy bun variations:
2. Twisted Side Bun
If the messy bun is not your soul sister, then we have another bun to make you happy and it's going to take exactly three minutes! Make a deep part in your hair and roll a section of the front side of your hair into the sides. Pull the rest of your hair in a low pony and secure it with a rubber band. It'll look like this:
[Also Read: Selena Gomez Hairstyles]
3. Chopsticks To The Rescue!
If you are running very late and you don't want to let your hair loose, then your chopsticks can come to your rescue. It is one of the simple hairstyles for girls, though it does not look like one! In case you don't want to use chopsticks, you can even secure them with long clips. Just pile up your hair, take two chopsticks and use them in a criss-cross fashion to secure them!
[sc:mediad]
4. The Braided Goddess
Braids can really work wonders for your hair. You can use them in a side bun or as a side ponytail or if you want to let your hair loose, you can even use it in the form of a hairband. The possibilities are endless and each of them is very easy. Check out these braided hairstyles for inspiration. Don't forget to secure your braid!
5. Pony Up!
Pony tails are versatile and don't need much time. You just need a rubber band or a scrunchy to tie it up. You can have different variations of the pony, like a high pony or a side swept one or even a very low one, depending on your mood. It is very easy to do and looks elegant too. If you want to glam it up a little, you can always use hair accessories.
Check out some really cool ponytails below:
6. A Twisted Halo
This 2-step hairstyle is an easy hairstyle for girls and it would hardly take you more than 3 minutes to do this hairstyle. Take a small section of your from one side. Twist it and pin it with bobby pins in the middle of your head. Now repeat this from the other side also and pin it below the first section. And, you are done!
7. Side-Braided Pony
If you are looking for hairstyles for girls with long hair, then you can try this side-braided ponytail. Start by french braiding a section of your hair, ensuring that you start from the top side all the way till the end. Tie it up with an elastic.
Now, take the remaining hair and the french braid and tie it up as a ponytail. You can cover up the elastic of the ponytail by wrapping a strand of hair around it.
[Also Read: Hairstyles For Teenage Girls]
8. The Twist-and-Pin
The twist and pin is one of the cutest hairstyles for little girls. Take a deep side part, take a section of hair from one side, twist and pin it up with bobby pins.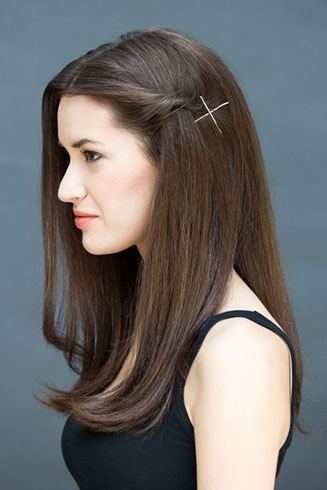 9. The Headband Tuck
This is an easy hairstyle for little girls. All you have to do is tie up your in a pony and wear a headband. Make sure you tuck the pony through it as well.
[Also Read: Hair Ribbons to Flaunt]
10. Classy Chignon
The classic chignon is a perfect hairstyle for teenage girls. This hairstyle will neither make you look too young like a small kid nor will it make you look too old.
11. Double Crown Braid
Like we said, there are a number of hairstyles for young girls and it is quite a task to choose the best hairstyle. You can it simpler by remembering that your hairstyle should make a statement. And do that, you can definitely try out this double crown braid hairstyle.
12. Braided Headband
Give your traditional hairband a miss and try out this super cool braided hairband the next you step out for a party. Just start braiding your hair from the center top of your head, all the way till you reach the end on one side. Doesn't that sound like a simple hairstyle for girls?
[Also Read: Hair Styler App]
So, you see there are tons of hairstyles which can be conjured in just a couple of minutes. If you are running late then you can check out our list of easy to do hairstyles for some inspiration. We promise you, it won't take more than five minutes!