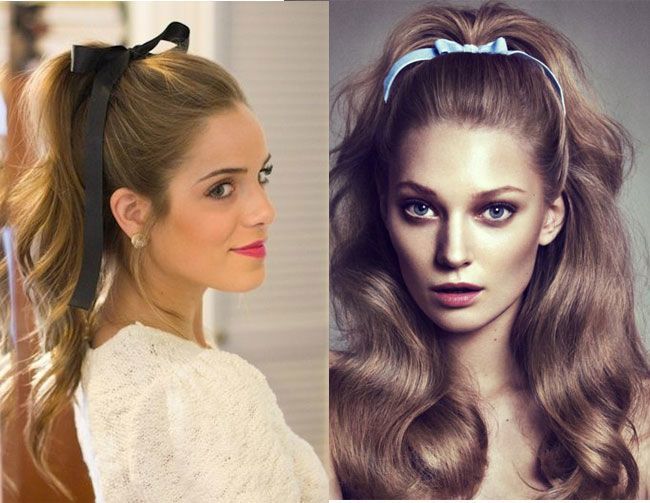 From pig tails to pony tails, high updo styles to low buns, you could use ribbons from a range of colours to accessorize and get the look. Says who, ribbons were meant for the little girls alone? take a look at some of the styles that big girls wear, because age is just a number when it comes to being cute!
For An Evening Out With Friends
Carefree and nonchalant about the style you flaunt when the BFFs are around, grab a cup of coffee and talk about the boys, dressed all cool with an off-shoulder top, leggings or hot pants and hair all loose, embellished with a ribbon dressed as a bow. Accessories to wear would be a sparkling set of hanging earrings, and a lovely smile!
Meeting MIL and GMIL
Meeting your in-laws rings in many alarm bells; you have to dress right or else bear the brunt. Worse still when grandmother-in-law and mother-in-law come together. A messy updo embellished with a chunky brooche-ribbon would save the evening for you!
For A Classy Look
Bring back the 70s flower-power high bouffant ponytail, on the lines of Lana Del Ray (new age chanteuse). A classy self coloured ribbon, to keep the pony tail knot safe and secure would look so chic on a sizzling black or red evening number.
Ribbon On A Top Knot
While doing the household chores or rushing to work, who has the time to sit and doll up the hair. Keep the nape of the neck safe from the heat and humidity, and allow your skin to breathe too. Make a hair bow out of ribbon – a top knot bun with a chic ribbon tied into a bow would be so fine.
[sc:mediad]
[Also Read: Funtastic Bandana Hairstyles]
Back To School
The four strand ribbon band with a braid style would be apt for the day. When it gets too hot and you have to be out, driving around to finish chores; this is one hairstyle that would keep you cool and sizzling at the same time.
Alice in Wonderland Look
Drive away the mad-hatter and have fun while the sun hits harsh during the day. You still can be a diva with the right hair do and minimal makeup, try the Alice in Wonderland look. This is a style that sure would bring in plenty of accolades, and cuteness for sure!
Messy Boho Chick
Feel like a lazy Sunday today? The messy boho chick for the pyjama party tonight seems to be your game. Let the hair fall loose, with either sides streamlined to the back of the head and with a cute ribbon tied into a bow to harness the knot.
For A Classy Dinner Date
He's called you out and you need to dress right. A short white tunic with a high updo and heels, would make him weak in the knees. Dress the hair with just a white ribbon, and you'd be bringing back the 60s style diva hotness for sure.
The Shimmery Bridesmaid
Planning to steal the bride's thunder on her big day? A classy black gown with a high hair updo or a faux bob cut, embellished with rhinestone-ribbon would be the ultimate weapon to use.
[Also Read: Braided Hairstyles]
Hope you liked the various looks we have spoken about. It's all about personal style and innovation which would make you look like a million bucks. Hair ribbons are very versatile to use, and helps keep the pretty young thing, pretty chic too!