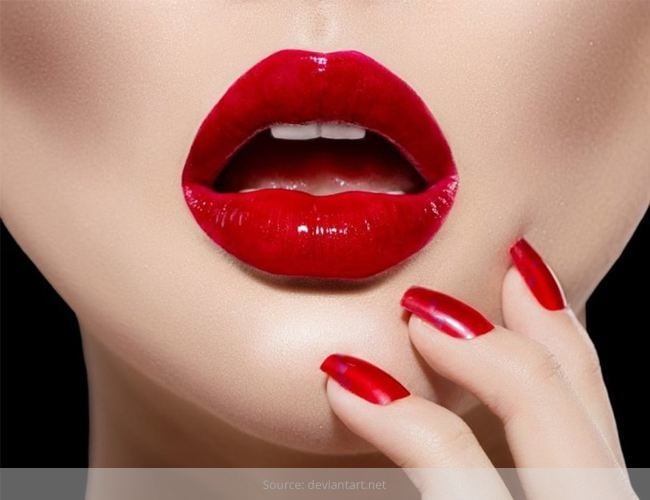 Coco Chanel had once said, "I don't understand how a woman can leave the house without fixing herself up a little, if only out of politeness. And it's best to be as pretty as possible for destiny."
She was so right! No matter how late you are, you just cannot leave the house without makeup. And if you are in a real rush then at least a dash of red lipstick on your pouts is sure to do a good job for you. In this post I am going to share top 5 tips for long lasting lipstick. But before that, let's look at how to apply lipstick.
[Also Read: 10 Lipstick Rules to Get the Perfect Pout – Master the Perfection!]
If you are planning to wear just lipstick for your makeup, it becomes extremely important to make your lipstick last longer, as it is no secret that painted pouts can do wonders that an entire face makeup cannot do.
Let's have a look at the top 5 tips for long lasting lipstick.
1. Apply lip primer
This is one of the basic makeup rules you should never forget. Primer ensures that your lipstick stays in place for long hours. Having said that, this particular cosmetic item you will not find in all beauty stores. M.A.C offers you a high end primer. Besides, NYX and E.L.F also offer some good lip primer.
2. Wear a lip liner
This is mostly ignored but if you really want to know how to put on lipstick and how to make lipstick last all day long, then follow this trick.
[Also Read: Pink Lipstick Makeup]
Outlining your lips is very necessary, so as to save your painted pouts from bleeding. After defining my lips, I cover my lips with feathery strokes of the liner. This ensures long lasting lipstick. Even if you don't have a primer, do not forget to coat your pouts with your liner first before wearing your lipstick.
3. Know your brand
Cheap lipsticks from local brands easily fade away with a simple glass of water. So, if you are serious about flaunting your painted pouts then you need to choose a long lasting formula. There are some good brands out there in the market that claim to offer you long lasting lipstick. You can try one of these, and since they tend to dry out over time, you can finish your look with a dash of gloss.
[sc:mediad]
4. Lipstick blotting
This is one method all beauty pro swear by. In this, you wear your lipstick, blot it and then again apply it. But blotting is not an easy game. Usually girls take a tissue paper and place it in between the pouts and tighten their lips, but this can actually reduce the lifespan of your lip color.
Here are a few tips to remember while lipstick blotting –
Don't press your lips hard when you blot. This exercise should be followed only to remove the extra color.
In order to ensure long lasting lipstick, avoid putting the tissue between your lips. Instead press your lips lightly.
[Also Read: Celebrities Wearing Read Lipstick]
5. Hydrated lips
Before wearing lipstick, make sure your lips are hydrated and they are not cracked. So always moisturize your lips before going to bed. Keep a collection of lip balms and always drink water to avoid dehydration.
So, those were the top 5 tips for long lasting lipstick. These tips are not only for red lips but also when you are wearing the nude lipstick too.
Hope this article on Tips for Long Lasting Lipstick helps!