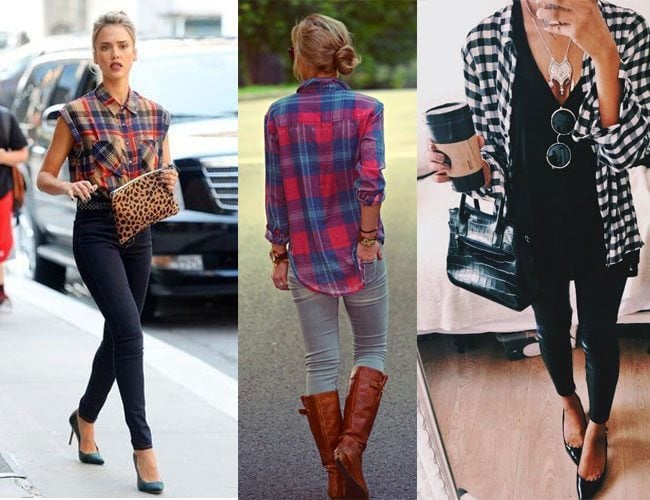 Wear it like a dude or go all lumberjacks in style, flannel shirts are unisex, comfy and very trendy for the summers. It is a myth that the sexy flannels are sloppy and worn only by cowboys or men; we girls can rock in them too. Brace yourself and hold your breath pretty young things, here are a few ways on how to doll up trendy and nice for an evening out with the girls, to college, or for Friday dressing. You sure will thanks us for these amazing flannel shirt fashion tips.
How to wear a flannel shirt?
With boots and skinny jeans
A hot summer noon and you have to head to the groceries for the weekly buy? Who has the time to dress and impress. But wait, that doesn't mean you walk out all sloppy, after all, the shopping aisles while you browse is your ramp. A pair of boots and skinny jeans, with a large sized flannel shirt falling over and hair tied into a bun – chic, haute and on the lines of a yummy-mommy!
[Also Read: Check Mate Folks: The Scoop On Wearing Checks Right!]
Power Friday dressing
A 'client meet' this Friday and your wardrobe screams for mercy? Let the humble flannel shirt bring you the succour much needed. A dark-coloured flannel shirt with black skinny denims, boots or heels for the feet and a tight hairdo seems apt. Throw over an over-knit scarf and keep your makeup, your hair and accessories minimal!
Girl's day out
For coffee, for shopping or just hanging out with the gal-pals, the flannel shirt when combined with black hot pants or dark shorts and a printed tee, or just wear a flannel shirt around your waist, brings on the boho-chic look. Doll up in oxidised jewellery or bling, flaunt your red lips and leave the hair messy and loose. Boots for the feet or flat ballerinas would be best to wear with this look.
A chilly saga
[sc:mediad]
A date this evening and the climes are way below? Be bold and chic in your style, and impress your man too. Black leggings with a white tee, over which a loose flannel shirt in red cheques and an over knit scarf for warmth; perfect we say!
[Also Read: Different Ways to Wear the Boyfriend Shirt]
A formal affair
Not so formal but seems apt for the outdoor lunch party while the winds blow chill and cool, a flannel shirt over a large frilly cocktail gown (white), would work like magic. A high hairdo and the right chandelier earrings, with heels for the feet would make you look haute and hot!
High tea time
Planning on meeting mother-in-law for a cup of tea, and would like to impress her with your sense of fashion? Here's what to wear: black leggings, a pair of black heels, a statement necklace, chandelier earrings, a V-Neck tee in black and a flannel shirt (black and white) thrown over. You now are ready to take on the high tea saga with MIL!
For your son's concert
Be the yummy mummy every daddy has his eyes on and every mommy at the concert envies. A flannel shirt, well-pressed and with a flair skirt (black) or dress pants and heels for the feet, would grab eyeballs for sure. Ensure the hair is done apt and right, keeping the makeup minimal and the accessories; chunky and chic!
Well there are many more ways to wear the humble flannel shirt, and this only goes to prove that sloppy isn't one of them. Here's to your imagination and creativity, go right ahead and plan your style; make a statement as you strut your hotness in flannel couture!