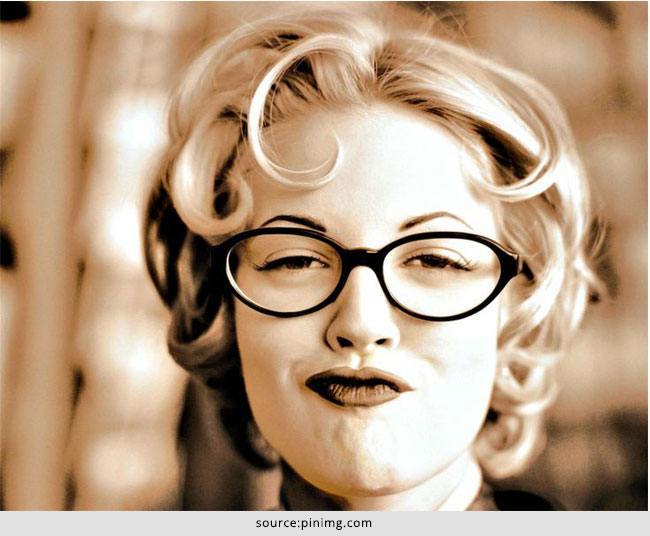 Drew Barrymore, Deepika Padukone, Madhuri Dixit, Jennifer Anniston and the list can go on. What's common in them? We are talking about hot divas of tinsel town who wear glasses and look super-chic too. If you are a lass with the nerdy glass, you don't have to hide your beauty. Makeup and hairstyles galore, you too could woo and grab eyeballs, one too many as well- here's how!
High bun with glasses
Super trendy for a corporate look, your boss would be impressed and you'd be the apple of the eye too. Let the hair be tied into a tight updo or bun, wear your corporate sleeve, crisp and nice. Your lips should be tinted and the eyes well-defined. Minimalistic and sexy, you now are ready to make the boardroom scene rock! Whoever said makeup for glasses is just a waste of time.
Winged look
Glasses don't necessarily mean to hide your natural eye-beauty. Try the winged eyeliner look and flaunt those gorgeous eyes beneath the rims of your spectacles. The liner should extend an inch more than the usual, and the lips should be dolled with bright red or pinks. Muaah!
The ultra feminine daytime look
Loose waves and curls for the hair, with simple makeup sans the bronze and colour on the cheeks and chin. Mascara for the eyes (just one coat) and lip balm (pink and one coat only). A few hair strands to fall over the ears; let the eyes now do the talking!
Chitty-chitty bang-bang
Let's play with those bangs and glasses, shall we? The aim to accentuate the top half of your pretty face, and this would be achieved with a bun (mid-sized and tight), leaving the bangs in front falling silly all over the forehead. Bright red lipstick for the lips and bold metal tones for the eyebrows, mascara for sure and an eyeliner for the intense look. You now are ready for the daytime meet and greet soiree!
Friday sexy nerdy look
[sc:mediad]
Minimal makeup, in place and neat with dark crimson or red lip shades. Your hair should be left loose or tied into a bun. Friday dressing is so much of fun, isn't it?
Flirty and girly
Glossy lips in pinks, mauves, purples or reds for sure. You now should focus on the cheeks; just a subtle touch of rouge is enough. The eyeliner for an intense look is a must and plenty of mascara for a dramatic affair. Let the hair hang messy and loose.
You brighten my day
Monday blues are so passé when reds rule. Red lips and the tied hair, plenty of mascara with minimal makeup on the cheeks, why not?
Coral affairs
Perfect for the meeting during the day and the date at night, a heavy touch of eyeliner for the lids and plenty of mascara would do wonders to accentuate the beauty of your eyes. The lips should have a touch of peach or light coral shades.
Matte love
Matte red is hot for the lips. Stylish and so bohemian, accessorize the crown of your hair with a chic-chunky rhinestone hairband or ribbon! You could also emulate the classy old-world-glam-hairdos too!
Dramatic cocktail affairs
For a bold statement to make at the function or event, dressing up on the lines of red-carpet celebs and stars tonight, should be your game plan. Comb your hair into a well-settled high-bun, and choose a bright lipstick that would help the pout look sexy. A dramatic winged eyeliner look for sure with dark eyeliner that lasts 8 hours minimum should be your weapon!
So these were a few hair and makeup tips for glasses. What's your excuse now of not wanting to doll up to impress? If you have ideas on hair and makeup for girls who wear glasses, do drop in a line and we would like to share that too!