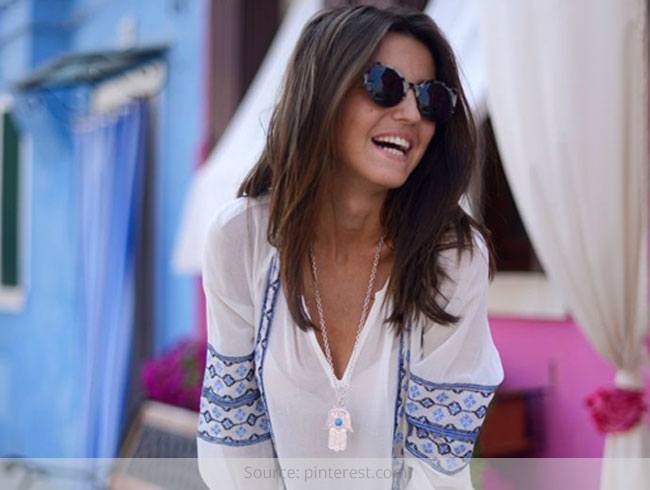 Summers bring us backyard BBQs, pool parties and cookouts, which beg the most bothering question – what to wear at an afternoon BBQ party?
While we all are aware of some basic fashion commandments like heels are not for the grass; we also need to be careful if we end up being overdressed. Even we should take care of the fact that unless the BBQ party invitation demands a certain dress code, it's wise to stick to your flats and cropped pants/shorts or skirt, whatever you feel comfortable in.
Here are some relevant fashion tips we have gathered to help you on such invites!
1. Keep off your heels
Heels will dig into the grass and make it extremely difficult to walk. It is best adviced to wear flats or wedges to a barbeque party.
You can do a fun DIY and give your flats a new makeover with neon lace to wear to such parties.
2. Have a casual affair
Pick lightweight and airy outfits that give you optimum comfort at the afternoon garden party. Since it would be quite sunny out there, don't pile on your accessories, instead go with minimal jewelries apart from your sunglasses and watch which your obvious choice is.
Don't opt for cut out dresses, as you won't like to return with a tanned skin.
3. Pick a stand out accessory
If you could manage to flaunt a stand out fashion element then you need have to look for something else. For instance, any accessory including bag, shoes or hat made of Raffia, can dramatically add scoring points to your fashion meter. There are plenty different ways to style your statement necklace.
And if you don't find such things, then stick to your statement-making sunglasses or bag that are winners at such events.
4. Go for cotton ensembles
Cotton is our ultimate savior during hot summer days. Since maxi dresses are quite in fashion these days, you can settle for a short maxi dress if you have the legs to flaunt for or the full length one if you've the height.
[sc:mediad]
Do not forget to carry your denim jacket with you, in case you may have some extended plans.
[Also Read: Must – have summer dresses]
5. Keep it shorts
If you don't love feminine fashion and you're comfortable with shorts then go for a top and shorts. Even cut off jeans can be your ideal choice for BBQ party. You can try different fashionable combinations with shorts.
6. Hair
If it's too hot out there then do not go for open hair, instead go for boho plait or fish tail braid. Let your hair do the talking.
Here are some do's and don'ts for you, when you consider what to wear at an afternoon BBQ party –
Do's
Always pick a comfortable outfit that enables to move around freely
Always go for flat boots or low heel shoes for afternoon BBQ party
A tank top with little details can be an ideal choice
Statement-making necklaces can also work wonders. Don't over accessorize
There is no harm in pairing flirty top with cut off jeans
Knee-length skirts are also welcome
Don'ts
Don't wear too much perfume
Don't go for sweatpants or track suits
Don't wear too much makeup. However, make sure to wear sunscreen
Don't wear T-shirts with indecent messages
Here are some images of summer outfits that you can use as a reference when you are going to a BBQ party.
[new_royalslider id="77″]
Hope next time when you think on what to wear at an afternoon BBQ party, these tips will help you!