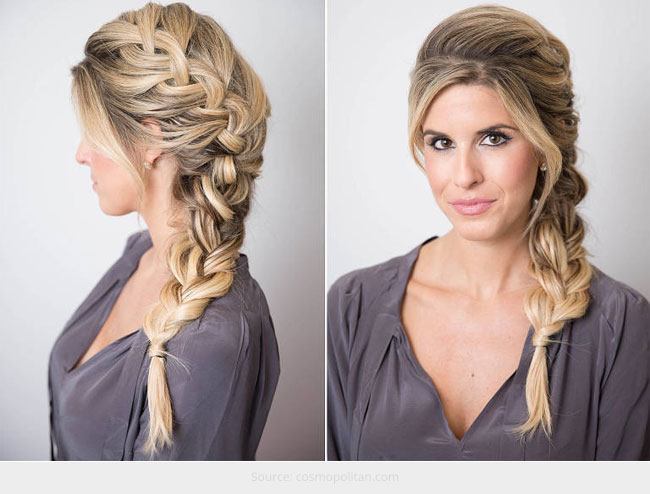 Braided hairstyles are quite a rage these days. Trade in for some of these trendy hairstyles and flaunt a different look for the upcoming Valentine's Day week. I offer you some super chic top 4 braided hairstyles you can't ignore in 2015. Do have a look and stay inspired with the braid hairstyles we are going to show you in this post!
Braided headband
Experts suggest trying out this braid style on the second day of hair wash, as freshly washed scalp won't let the strands sit in place. And if you're still willing to go for this braided hairstyle on the first day of hair wash then begin with blow drying, and then add a smear to your hair. This will give a firm grip to your braids. For this, you can use a good serum. This will also give your hair a polished look without any flyaway.
Now take a small section of your hair from the behind of your ear, and French braid it all the way to the other end, and secure it with elastic that matches your hair color. Slightly pull the braid with your finger to add texture and volume to your plaited headband. Leave the rest of the hair wavy and loose. Complete your braid hairstyle with a hairspray to ensure it stays in place.
Braided bangs
Here is another super trendy yet easy braided hairstyle that you can opt for with your casual wear. Unlike in case of the braided headband, where you had to create the French braid right from one ear to the other ear, in this style, you will have to take the section of hair from the spot where you part your hair. Instead of three sections, for this braid you'll have to take two sections and start twisting one after the other.
[Also Read: Bad Hair Day Hairstyles]
Continue reading for more braid hairstyles.
Waterfall braid
Here is another fabulous braided hairstyle that perfectly fits the occasion. The whimsical feel you get from this style magnifies your romantic mood during V-Day. The best part of this braid is that you can leave your hair just like the braided headband. This style is recommended for those with long locks.
[sc:mediad]
Braid bun
If you are looking for an elegant and clean yet peppy hairstyle then this can be your best bait. For this, you need to create a French braid by using all of your hair on the outer edge and secure the end with elastic. Now twist the end of the braid to create a bun and secure it with bobby pins.
[Also Read: Bridesmaid hairstyles for long hair]
This braided headband can be used just as it is or can be tied up in a bun.
So those were the top 4 braided hairstyles you can't ignore. Hope this post on braid hairstyles helps!