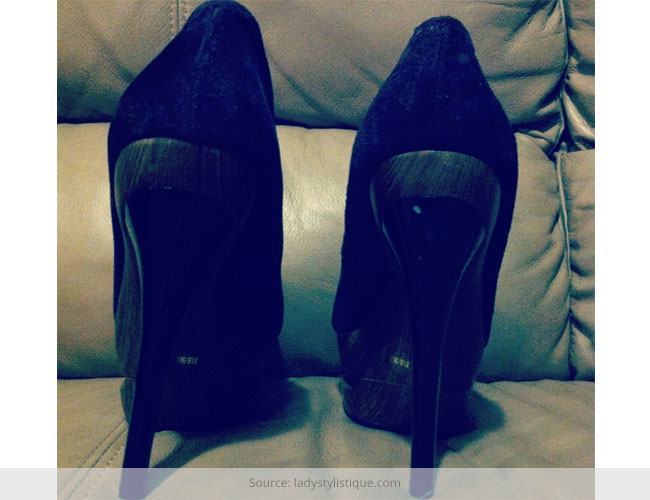 Ladies who work and for long duration are going to love this post – wearing heels at work isn't only about the chic factor or the oomph statement to make, rather it is all about boosting one's own dignity and self-confidence. Nancy Sinatra should have sung a prose on heels as well, because it is not only the prerogative of boots that do the walking; heels can do wonders for the modern day corporate woman too. Let's first give you 9 reasons why you should think about heels for work, maybe post that you would understand why the towering beauties are indeed your BFFs – better than men at times!
Heels accentuate your stance and height
Heels promote the confidence levels in you
Heels make heads turn and grab eyeballs
Heels highlight your lovely legs
Heels match up well with just about anything you wear
Heels shape the health of your legs
Heels work the calves and legs
Heels add aesthetic value to your personality, and
Heels are fashion- they are forever!
"You put high heels on and you change." – Manolo Blahnik
With 9 reasons given, there could be more as to why heels at work indeed would work in your favour- let's take a check on how these puppies would make heads turn and grab eyeballs- your boss would be impressed too!
1. Confidence Galore
Believe it or not, every single inch of the material under the heels gives a woman a dose of more confidence- should we compare it to the old adage "the longer the better", seems fair right? Most would say in the late 50s and early 60s, women wore heels to emulate a man's height; some opined heels as a mark of leisure too. But, in most cases it was noticed that the confidence levels rose to sky-heights when a woman wore her heels.
2. Tricky suckers
Namely self-esteem and confidence; without the two, every woman struggles being real to who they actually are. It is all about taking pride about your appearance and being a corporate Diva at the same time; high heels at work thus helps with self-esteem and confidence. Notice how the chica-divalicious-secretaries strut their best foot forward in the 5 inch stilettos, intimidating most men including their bosses at times- let go of the guilt feelings; heels were meant to help you out and with a good reason that too.
3. Heels for all
You could be vertically challenged or blessed; women love their heels – makes them feel a million bucks sans certifications from anyone else. With the right pair of heels worn, a woman gains height (3-5 inches) instantly- she's at par with her taller colleagues at work, can handle reaching high cabinets for items to retrieve and psychologically it 'uplifts' her mood too.
[sc:mediad]
4. A toned look with heels
Irrespective of the body shape or height; heels can make you look fabulously toned. With the right pair worn, the calf region is elongated and creates an illusion of long and slimmer legs. Heels with dress pants or trousers conform to the leg shape for a chic-slender look.
5. Add some style
We wouldn't beg to disagree or commit a sin saying heels don't add style, because it certainly does. Heels bring on the grace and elegance while working and walking around the cubicles, and also add glam to the midi-skirts, dress pants, saris, salwars and full-length work skirts too. They not only compliment the strut but also enhances the outlook and personality of the wearer too.
6. Goodbye flats
So if you thought heels sent out the wrong message while wearing them at work, think again! Heels can boost your self-esteem and they bring about great difference to your poise, stance and body structure when worn right. The humble heel can also balance the body weight with grace, helps you look slim by sucking in the tummy and helping the posterior stick outwards as well- the basic principle of right postures. This for sure would be the mantra to self-confidence in all its prime, which is why heels surely help a woman with her confidence levels too.
"The fact is, sometimes it's hard to walk in a single women's shoes. That's why we need really special ones now and then – to make the walk a little more fun."
– Carrie Bradshaw, Sex & The City