Teenage is undoubtedly the best time to experiment with hair. High level of energy, frequently changing mood and desire to have an edgy presence always drive girls crazy about their locks during these youthful years. Be it the latest celebrity hairstyle or the cool trendy haircut, there are plethora of choices for exciting hairstyles for teenage girls.adolescents is that they look lovely in all sorts of haircuts and styles. Short bob, straight layers, dense curls, neat braids or chic pixie – a teen girl looks uber-stylish in everything. But what are the trendiest hairstyles for them to sport this year?
Short Hairstyles For Teenage Girls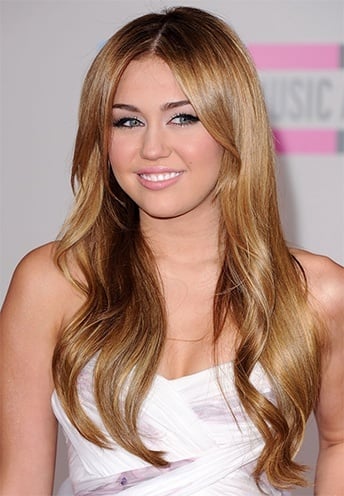 1. Inverted Bob With Side-Swept Bang
Teen girls look their best in short shoulder-length hair. Agreed? Then you'll love this sleek inverted bob like anything. A perfect cut for framing all types of face shapes, this sharp reverse bob is found to be one of the trendiest hairstyles for teenagers. The smart side-swept bang hiding one eye and grey streaks of highlights at the edges complement the style well.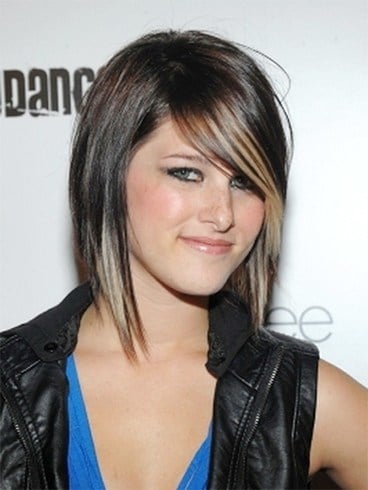 2. Pixie With Highlights And Lowlights
Looking for some spicy haircuts for girls that will make it difficult for boys to take eyes off you? Pixie is just the right thing to try! A few streaks of highlights and lowlights will amp up the cool quotient. If you have thick hair, style it like the model in this picture and you'll get your always-ready-to-rock look.
[Also Read: Mod Hairstyles]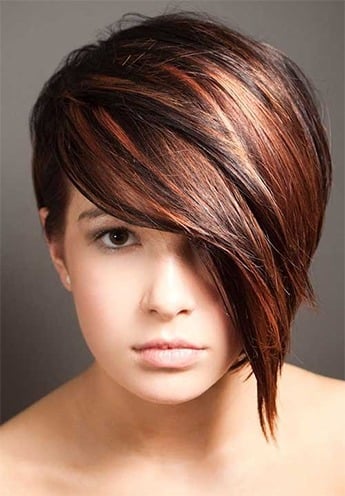 3. Messy Textured Curls
This messy curly hairstyle is a big hit among teen girls with medium-length bob. Start with a zigzag part, texturize the curls and you are good to go. As curls define faces in completely new ways, this can be a pretty good solution for an instant style makeover. Ready to try?
[Also Read: 5 Essential Teenage Items]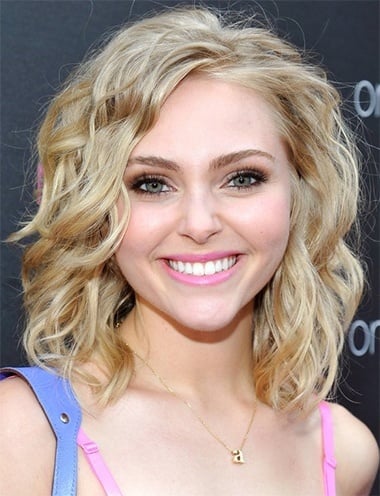 [sc:mediad]
4. Retro Bob Hairstyle
If you love to experiment and don't mind stepping out of your comfort zone, then this retro inspired hairstyle is a must try! Some rollers and lots of bobby pins will help you in achieving this look. Use the hot rollers to create the retro waves and secure them tightly with bobby pins.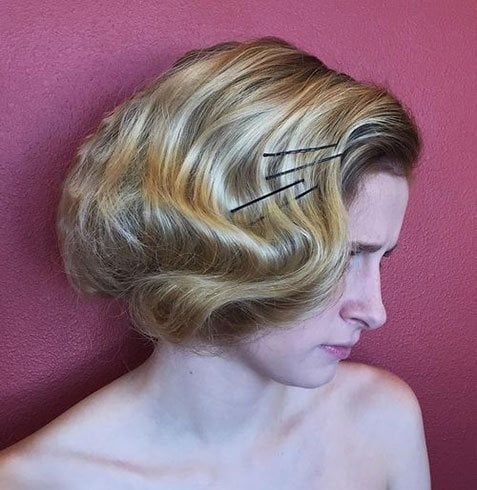 5. Short Shag Hairstyle
If you have thick hair and you want to chop it off then try the short shaggy haircut. With the length reaching your nape, this style is heavily layered which gives a good volume to your overall hairstyle. Because of its simplicity, you don't really have to worry about spending a fortune on styling it.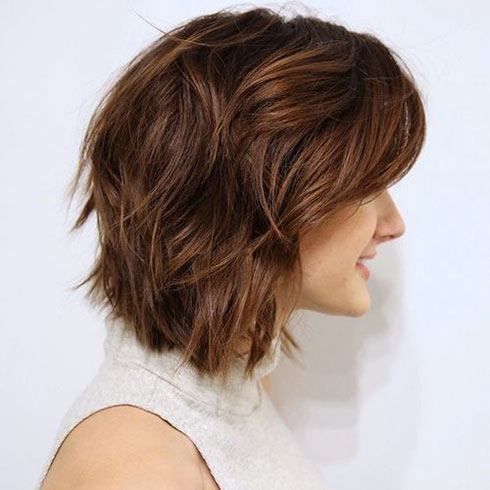 6. Bob With Symmetrical Bangs
This is the perfect hairstyle for girls who have a big forehead or a long face. Get a cute bob cut and style it with fringes which will help you in covering your large forehead.
7. Soft Wave Bob
The soft wave bob hairstyle is suitable for girls who are not very comfortable with being bold or edgy. With waves framing your face, you will definitely loved this simple yet stylish hairstyle. You can use curlers to make your hair wavy and soft.
8. Basic Bob With Side Fringe
If you have a basic bob and you are wondering how to make it look more peppy and fun, then you can side part your hair and sweep your fringes to one side. This will instantly jazz up your basic bob into something much more fun. Take a look below at Selena Gomez looking adorable in this hairstyle.
Medium Length Hair Styles For Teenage Girls
9. Feathered Layers With Side Bang
A sweet teen looks even more adorable in shiny straight layered locks. This apparently simple hairstyle adds extreme versatility to any type of face and creates an ultra-feminine look. Want to make the style even more beautiful? Get your layers feathered in the inward direction and let a side bang embrace your face.
 10. Loose Hair With Braided Headband
A braided headband can bring the elegance out of a girl with minimum effort. Braid up a small section of hair starting from the behind of any of your ear, pull it across your head like a band and secure behind the other ear with a bobby pin. Curl up the ends of the loose locks slightly and let them cuddle your shoulders.
11. Parted Bob With Embellished Headband
Want to stand out from the crowd, but not feeling like styling your hair? Worry not. All you need is a wide headband with attractive embellishments. Make a side part on your shoulder-length bob and put this lovely accessory on. You'll definitely fall in love with the 'dazzling you'!
[Also Read: Easy Tips On Perfecting The Flower Girl Headbands]
 12. The Hair Knot Cute Hairstyle
Don't have too much time to style your hair, but you still want to flaunt an amazing hairstyle? Try this cute and easy to do hair knot hairstyle. Start off by separating your into two parts at the nape. And then simple tie the two parts into a knot and secure it with bobby pins. That's it – quite an easy style right?
13. The Pretty Bow Bun
This is by far the cutest hairstyles ever and is guaranteed to make you the belle of your gang. Try this hairstyle and let your friends be amazed. Firstly, tie up your hair in a top bun. Next, gently pull it apart like a bow. Take the ends, pull it backwards from the middle and secure it with bobby pins. Use a hair spray to ensure that the hairstyle remain as is for a longer time.
Long Hairstyles For Teenage Girls
14. Wrapped High Ponytail
Talking about the trendiest hairstyles for teenage girls and not mentioning ponytail is totally impossible. A straight long pony has been the simplest form of teen hairstyle since ages and it is all the rage even till today. For a chic upgradation of your regular ponytail, make it at the top of your crown and wrap a small section of hair around its base.
15. Ombre Braid and Bun
All set to go for a party? Enhance your style further with this ombre braid which will add a magical touch to your evening look.This would basically look like a half up half down hairstyle but with a braided bun! Take some hair from thetop portion and start braiding it from both the sides till you reach the middle. Now, wrap the two braids in such a way that it looks like a slightly messy bun. Pin it up and too see how the ombre color transforms your look.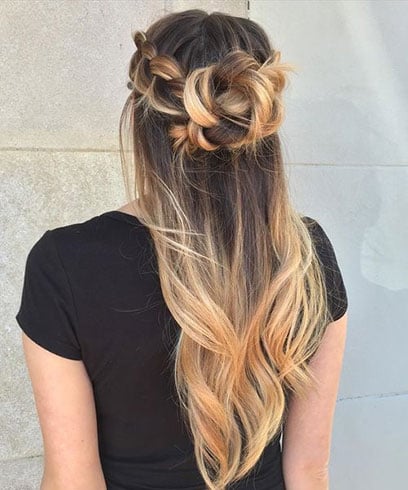 16. Draped French Braid
The french braid is one of the most loved hairstyles, isn't it? Instead of doing the traditional french braid, how about you elevate it a bit bymaking a french braid crown? Instead of going from top to bottom, you need to start french braiding from one side and go all the way till the other side.
Depending upon your preference, you can either braid it till the end and secure it with bobby pins or you can tie it up one you reach the other side so that it looks like a crown.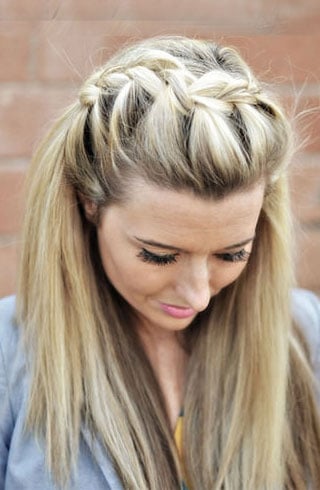 17. Loose Waves With Front Braid
Braid is very much in fashion these days and needless to say, it enhances the true girly look from all aspects. For a simple braided hairstyle, make a side part and keep your long soft waves loose. Then, braid up the locks along your hairline and pin the finished braid at the side of your head. Picture perfect!
[Also Read: Winter Wedding Hairstyles]
18. High Fishtail Braid
You can never find a youngster, who doesn't admire fishtail braids. It is one of those popular teen girl hairstyles, which offers a feminine vibe to the entire appearance. To pull off this high fishtail braid, start with creating a pouf at your crown and a high pony right behind it. Finally, turn the pony into a beautiful fishtail braid. Bingo!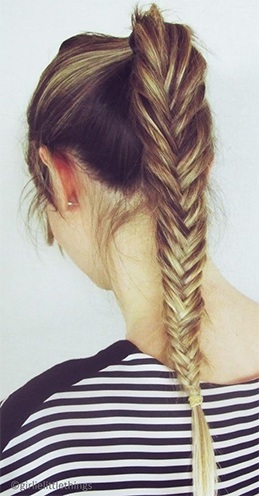 19. Twisted Half-Up Half-Down
Twisting is the favorite hair-styling technique of all lazy teen girls. It needs no expertise, no significant time and no styling product. Take two small sections of hair from two sides, twist them up while taking them across the back of your head and secure the twists with bobby pins. It's that simple! Just add texture to your long wavy mane before you start twisting.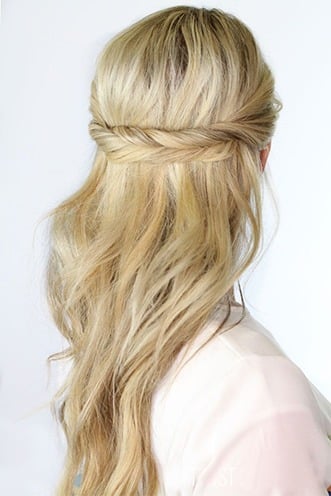 20. Bubble Ponytail
Along with your outfits, your hairstyle is also imperative to make an impressive fashion statement. The bubble ponytail is one such hairstyle which will make all your friends go wowwww!!! Though it looks intricate, it is quite easy to do this hairstyle.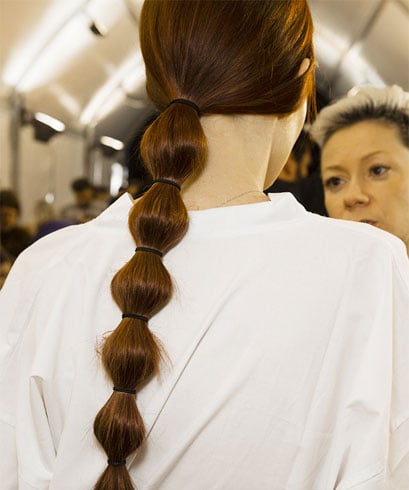 Is our list of trendy hairstyles for teenage girls enough to make you go 'wowww'? Found something we missed out? Share with us through the comment section.