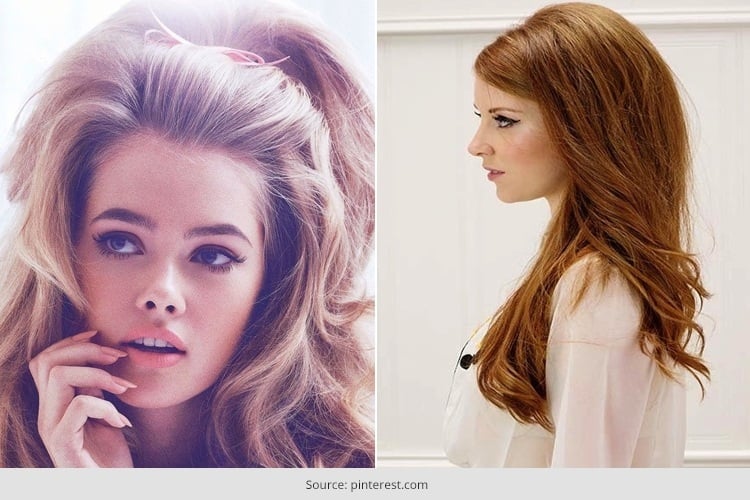 1960s or the Swinging Sixties was the age of big, bold and beautiful. From the hair to the makeup, everything about this era was gorgeous and it is still one of the most followed fashion statements, even today. The 1960s also saw a lot of changes in the way the people dressed up-so whether it was the common folk or the actresses in the movies, influential style existed in each and every corner of the 60s era. One of the very first influential people whom a lot of the 60s women followed was Jackie Kennedy, lovingly known as Jackie O. Her elegant dresses and luxurious bouffant got her a lot of fans and many women started emulating her look.
[Also Read: How To Do 60s Mod Makeup]
60s Mod Hair Styles
Let's take a look at all the styles that were dominant in the 60s mod hair. We picked up the mod girl hairstyles which were most popular and we would also give you step by step instructions on how to achieve these mod hairstyles!
The Ever Popular Beehive
Recently at an award function, Katy Perry debuted this look:
Instantly a lot of women around the world started going back to the most popular mod hairstyles of all times: the Beehive. It was first seen in a magazine cover for Teenagers. Needless to say, it garnered a lot of fan following and girls-young and old alike started styling their hair in a beehive. Here is what you will need to get this hair:
Bath Loofa (any color)
A fabric matching your hair color (This will be used to cover the loofah)
A rubber band
A few bobby pins
Hair spray (does not need to have a strong hold)
Here's How To Get The Look:
Take the loofa and cover it with the fabric that matches your hair colour. Take a small section of your hair and back comb it. Repeat with two or three more sections of your hair till it starts to look like this:
Now take the loofa and hide it completely with the section of the hair that you teased. Cover the bump completely and you can either leave your hair completely free or you can create a messy bun- the choice is yours. Either way, you will look beautiful!
[sc:mediad]
This is your final look:
Jean Shrimpton's Elegant Bouffant
Loved and adored by men and women all over the world-the long bouffant became popular only with Jean's picture in the cover of Newsweek.
Here is what you will need for this hairstyle:
A fine-toothed comb
A hair spray
A curler
Bobby pins
To get the look, follow these steps: Shampoo your hair and towel dry it. Once it is completely dry, use the curler to give your hair some very loose curls. Now take the front section of your hair and tease it till it is fluffy. Basically backcomb the front section of your hair in the crown. Pull back the remaining strands of your hair and carefully pin it to the sides of your crown. Spritz some hair spray to your backcombed hair so that it stays in place. Let your curls rule!
Twiggy's Pixie:
Among all the mod hairstyles, model Twiggy's iconic style was most followed. Not only did women try and copy her makeup, but a lot of them chopped their hair too to look like Twiggy.
You don't have to do much when it comes to rocking a pixie. A lot of you will love this hairstyle because it is ultra-low maintenance and is very smart and stylish. All you need to do is get up and brush your hair once (You can even skip that if you want) and still look stylish!
But to ensure that your pixie remains in place, apply shine pomade to your hair. It will keep your hair looking great and shiny.
There you go-three iconic mod hairstyles to rock this summer!