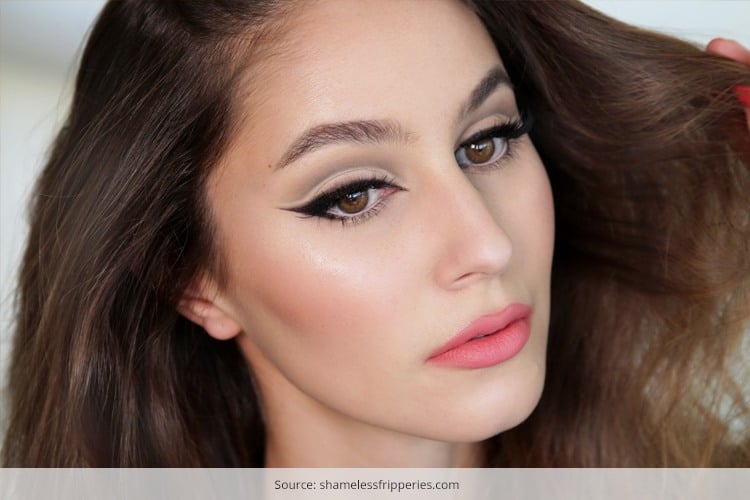 The 1960s was the era which influenced a lot of makeup junkies. One decade of bold, beautiful makeup which is still inspiring beauty aficionados all around the world is this makeup. 60s mod makeup is very easy to mimic.
[Also Read: Mod Makeup: How To Master That 1960's Look]
60s Mod Makeup
Twiggy was one model which inspired generations of people for the 60s mod makeup. In this article, we will teach you how to do mod 60s makeup and look like Twiggy in five easy steps. Read on to know more!
Twiggy's 1960s mod makeup look can be summarized in this picture:
The 1960s makeup was all about creating dramatic lashes and paying attention to your eyes. Lips were mostly left pale and translucent powder was used in abundance. Twiggy had short hair, but most of 60s mod hair styles included teased hair with loose and bouncy curls. Take a look at some of the most common hairstyles during the 60s:
Some of the most popular hairstyles also included a hairband. Like these:
[Also Read: Vintage Retro Makeup]
To achieve this kind of 1960s mod makeup look, we have broken it down with some easy steps for you.
1960s Eyes
1960s eyes were all about those big, flapping eyelashes. Cat eyeliner which was popular in the 1950s gave way to a different kind of eye lining technique. Here, the eyeliner was used to give a double line at the edge of the eye. Lashes were heavy on the mascara and for that even more 1960s look, you would need to clump eyelashes together. Make sure you carefully clump those lashes. Going too hard may actually damage them! So go slow!
[sc:mediad]
Curl your lashes using three coats of mascara (Yes, the more the better) and then take a tweezer to clump the lashes together. The eye shadow used is black and the waterline is heavily lined with white kohl. Bright eyes were the thing for 1960s mod makeup.
Use a tweezer to clump your eyelashes together. Here's how to do it:
Here is a step-by-step way on getting Twiggy's eye makeup right:
1960s Lips
The lips in 1950s were all about making a bold statement, but in the 1960s, the lips took a back seat. This time, the lips were more about making a very subdued and subtle statement. Most of 60s women wore their lips in a very pale colour and nude shades were coming back with a bang. Pair your lips with a smoky eye shadow in black or brown to achieve that 1960s mod makeup for lips look.
1960s Brows
Along with the winged eyeliner, your brows for the 1960s mod makeup should be extremely sharp and defined. Don't over define them, but make sure you use the right kind of palette to give it a sharp and natural look. Use Anastasia Beverley Hills Eyebrow palette for that natural and defined look.
[Also Read: Makeup Tricks To Master In 2016]
1960s Hair
Like we said before, 'BIG HAIR, don't care' was the general attitude for most of the hairstyles in the 1960s. Jean Shrimpton's hair was adored and mimicked by one and all. All it needed was a little bit of teasing around the crown and leaving it with loose curls. Smoothen out the hair towards the end and use a hair straightener to do so. At the end of styling your hair, spritz some setting spray or mousse to keep the hair in place.
One of the easiest looks to emulate is this one:
Here are some more hairstyle ideas:
60s Hippie Makeup
The 60s was the era of hippies and a lot of 60s makeup and 60s fashion was inspired through the hippie culture. The hippie makeup was a riot of colors with body and face painting. Take a look at some of the 1960s makeup that will give you the feels of hippie culture.
1960s Mascara And Eyelashes
One of the most iconic fashion accessory that emerged in the 60s is the false eyelashes. Made out of human hair, animal hair, etc., these eyelashes came in black and brown colors. A lot of them used glitter and rhinestones as well to decorate their eyelashes.
The 60s eye makeup was incomplete without the mascara.
1960s Eye Shadow
Another integral part of the 60s makeup trend was the use of eye shadows. Though a lot of different colors were used, white was the preferred color of choice. Now you know how to do the 60s eye makeup.
1960s Cheeks And Blusher
Makeup in the 60s also included the usage of blushers. The most in trend colors were pinks, coral and peach. They were available in different forms like cream, solid cakes, tube, etc.
1960s Retro Makeup
We all love the retro 60s makeup and often end up throwing a 60s theme party to indulge in our retro love. Check out some of the retro makeup looks that you can try out at your next party.
[Also Read: Zendaya Makeup]
There you go! Your step by step guide on achieving that perfect Twiggy look in jiffy; it isn't that hard if you follow the instructions!