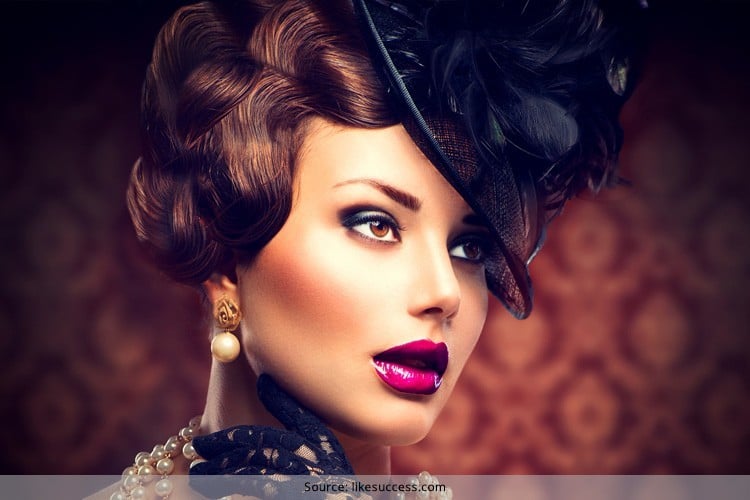 Makeup is something which keeps evolving. If we are all about curls and red lips this season, who knows what next season is going to have in store for us? But one thing that is still popular with makeup junkies all over the world, even now is the timeless retro makeup. Vintage retro makeup is timeless and classic. From the cat eyes to the red pouts and pale faces, everything is still being emulated even in the 21st century.
[Also Read: Vintage Makeup Tricks Inspired from Hollywood]
Retro Vintage Makeup
Retro Vintage Makeup was recently flaunted by Katy Perry, and Lana Del Rey is our poster girl for all things vintage. So as we said before, vintage is timeless and never really goes out of fashion. In this article, we will give you step by step instructions on how to have those retro vintage effects for your face as well as your hair. Retro style makeup tutorial are very common on the internet, but you have to be really careful on what really makes your look click. Our instructions are much generalized and you can follow them very easily. You wouldn't even need many resources. Just follow the tutorial for retro makeup step-by-step!
So, let's begin!
Step 1: Foundation It Right
Finding the right foundation shade is a little difficult. Whenever you are buying any foundation, always match the shade on your neck instead of using a patch on your hand. This will give you the shade which matches your facial skin much better.
Use the foundation to cover your face and your neck and cover it well.
Step 2: Use Blush Very Sparingly
The USP of vintage-inspired retro makeup is that they lay a lot of emphasis on the eyes. So blush and foundation are very minimal. When you are using the blush, choose a very delicate pink or red colour for it. Vintage make-up is also inspired a lot by its natural appeal, so blush is just there and never too much.
[Also Read: Retro Eye Makeup]
Step 3: Define Your Eyebrows Right
Vintage retro makeup considers the eyes and lips the most important features. So when you are getting your brows done, you would be defining them well. Strong eyebrows in the 50s and 60s made a very bold statement. Make sure you have clean eyebrows and all the stray hair has been plucked. Dust a highlighter just below your brows to make them pop out even more.
These pictures will give you an idea of how to define your eyebrows in the right way.
[sc:mediad]
Step 4: Winged Eyeliner Look
The winged eyeliner is the most important part of a retro makeup look. Your eyes will do all the talking when it comes to a bold 1960s look. Please note, winged eyeliner or cat eye (whichever catches your fancy) is very difficult to achieve and you can only be perfect in it when you have been practicing well. The key to getting the right eyeliner is to find a brush which is thin and fine, but at the same time it shouldn't be that flimsy, otherwise the cat eye won't come out right.
[Also Read: Bollywood Actresses In Retro Look]
Follow the image below to get the winged eye right. It's easy only of you follow the instructions well!
Step 5: Pay Importance To Your Eyelashes Too!
Like we said before, eyelashes are really important for any vintage look, make sure you use false eyelashes to make your eyes pop out. You can make do with two or three coats of mascara, but to get the look right, false eyelashes will work so much better!
[Also Read: How to Rock the Look for a Retro Party]
Here is how you should apply false eyelashes:
Step 6: Get The Right Shade Of Red To Finish Your Look
Reds and oranges are crucial for a vintage-inspired look. With so many reds in the market, choose the one which will suit you the best. Ruby reds and wine reds look elegant and bright. Remember to finish off the look with a dab of gloss.
Voila! This is how you can get a vintage inspired retro look in just seven simple steps!