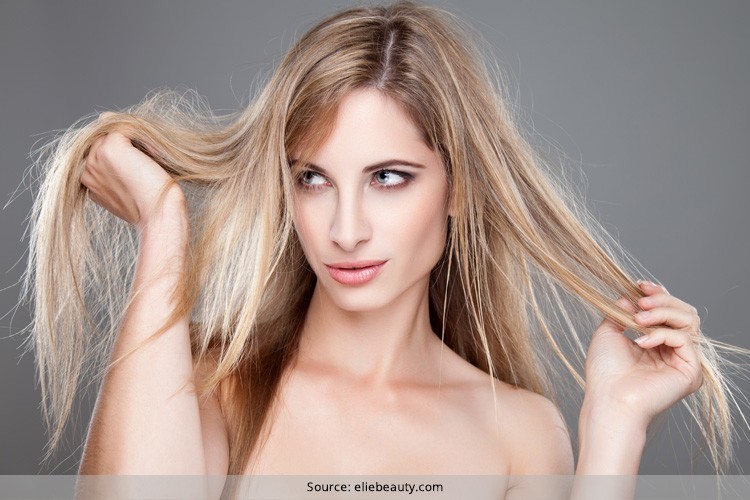 The rack at the store is flooded with like a zillion anti hair breakage products promising us the best of the results. The vast spread of choice can actually cloud our decision and a serious exhaustive research is needed to make the best choice.
Products For Hair Breakage Prevention
Well, I have done my research and as a good fellow citizen, let me share the list of products for hair breakage prevention I found the best in the market.
1. Tresemme Hair Fall Defense Shampoo
The reason I bring this up in the beginning is because it is undoubtedly one of the best hair care products for hair breakage I have ever used. Tresemme has created a shampoo that nourishes the hair; makes it well hydrated, and strong against damage or breakage. Tresemme Hair Fall Defense Shampoo retains all the lost moisture making the hair look manageable and fresh. The formula they use is made to provide hair the strength against hair fall and get you looking glamorous all week long. A 90 ML bottle costs 75 INR.
2. Himalaya Anti-Hair Fall Shampoo
Himalaya Anti Hair Fall Shampoo is suitable for all hair types and serves as a wonderful product for hair breakage. So if you are clueless about your hair type, you may as well pick this one. The formula is very mild so you may use it regularly, though daily shampooing isn't really advisable. This product not only helps reduce hair fall but also turns it smooth, silky and soft. It contains natural herbs like bhrinagraja, chanaka jati, and kusumbha and together they act as amazing sources of nutrients. The shampoo fights every hair problems like hair fall, breakage, and dryness leaving you with perfectly healthy hair. A 200 ML bottle costs INR 130.
3. Head And Shoulders Anti Hair Fall Shampoo
Head and Shoulders Anti Hair Fall Shampoo has proved itself as one of the best products in the industry. This solution treats hair fall by sinking deep into the scalp and giving it all the nutrients required to strengthen the hair root to tips. With gradual usage the texture of the hai`r sees a major change and the dryness is totally gone. A bottle of 170 ML costs INR 135.
4. L'Oreal Total Repair 5 Shampoo
The very objective behind introducing this shampoo was to end all the common hair problems like split ends, dry hair, roughness of hair and excessive hair fall. The product repairs each hair strand throughout its length. With its sweet smell and having Aishwarya Rai promote it, ever since its entry in the Indian market, it has become the favorite of the average female population in India. The cost of 175 ML bottle is INR 155.
[Also Read: Vegetable and Fruit Juices that Fight Hair Fall]
5. Pantene Hair fall Control Shampoo
Pantene Hair Fall Control Shampoo is yet another shampoo which nurtures your hair and defends it against any kind of breakage or damage. The fortifying nutrients present in the product act as an active remedy to the very cause that leads to hair loss. With every use your hair will grow stronger and shinier. The product is priced at INR 75 for a 80 ML bottle.
6. Organix Anti-Breakage Keratin Oil Conditioner
Organix has brought this 'Anti-Breakage Keratin Oil' conditioner, which is aimed at killing the friziness because they have identified fizziness as a major cause of hair breakage. This product will make the hair stunningly smooth. This is a unisex conditioner and has sufficient moisture and nourishing elements that will cater to needs of every hair type. The special feature of this conditioner is its rich fortifying Keratin proteins which strengthen every strand, increasing its elasticity and resistance against breakage. The damage caused by excessive styling is undone with this formula that has a heavy amount argan oil and creates a luminescent shine. After shampooing your regular shampoo, apply a generous scoop of Organix conditioner to your hair. Hold on for about 5 minutes and rinse off. A bottle of 385 ML will cost you INR 725.
[Also Read: Causes Hair Breakage]
[sc:mediad]
7. VLCC Hair Fall Control Kit
VLCC is known for the high quality they imbibe in their products. Nothing is different with this VLCC hair fall control kit either. The kit has an amino protein gel, amino protein oil, amino protein pack, and amino protein cleanser and is designed to make the hair less prone to breakage by making them strong from the roots. These products are filled with the goodness of china grass, almond oil, sesame, soya protein extracts, turmeric, gooseberry, apple seed, and green tea, all of them famous for the loads of nourishment they are packed with.
All the anti-hair breakage products list here are readily available at all major stores in your locality. Though none of them will dig a hole in your pocket, you can get some savings if you buy them online as they always have some discount running. As for the quality, you can rest all your trust in my market research.