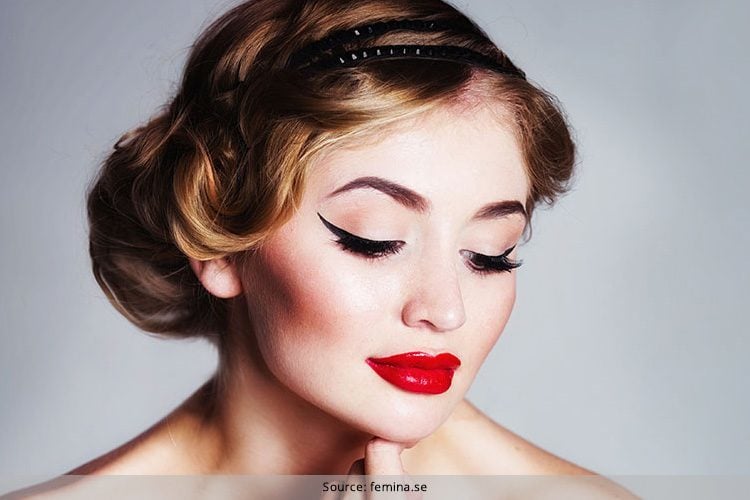 Did you know that makeup is an art form? No matter how many fancy brushes and even fancier makeup stuff you own, not having that edge and creativity for a makeup session will always result in a disaster! That is why we at FashionLady have come up with this article- An article about how to get about your vintage makeup with élan. Retro eye makeup is extremely important for any vintage look. You need to have all the basics right to create this look. Retro makeup eye tutorial will tell you how to get that winged eyeliner perfect and how to create a cat eye that may even impress a cat!
(Just kidding-how can a cat appreciate makeup? It is such a selfish creature!)
[Also Read: Art Of Open Contour Eye Makeup]
Retro Eye Makeup Tutorial
Let us give you some retro eye makeup tutorial. These are easy to follow and extremely essential if you want to get your cat eye right!
Retro Makeup Eyeliner Hacks: Thou shall begin with a pencil first
If you are new to the concept of liquid eyeliner, then we suggest that you first start off with a pencil rather than starting off with the liquid eyeliner. Draw the cat eye with a pencil and then finish it off with liquid eyeliner. Here is a detailed way of how to master the cat eye or winged eyeliner with a pencil and then liquid eyeliner.
Think Of The Eyeliner As A Triangle!
Don't be scared of the cat eye! Instead think as if it is a triangle which needs some colours, precisely, black in this case. To get the cat eye equal and same looking on both the eyes, follow each step and repeat each step on each eye. This way your cat eye will look the same on both the eyes. This is one nifty hack that you should follow while drawing a winged eyeliner. Here is how you can do it:
Liquid Eyeliner Makeup Ideas: Cat Eye Magic!
Now liquid eyeliner is so versatile that you have many ways of drawing your eyes. This trick will give you a cat eye/ winged eyeliner which is perfect to the last wing! This trick requires you to use tape. Here's how to do it:
[Also Read: Bollywood Actresses In Retro Look]
Use tape and paste it from the inner corner of your eyelid and then outwards. Now use a shorter piece of tape and use it below your bottom lashes. Now use the liquid eyeliner to draw in between these two tapes, and once you are done, remove the tapes. You will have the perfect cat eye/winged eyeliner with not even one stray line! Now this is called cat eye magic!
Use Mascara When You Don't Have Liquid Eyeliner
Sometimes, when there is a crisis, you may not have the liquid eyeliner on board. This is when your mascara can come handy to create a cat eye.
Take your trusted mascara and use an angled brush to get some of the jet black ink onto the brush. Now use the brush to draw on your eyelid. The effect created is almost similar to that of liquid eyeliner, so your cat eye is in place now!
Now that you know most of the eyeliner tricks, let's pick you some of the best products available in the market. These are the top products which we vouch for and promise that will give you the best possible cat eye!
NARS Eyeliner Stylo (Rs. 1860, Available In Sephora)
It is a felt-tipped and jet black eyeliner and available in four colours-brown, blue, black and silver
[sc:mediad]
Kevin Aucoin Precision Liquid Eyeliner (Rs. 2340, Available Online)
This is the perfect liquid eyeliner you can hope for. Wonderfully black and very precise, this one will give you're the perfect cat eye, always!
[Also Read: What Is Cosmetic Chemistry]
So, there you go! Our best hacks and best picks from the market! Let us know how your cat eye styling goes!