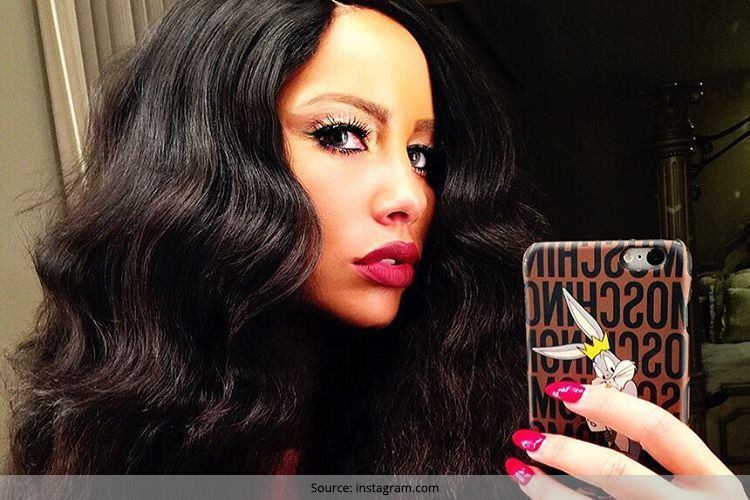 Amber Rose, the 31 year old glamour model, Hollywood actress and recording artist needs no introduction. A self-proclaimed MLF and best known for her signature blonde buzz hair cut, racy looks and even her signature shaved head, this natural brunette always keeps others on their toes by going against all norms and grains of latest fashion trends with her hair and fashionable looks. The model's rebel looks has always made everyone adore her crazily with her rebellious looks and the confidence and aplomb with which she carries it off. Recently, she amazed everyone once again by posting her pictures, flaunting almost unrecognizable Amber Rose with long hair.
[Also Read: Pretty Haircuts For Long Hair]
Amber Rose Long Hair Styles
For those looking for inspiration, we present some past Amber Rose long hair styles to adorn and flaunt.
Amber Flaunting Ombre Dark Brown And Blond Hair
Even before ombre caught the imagination of all as a fashion style statement, Rose was spotted flaunting it. As evident from the picture, this is a very interesting and captivating picture of young Amber Rose with long hair. The part brown and part blonde hair with beachy waves looks completely natural and stunning on her. It's worthwhile to mention that this picture was taken before she posted herself as a black woman. This is a souvenir for all those Rose fans before her days as a black and before she landed her modeling contract.
Long Dark Brown Colored Hair
Captured before 2009, this would definitely count as one of the awesome Amber Rose pictures with long hair. Looking like a picture from days when she was a dancer, this is one look that surpasses her look with her platinum blonde buzz-cut. Looking perfect against her warm skin tone, the rich deep brown color adds plentiful of style and sophistication to her looks. Perfect makeup and superbly done ponytail enhances her face shape and makes her big brown eyes stand out.
The Magic Of Long Light Brown Tresses
Posted in June, Rose shocked everybody with her wig of long light brown tresses, reaching well past her derriere! Flaunting her post pregnancy figure with skin tight, body-hugging, electric green dress with a playful and intricate peacock feather sequin appliqué at the back; she's absolutely killing it. She surely looked happy and contented with her showstopper look.
[sc:mediad]
Long Straight Black Hair
In this picture which was clicked in 2011, Amber looks like Cher and even slightly conservative on top. In spite of being a wig, the super straight locks of hair look maddeningly sleek on her. This black hair Amber Rose hairstyle draws mixed reaction. While some feel she looks super sexy, many feel she looks much better with lighter tones of hair with some more body and volume to her hair.
Long Dark Brown Curly Hair
Flaunting the dark brown curly hair waving past her elbow, Rose seems to be outdoing herself with these wonderful long tresses adorned at a recent party. If it weren't for her giveaway tattoos, I wonder how many would actually have recognized her in the newly acquired dark tan and completely reinvented Amber Rose with long hair with brunette look. Many feel she looks like a Caucasian.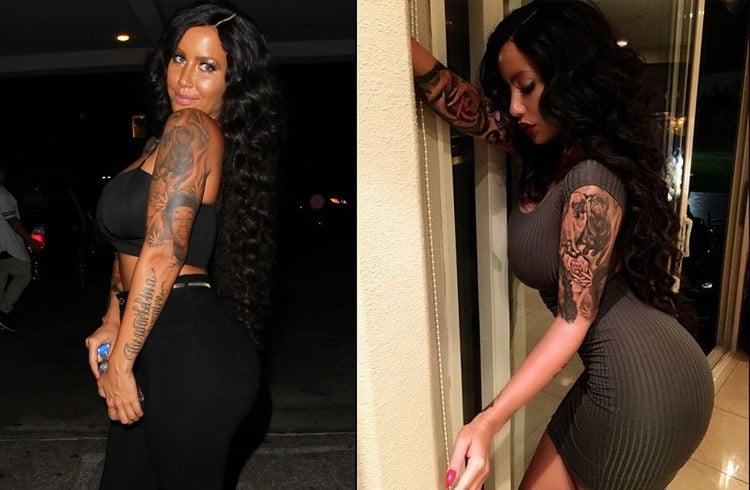 Changing like a chameleon, we spotted her shared photo on the social media in which she openly flaunts her long black wavy hair. All those who thought wigs are out-of fashion, think again. Each look transforms her to a different unrecognizable person. She might even dare go incognito with a stylish wig and of course a turtleneck.
[Also Read: Blake Lively Hairstyles That Made Us Long For Healthy, Long Hair]
Long Brown Hair and Bangs
Even though the style is not making any fashion news currently, but Amber looks absolutely fab in the long tresses dancing at the back and the bangs elegantly styled on the face. The exuberant youthful look seems completed with beautiful danglers in the ear or even the golden hoops.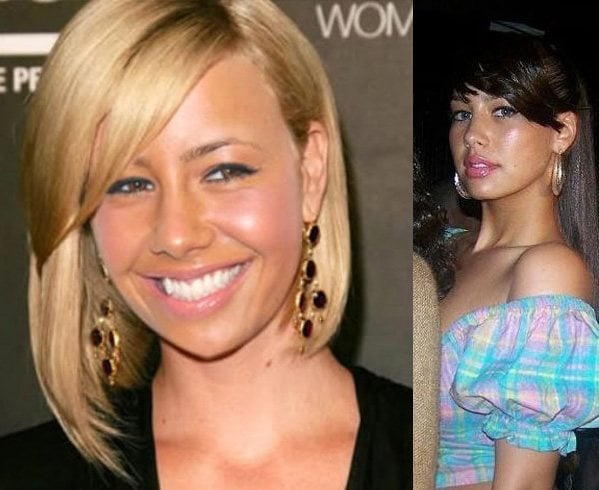 Long Light Brown Hair
This picture was clicked before 2009. Sheer innocence, youthful glow and the soft smile would make it a tall task for anyone to recognize this Amber Rose with long hair. Her looks can make her blend with any crowd unnoticed. With her neat-cut hairstyle and the sexy clothing, she looks terrific in this light brown – almost sandy-blonde color. The look is so perfect that one actually wonder if it is in reality her genuine hair. If not, her natural hair had to be a close match.
The Amber Rose long hairstyles are so varied and stylish that only a celeb like her can carry it with such oomph and poise, make her fans and media go nuts. In spite of her rapid hair makeovers, she achieves super success in trading one wonderful alluring sensual look with another. While she looks quite enticing and alluring, what are your thoughts on it? Which of her long tresses look are you falling for or you would prefer her signature and bold short 'do?