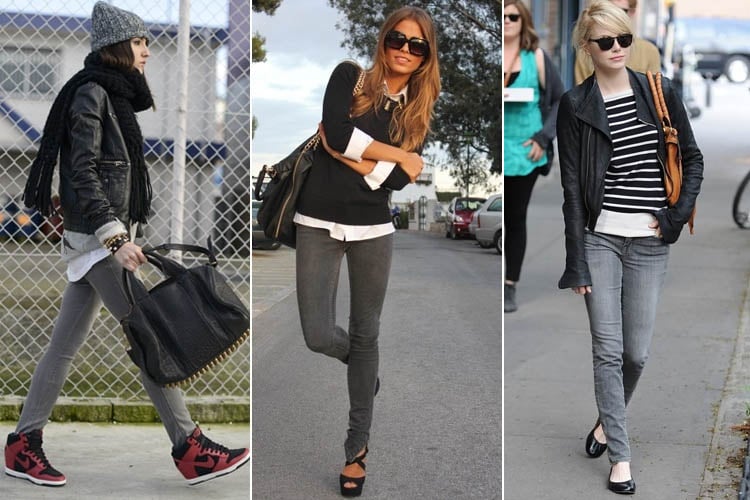 Colored jeans are around for the past couple of years. And when colored jeans won't be a thing anymore we would still have our blue denims to hang on to. But why do you ignore the power of grey. Well, we all might not be lucky enough to get a handsome hunk like Christian Grey, but we should all own a pair of grey jeans religiously. Trust me, it ain't all that boring if you know how to wear grey jeans and make a difference.
What To Wear With Grey Jeans
Grey denims come in a hoard of shades from slates to charcoal grey to silver grey. You need to know what to wear with grey jeans, to rock your look. Let me give you a hand.
The Casual Way
As I said grey comes in a wide range of tones, you can team it with a grey casual top for an unplanned stroll out of the house. Grey on grey looks cool as long as they aren't the exact same shade. You may slip into a pair of grey open toes as well, the sober color will never shout out awkward.
Layering A Grey Jeans
Grey being a neutral color doesn't give you much headache while layering. Whites, on blacks on jet blacks work perfect with a pair of well fitted grey denims. You can wear it with an old bulky wind jacket during the winter. The warm tone of the jeans saves you from the chill. But if you feel that the entire look is getting a boring air, add colors to your footwear.
Grey Denims With Shirts
Wondering what to wear with grey jeans for work? Well, as they already have an understated feel about them, grey jeans make up for a great office wear. You can wear them the entire week if your workplace doesn't follow the Monday to Thursday formal attire theme. A button up shirt or a well fitted plain sweater brings out the professional in you with your grey jeans.
[sc:mediad]
With A Blouse For Work
In addition to the button-up shirt look for work, one can also opt for a flowy or patterned blouse with a pair of plain grey jeans to go to office. Matching up a layered or ruffled blouse with the simple jeans will play out the feminine side of yours but not bother the professionalism in your get up.
With Denim Jackets
Now denim on denim is not really in fashion, I know that right! Having said that, the case isn't the same if the denims are of different colors all together. Yes, blue jeans with blue jacket was dead with the nineties. But there is always room for a blue denim jacket if you are rocking those grey high waisted jeans on the lower half of your body. That is a perfect wear for a trip to the mall with old friends.
[Also Read: Different Shades of Blue Jeans]
Teaming It with A Lace Top
Sport a bohemian-chic look by wearing a super lacey top, especially in a white or ivory tone with a pair of grey denims. This style flatters all body types from skinny to plum alike. The bohemian look is really trending these days and you will never get it wrong for a day out. To accessorize, slide a few chunky bracelets down your wrist. You can add an extra inch of chic by ripping your jeans a little.
With Black And White Stripes For Casual Chic
A top with black and white stripes goes with grey jeans like jam goes with peanut butter. If it's a rushed day, and you have just so much time to spend on your wardrobe, I say reach for that monochromatic blouse and slip into your nicely fitted grey denims. This makes for a stylish outfit and keeps you pulled together through a busy day. You may edge up your look with a trendy hand bag or your favorite bellies.
[Also Read: How To Wear Boyfriend Jeans]
Coordinating Black Jacket And A Statement Scarf For A Date
Girls have been going on dates in the black or red dress since the beginning of time. Time now for trying out something different. Why not showing up all confident and taking your date by surprise in something like a grey skinny jeans. A soft unstructured jacket in black might lend a touch of strength to your personality. But if you think this makes you look too manly, pull out an illustrious scarf from your wardrobe and ruffle it around your neck. The scarf will bring out all the girliness hidden under that blazer. A comfortable pair of shoes will complete this well balanced attire.
With Multicolored Blouse
Apparently, if your style sense only promotes black or white or solid tops when you brood over what to wear with gray jeans, illuminate yourself. Grey jeans will secure the soberness at the lower half your body, but it doesn't stop you from playing with colors. Do team up your grey denims with colorful tops and play around with colors as much as you want. No one stops you from doing that.
[Also Read: 50 Shades Of Grey Fashion Ideas]
There is no personality all black or all white. We are all just some shade of grey somewhere. So why repelling from this color? It is sad that I don't see much people trying out grey denims that often. Assuming now you know enough and more on how to wear grey jeans you will rock your grey selves every now and then from today.