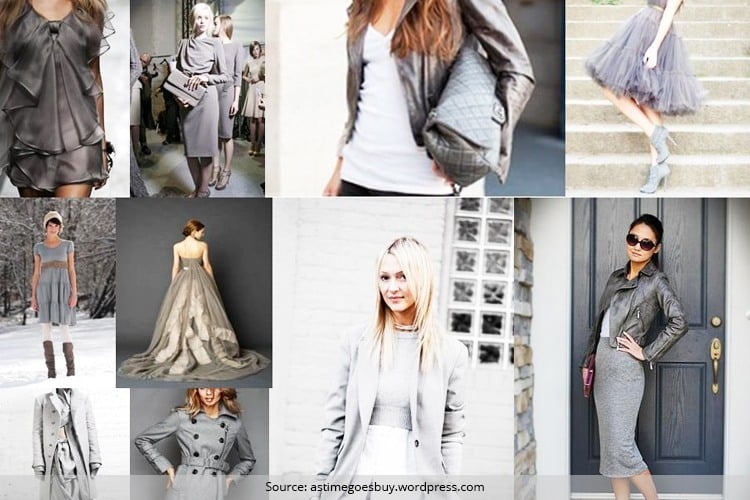 While the world goes bonkers and berserk over the saga of 50 shades of grey, we would like to move out of the herd and think a little different when it comes to grey and fashion. All things grey, the subtle touch of the shade can make or break a statement you have been trying to flaunt.
If you really want to make a statement, here are ten things grey that can make you the haute diva at work or on the street! Read on shades of grey fashion lovers!
Sacramento Street Style
Love the minimal look. A business casual wear with a grey shirt and grey formal trousers. Grey shirt and grey pants , what colour shoes would it match best with? Black of course!
A Casual Dash
Grey jodhpuri pants and a grey top with a grey overcoat for the Summerish climes, so chic and monotone- why not? Embellish with accents for the hands and hold a cute handbag in white to complete the look!
[Also Read: Infinity Tattoos]
From the 70s And Grey
Crop top in grey, an A Line knee-length skirt in grey, white heels and the snazzy retrica shades for the eyes, hauty-hot! Pay attention to a pop of red for the lips and keep the cute sling bag hanging!
Business Greys From Fresh Fashion
Hey girlfriend, dressing up for work this Friday seems to be so easy with plenty of greys doing the rounds. A fluffy white dress shirt and grey ciggy pants, with heels and dark shades for the eyes, would impress the boss for sure!
[Also Read: Republic Day Fashion]
[sc:mediad]
Putting Your Best Foot Forward
An offshore gathering or an offsite team building exercise, you still have to look the part and make heads turn in the wild. Heels for the wild wouldn't do justice, but what would make a statement are a pair of Marco Republic Expedition Womens Military Combat Boots.
Painting The Town Grey
Ditch the reds, the pinks, the yellows and the quaint blues, pub in style wearing a shade of grey or more. The sexy one piece grey figure hugging evening dress that will work wonders with a black overcoat!
Copy Shades Of Grey Fashion
Black skinnies for the legs and white top, with a long flowing grey overcoat- pretty damsel heading off to work!
Accentuate Those Curves
Pepperberry shows you how to accentuate those curves in a cute tunic skirt. Grey all over with beaded whites on the bust line and a low V Neck to flaunt, you now are ready to meet this girls over a cuppa!
Ladylike And So 1940's
Bring back the vintage look of the 1940's, with greys from top to toe. Ladylike fashion has never been out of vogue, it only has evolved. Wear this look for client meetings, boardroom talks or for an interview, and call the shots too!
[Also Read: Black and Grey Wrist Tattoos]
A Grey Affair
Cocktail evenings and you can dress in greys too! The grey affair with a chunky bust line to flaunt the V Neck seems apt, wear no statement neckpieces if you don't want, but flash the pouty red lips for sure!
Grey Linen Dresses For The Indian Summers
Linen helps keep the skin cool and breathing, which is why a Grey Linen dress seems apt to wear when picking up your son from school or a short stop over at the mall for grocery needs. Homemakers need fashionable wear too!
Elie Saab – Spring 2013 Couture
Love the Elie Saab – Spring 2013 Couture collection, and especially the periwinkle blue grey touches on the floral knee length ensemble!
Final Touches
Before we end, may we show you a taunting grey neckpiece with a touch of yellow than can make you someone's pocketful of sunshine on a gloomy grey rainy day?
So what's your grey fetish fashion like? Let us know what you think about the shades of grey fashion and the ideas we have mentioned above.