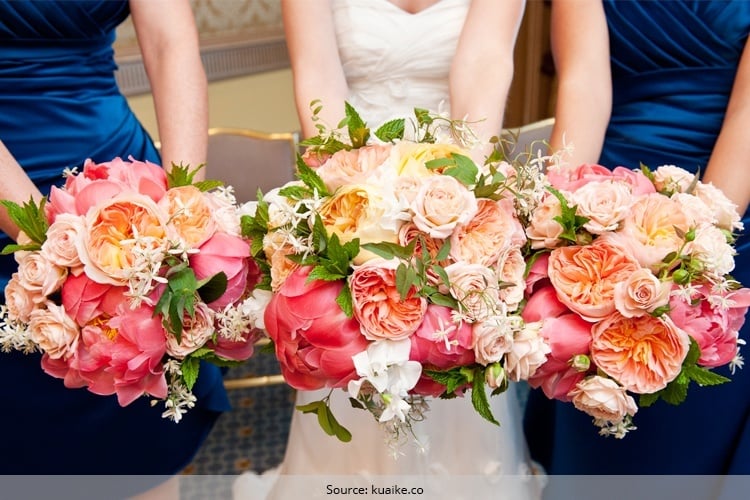 The most important day of your life, your wedding. A day when you bid adieu to the home of your parents and venture into that of your new family! While a wedding can be planned over the months, each item has to be checked on and discussed with due diligence. From food to the venue, party DJ to the ensembles and bridal wear, makeup to the flower arrangements, and your bridal bouquet too; nothing can be left to chance.
"Olive reeds and chrysanthemums were the norm back then, but these days and with new innovative ideas that have sprung forth, brides are a demanding lot. They would like their bouquets matched to that of their bridal wear" – Monsieur James Clarke, CEO JamesClarkeDesigns.com, London
[Also Read: Beach Wedding Ideas]
The Symbolism Of A Bouquet
In the early 1600s in some cities of Europe, people bathed mostly on Fridays and according to another article published, many people only had bath once a year, in the month of May and weddings were planned in July. To ward off body odor, brides carried flowers (wedding bouquets) to cover any bad body smell.
Some believed that carrying herbal bridal bouquets on wedding day will ward off any eveil spirits. For this, these bouquets were made of strong pungent smelling herbs including garlic and other spices.
Apart from the aesthetic appeal, a bouquet brings much more a meaning that just a bunch of flowers for visual appeal. In olden times and across many cultures, a bridal bouquet brought by the bride signified abundance, prosperity and good health for the family she now enters into and becomes one with.
While some still prefer the traditional hanging leaves and flowers, in various shades or colours matching the theme of the wedding, others would want to have embellishments, such as rhinestones and tassels in shimmery ribbons bestowed on their gorgeous bridal bouquets.
[Also Read: Give a Makeover To Your Bridal Christian Gown After the Wedding]
Bold and Beautiful – King Arthur Rose Wedding Bouquet
The King Arthur rose buds create a bold statement about the romance of the day. Bind the roses with a few stems of wild Jasmine to create a wonderful bridal bouquet with a beautiful fragrance of nature.
A Dash Of Simplicity And Minimalism – Simple and Best Wedding Bouquets
Keeping the colours to simple pastels and playing with the size of the roses in a bridal bouquet creates the intrigue. For the brides with a need for scent, mist the bouquet with a little dilution of their natural fragrance.
Pretty Pinks And Violets
The shades of pastel, the scent of wilderness, the romance of roses, and this hand tied bridal bouquet of pastel roses and wild Nigellas' create that romantic feel. Homemade Wedding Bouquets are not only cost efficient, but it gives you an upper hand on how many flowers you want in your bouquets, what type of flowers and so on.
[Also Read: Princess Ball Gown Dresses]
Peacock Romances The Bride – Wedding Bouquets for Themed Weddings
For the minimalist bride, a few stems of white Calla Lily bound together with polished foliage and pearls. Carry it over arm for that understated style statement.
A Quirky Handful For The Quirky Bride
Says who she cannot flaunt her quirky side, walking down the altar and taking those vows? She can do it all and with a touch of all things chunky and bling, as a bouquet this time. Making heads turn for sure, the embellished precious stone bouquet would be the talk for many other marriages in town! You can make such make wedding bouquets by yourself by buying bling supplies from your local craft store and putting them together on sticks.
[sc:mediad]
Gorgeous And Structured Tassels
A gorgeous pomander is so stylish yet playful. A structured pomander with lots of details and embellishments!
Orchids All The Way – A Beautiful Bridal Bouquet
A play on the tradition cascading bridal bouquet, this is a compact yet a cascade which will flow with movement. Phalaenopsis orchids with varied sizes of Ivory spray roses on a foliage background, all bound together perfectly with a few strands of steel grass.
Best Wedding Bouquets
When romance is spoken about and the bride show off her man to all at the altar, her hands should be graced with the epitome of love – an exquisite snowflake ivory roses with pearl chain carry handle and a diamante bouqet. Rose petals are added to either side to create that perfect finish.
[Also Read: Most Expensive Wedding Dresses]
Below are some tutorials on how to make bridal bouquets
Here is a tutorial you could refer to on how to make bridal bouquets using paper
This is a glossary of different types of Wedding Bouquets
Here was an insight into some of the top most gorgeous new-age beautiful bridal bouquets in demand these days. Fallen in love with one or two, or maybe all yet? We don't' blame you, because these gorgeous bouquets stunned us all!