The one thing we all look forward to each year in the month of January besides the Lohri and Makar Sankranti festival is getting up in the wee hours of the morning, and dressing up to go for the Republic Day parade.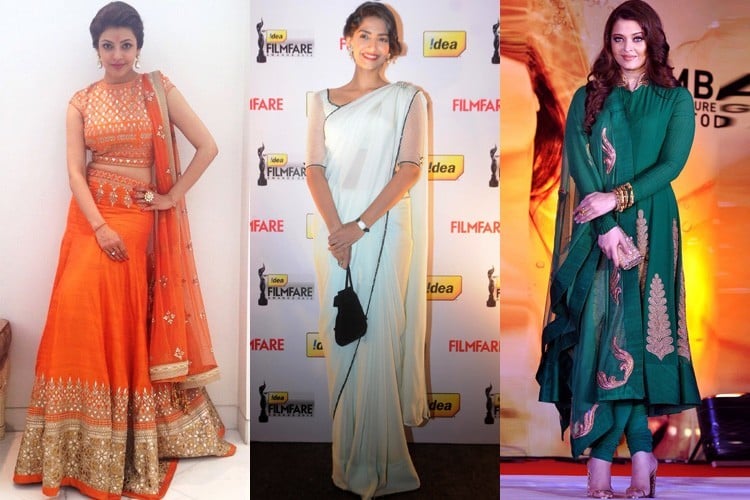 The 72nd Republic Day parade has its share of pageants from the various states of India, dance troupes, Indian Armed Forces walking down the Rajpath, and Indian army helicopters flying in formation over the R-day parade.
The one thing that one can't miss is the Republic Day fashion. In fact, the fashion trend is tilting more on wearing tri colour this Republic Day – the Saffrons, Whites and Greens, what can be classically called as Mix-n-Match.
Before you gear up to be a part of the grand parade this year, here are some helpful tips on how to dress up in tri colours this 72nd Republic Day.
Celebs Who Have Shown Their Fashion Trend On Republic Day:
If Freido Pinto looks uber cool in saffron and green gown, then Kareena Kapoor looks a million bucks in the mix and match outfit that has one of the colours of the Indian flag.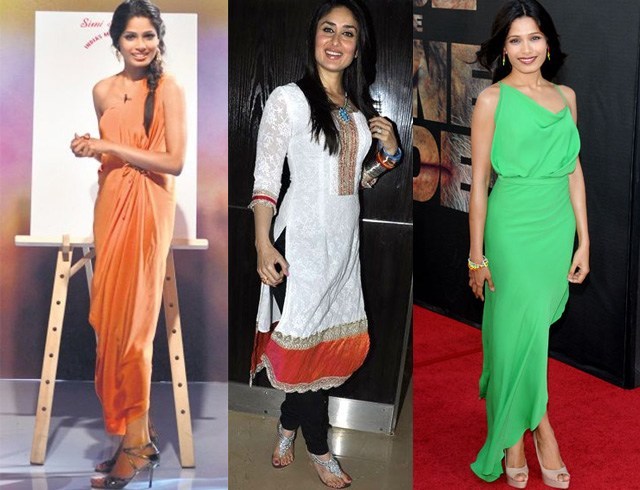 Our sexy Malaika Arora Khan hasn't shy-ed a bit from wearing Green cropped trousers, with accompanying oversized white shirt and an elegant-looking orange hand bag. So what, if her make-up and hairstyle are amiss, they could be well making another fashion statement.
R-Day Couture Worth Flaunting:
1. Shades of Tri-Color in Kurtis:
This short Indian top has its own way of mesmerising people. When it comes to Republic Day style you can go for loose fitted or body hugging style, depending on what makes you feel comfortable the most.
The fabric you chose for republic day fashion should be of your choice and taste, preferably rich such as silk, khadi silk, tussar silk, cotton silk and chanderi fabrics. See to it that the fabrics you choose do not evoke summerish tones.
In terms of colours, explore green, orange and white, or maybe a mix of all these. If you want to further enhance your Republic Day style, go ahead and drape a stole in contrasting colour. This you can team it up with jeans, trousers, capri and even jeggings. When done so, it will give you the feeling of western outfits to wear on Republic Day.
2. Specks of Patriotism In Sarees:
True Indian attire this is which is a joy in itself considering the length that varies from four to nine yards. The best form of ethnic clothes to wear this Republic Day, the Indian saree is elegant and apt when it comes to wearing trend on Republic Day.
For R-day dressing, you can wear a saree of your choice in cotton, silk, khadi. There are designer sarees also available for ladies who prefer fusion wear as Republic Day style.
But if you want to show your ethnic Indian roots on Republic Day, the best option is wearing a saree of tri colour this Republic Day.
The best color combination is wearing orange overall with green borders. You can also bring variations in the way you drape or wear a saree.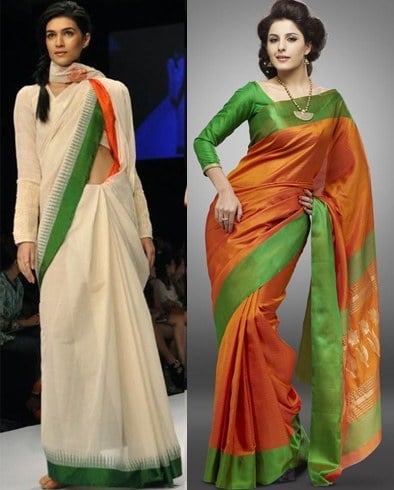 3. Spot of Tradition In Indo-Western Fusion Wear:
Call it a blend of tradition and trend, this type of fashion ensemble is picking up the most. You can stick to wearing a ghagra-style skirt with a blouse done in quarter-sleeves or wear a dhoti-style salwar and kurta.
There are online shopping portals from where you can buy western outfits to wear on Republic Day or have them custom designed from a boutique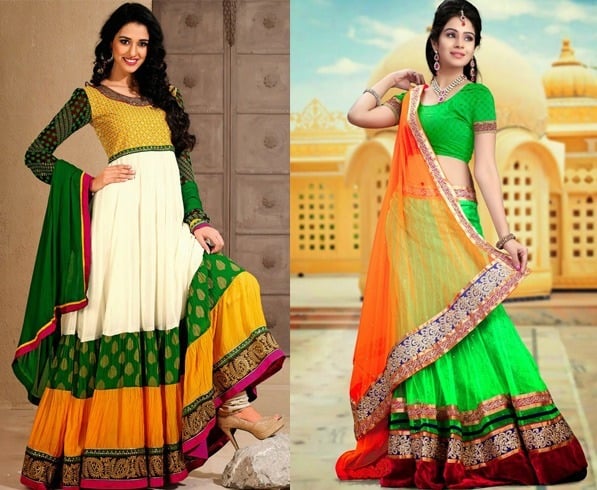 Wear an orange sheer back top if you want to cut a modern figure on Republic Day.
4. Flavour of Indian Flag Colours In Fashion Accessories:
Getting dressed in Republic Day style might make you look empty if you haven't put up accompanying jewelry, trendy and minimalistic or traditional style.
Go ahead and wear those fashion earrings or shiny bangles. But also make sure, they are in the colour combination of green, white and saffron.
Even an orange lipstick (don't wear green for heaven sake) and smoky green eyes will look damn pretty on you. Make sure they match your skin tone in the first place, otherwise you will end up looking loud and out-of-place.
Tote bags can be tri-colored too. It will make you reflect your patriotic spirit over your shoulders.
[sc:mediad]
Sport your Indian flag charm bracelet on your wrist to dwell into the patriotism.
The tri-coloured clutch as shown would be perfect to sport with your kurti, salwar-kameez or jeans.
For time-lovers, there is this green sporty watch from Timex to prove your time-keeping style.
Talk of trendy heels this Republic Day and these green coloured gorgeous pumps created by Shoe Republic would help you steal the limelight when teamed up with a western outfit.
Pick up nail paints shades of white, green and orange and make your nails speak the language of Republic Day.
[Also Read: Michelle Obama Fashion on 66th Republic Day celebrations]
Republic Day special earrings for you so that your ears can flaunt the patriotic spirit too.
Look tri colour this Republic Day by wearing this stunning pair of ethnic necklace and earrings in tri-colour.
With the 72nd Republic Day almost there, are you already thinking of Republic Day fashion? Go to the Rajpath with patriotic spirit and get seen amidst the gentry as you dress up in tri colours this Republic Day.
Do share pictures with us of you, your family members or your close friends dressed in Republic Day style. Only then will we be able to celebrate it in an ethnic, trendy and memorable way.