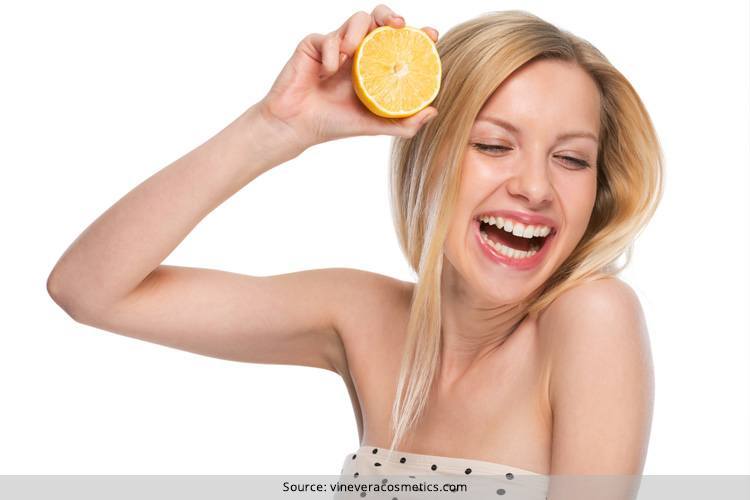 Vitamin C has proved to be the most operative and innocuous nutrient. It helps increase immunity and fights immunodeficiency diseases, heart diseases, cancer, eye, hair and even skin problems. This multitasker is necessary have natural cure. Intake of fruits and vegetables, which are rich in Vitamin C, helps one stay healthy and look beautiful. By beautiful one means the effect of Vitamin C on skin, cleansing and naturally exfoliating it thereby bringing out a glow that is otherwise suppressed by dirt and pollution in the air. Also, it has amazing effects on dandruff, removing all icy flakes from our scalp. Antioxidants and high Vitamin C content in natural produce is considered to play an important role in staying beautiful and healthy. This article brings to you benefits of Vitamin C for hair and some useful masks and rinses to bid adieu to your hair problems.
[Also Read: Beauty Benefits of Vitamin C]
Vitamin C For Hair
Vitamin C is good for hair growth and dandruff eradication. It cleanses the scalp thereby preventing dandruff. It gives impetus to hair growth because Vitamin C consumption helps build immune system and cleanses toxins inside the body, which help build a healthy scalp and hair growth, increases. It strengthens hair and helps maintain good quality. It also helps maintain a healthy scalp.
Does Vitamin C Damage Hair?
As long as you are not allergic to it, Vitamin C does not harm your hair or body in any manner. People having acidity and health issues that are aggravated by Vitamin C. should control Vitamin C consumption. Do not in take lots of Vitamin C early in the morning or in an empty stomach if you are prone to acidity. Vitamin C is a generally helpful nutrient, which is important to our system but capacity of intake and its reaction on skin, or hair varies from person to person therefore if you feel any problem, immediately consult a doctor.
Dose Of Vitamin For Hair Loss
Vitamin C has antioxidant properties and antioxidants aid in decreasing loss caused by free radicals that are produced when our body converts food to energy. These free radicals also harm hair making it weak and result in hair loss. Vitamin C deficiency can cause hair to dry up and split which would eventually result in loss of hair.
[Also Read: Beauty Benefits Of Vitamin C]
Soak the hair in lemon juice or apply lemon juice throughout the scalp before taking a shower. You can also opt for a hot oil massage, mixing amla oil with lemon juice as both are rich in antioxidants and high in Vitamin C. Cover the scalp for half an hour with a shower cap, shampoo and rinse.
[Also Read: Vitamins For Long Hair Growth]
Alternately, lemon juice, strawberry and oil can be a good mask or rinse for the hair. Strawberry has high Vitamin content. Egg white mixed with lemon juice and oil is a good hair mask and rinse.
Prepare a mask using one ripe avocado, 2 tbsp honey and some amla oil. Cover your hair shaft from root to tips with the mask, rinse off after 30 min. Avocados and amla oil are both rich in Vitamin C, nourish the hair and hydrate the tresses too.
[Also Read: Vitamin C – The Elixir for Your Skin]
Owing to its antioxidant, anti-inflammatory, anti-bacterial and exfoliating properties amla helps boost scalp health, making your tresses smooth, strong, lustrous and free of dandruff. Mix 1tbsp pulp of amla with another tbsp. of lemon juice, apply this mask evenly on hair and wash off after an hour.
[Also Read: Amla For Hair Care]
In last rinse of your hair wash, mix few drops of lemon juice to a mug of water. Lemon helps keep your mane dandruff free, bestows lustrous locks and manages oily scalp.
Rich in fatty acids, vitamin C, Vitamin B, iron, zinc and potassium, coconuts are great for dry hair and flaky scalps. Apply coconut milk on your tresses to reverse the damage done by sun, winter, heat, excessive cold or dry winds.
Rich in Vitamin A, C and E, bananas are our mane's best ally. Blend 2 ripe bananas to form a smooth paste sans of lumps, mix 1 tbsp each of honey, olive oil and coconut oil. Apply this thick paste evenly on tresses for silky soft hair and strengthened shafts.
[sc:mediad]
Vitamins For Hair Growth
Apart from Vitamin C, Vitamin B3, B7 namely Niacin and Biotin, Vitamin B12 help in hair growth. Niacin can be found in protein rich foods like chicken, turkey (poultry items), fish, peanuts and mushrooms. Almonds, eggs, avocados, cheese low on fat, are foods rich in Biotin. Vitamin B12 is found in spinach and eggs. Vitamin D in milk is also good for hair.
How To Lighten Your Hair With Vitamin C
Take lemon juice in a spray bottle and spray it onto your hair. Spray it on the parts you want lightened or bleached, the lighter you want, the more you will have to spray. This might take more than once to get the desired bleach. Spray on and go out in the sun to dry your hair. The sun does the second part of the bleaching process. Be sure to moisturise your hair after bleaching since it tends to get dry and weak. Oil or condition your hair and wash it often. You may also find vitamin C bleaching products in the market but the natural way is the best way to do it since chemicals are harmful for the hair.
On an ending note, eat foods rich in vitamins and minerals. Bleaching might seem like a cool thing to do on your hair, but your hair looks the best naturally. No rinse or mask works better than a healthy diet and proper hours of sleep. Stress and digestive disorders causes a big amount of hair loss. The key to beautiful hair, skin and body is a happy stress free mind. One also needs to be cautious about pollution. Cover your hair in places full of dust. Happy hair care!