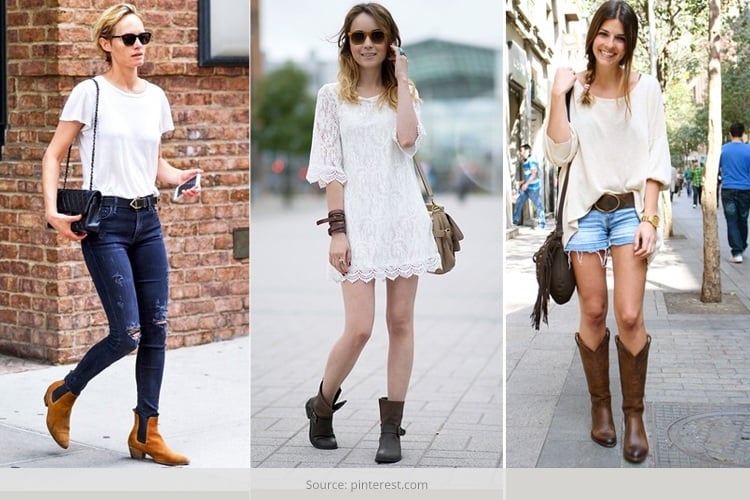 Booties aka ankle boots are something every girl desires but not everyone can carry them, so the two groups come into being, the "I love booties" group and the "I hate booties" group. If you fall amongst the latter, it's most likely that you have made a few mistakes in deciding how to wear your ankle booties. These might have made you come to the conclusion that you absolutely could do the "booties think". But we are here to dispel those very rumors. We want you to know how perfect the booties can be with just about any outfit. So, we have compiled a comprehensive list of ways to wear booties to help them have better understanding on how to wear booties.
1. Don That Summer Dress In The Fall
If you have an outdoorsy plan for the weekend, you can team your airy summer dress pair of complimentary dark hued booties for a super sexy yet comfy look to get you through the day. With this outfit, you can stay warm without getting all worked up under the sun.
[Also Read: Summer Dressing Styles for Office]
2. Kimono Business
Don't let that kimono rot in your wardrobe over the winters. Now, you can club that peppy kimono with a pair of denims and ankle booties to get that cool fashionista look. Add a nice long neck piece and a sleek hair up-do to complete the entire look.
3. Miss Sexy Legs
If your height is nothing near runway models and you always wished for longer, sleeker legs, this look is perfect for you. Though, we can't really get you longer legs, we can definitely help make them appear longer. Simply, get yourself a pair of dark hued booties, tuck your jeans into those and club this with a light coloured tee, layer with a jacket over it. Your legs will appear longer and sexier. This look is great for coffee/movie dates.
[Also Read: Meryl Streep Fashion]
4. Socks Layering
Now, up your style quotient by layering your socks/short stockings over your jeans. For this you just need to team a pair of denims with your favorite ankle booties, then just pull out your socks over your denims till a little above your ankle for an out of the box, chic look. You could add any types of accessories depending on the t-shirt, top or shirt you are wearing with this.
[sc:mediad]
5. The Leather Jacket Look
Get a touch of suave into your look, by teaming a leather jacket with your booties. You could wear an all simple white t-shirt and layer it with a sexy black leather jacket and make it look all peppy by wearing a perky skirt underneath. Just don't forget to accessorize the look. This is undoubtedly one the best ways to wear your booties with a skirt.
6. Cuff It
When you wear jeans with booties, an exposed ankle is the key to keeping your ankles looking as slim as you can. One of the ways to create this chic gap between the jeans and boots is to don a cuffed hem on your jeans. A long skinny ankle length jeans is great for this look. Just don't forget to accessorize with a nice complimentary side bag to complete the look.
7. Hot Shorts
Summers can get you all worked up and all you want are some comfortable yet stylish clothes. Wear booties with pants to walk through summers in style. Pair those cute sexy denim shorts with a pair of brown booties to get a great summer look. Throw in a crop top or layer it with jacket – you cannot not get noticed.
8. Booties With Leggings
To wear booties with leggings can become somewhat tricky, but that doesn't mean you can't pair booties with leggings. Actually, most women find wearing ankle boots with leggings more flattering than wearing them on bare legs. But, you need to choose the combination carefully. Avoid mixing really light-colored or pastel shaded leggings with darker ankle boots. Match the leggings to the booties and opt for darker colors on both the leggings and the boots if you want a sleeker look. Pair the combination of the leggings and booties with a top, skirt or dress that hits mid-thigh or a little lower on the legs for a good overall look.
[Also Read: How To Wear Patterned Leggings]
Now, that you know how to wear booties, go get your friends jealous. Boots are comfortable to don and high on style, just don't team them wrong.