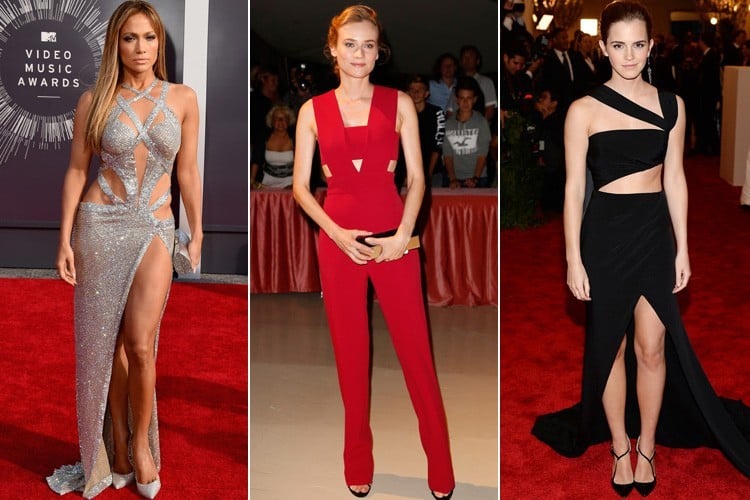 Cut out dresses have been around for a long time, but lately they have become everything when it comes to trend in the fashion zone. With lifestyle magazines repleted with these dresses, and the runways getting flooded with models in cut-out dresses, every eminent designer is introducing their own cut-out designs in the market. Lets see what the stars pick:
[Also Read: How To Wear Red Dress? Learn From These Hot Bods In Red On The Red Carpet]
Selena Gomez In Dresses
During the Victoria's Secret after party, Selena Gomez was seen in this Risqué dress, featurng some low cut-outs through out. The black and navy dress, was made up of intricate pieces of fabric which appeared to be held together with metallic pieces.
Jennifer Lopez
But, Selena Gomez isn't the first celeb to give a try at the cutout design. Couple of years ago Jennifer Lopez stunned the MTV Video Music Awards' red carpet in this skin baring gown. The glittering Charbel Zoe ensemble showcased some insanely drawn cutouts, allowing us a more than a little peek-a-boo at the songstress hot bod.
Kate Hudson
And even earlier, back in 2009, Kate Hudson rocked some strategically placed cutouts in this black floor length gown when she stepped into the Cartier 100th Anniversary in America Celebration. The tantalizing dress that was complete with a very low neckline, showed some of the tanned skin, but it was done very sophisticatedly.
Emma Watson
We didn't really realize how much little Hermione had grown up till she surprised us in this uber sexy Prabal Gurung number at the 2013 met gala. Through the cutouts we saw a lot more skin than we are used to seeing when it comes to Emma Watson.
Gigi Hadid
It was quite merciless on Gigi's part to show up at the Victoria's Secret after party in this super sexy black floor length piece. The cut out dress was hinting at all of the model's precious goodies still denying the least chances of sneak-peak through them.
Nicki Minaj
Nicki Minaj is no stranger to controversial clothes, but we hate to admit that we kinda like this one on the rapper. So this Alexander McQueen gown features some cutouts very intelligently placed. You get to see her abundant cleavage, a little underboob, and lots of abs. I am quite shocked that the 'Anaconda' singer chose to keep her long legs all hidden under the fabric.
Alessandra Ambrosio
Taylor Swift might have taken the entire Grammys home, but it was Alessandra Ambrosio who set the red carpet on fire. The Brazilian model was scorching hot channeling a goth look in a cutout dress by Giuseppe Zanotti. Like the cleavage was not enough to handle, the slit of the dress also inspires some major leg goals.
[sc:mediad]
Ariana Grande
The dangerous woman had predicted her dangerousness way back in 2014, hence the killing appearance on the red carpet of MTV EMA Awards. The young crooner was too sexy for her years in the multi cutout dress, but can we even blame her? A fond trend that I am following here is the exposure of abs, cleavage and underboobs in most of the dresses graced by the queens of pop culture, while they deliberately maintain modesty below the waistline.
Miley Cyrus
When Miley was yet to shed off the Hannah Montana image for good, she looked adorably cute and elegantly sexy in the little cut out black dress. This Zimmermann dress, with its strategically placed cuts, also serves the purpose of an inbuilt bra. How we wish this Miley was back?
Diane Kruger
When we were done seeing a bunch of cut out gowns, it was Diane Kruger who revealed to the world the art of wearing cut outs in a jumpsuit. She was everything that signified glamour at the opening dinner of Venice Film Festival last year. The red jumpsuit created an illusion of a bandeau underneath a dungaree-esque pant suit, but when watched closely, one could tell that it was actually an onesie that was baring that sexy midriff through the cut outs.
[Also Read: Jumpsuits Were Everything On The iHeartRadio Red Carpet This Year]
Fashion industry is continuously evolving and so are the ways to expose the best assets our 'whose who' have got through their mamma, or acquired through work out. We always have our eyes wide open for all fashion developments. Of course we drool over these dresses on our divas, but would you dare one of these?