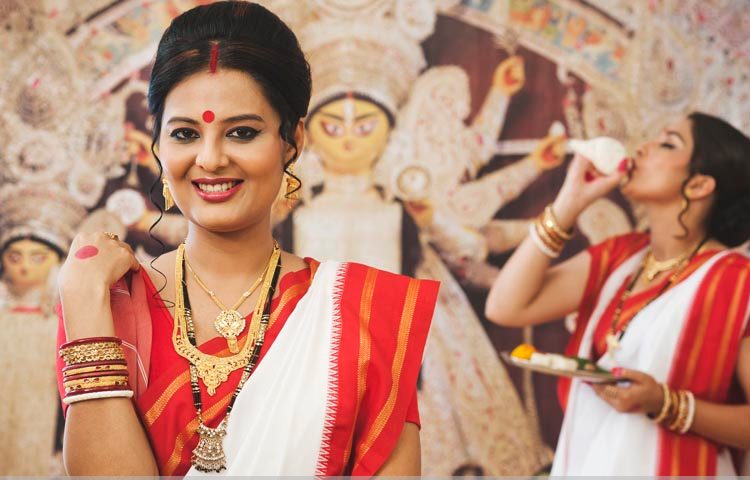 The adda yaarki and bangali khawa dhawa (fun, laughter and good food) during the four days of Durga Puja cannot be undermined. And believe it or not, one has to check out the traditional and cultural fashion scene that takes over every nook and corner of the city. No matter how modern and trendy the Bengali girl would be on other days, the four days of Durga Puja sees her dolled up in all things ethnic. Every single detail is kept chic and in toe with the mood of the festivities, even the graceful long hair too. So if you want to be part of the cultural and religious saga, here are seven ways to ensure you get the bengali dressing style done right.
[Also Read: Fashion Sense of Bengalis]
7 Ways To The Bengali Dressing Style Explained
1. Highlight The Eyes
Now let's begin with the quintessential aspect of the Bengali woman, and that would be her eyes. If you notice, her eyes would be darkened like the night sky and she doesn't mind wearing two to three strokes of heavy kohl on them, with an extended flick. So yes, whether you use eyeshadow or not, the kohl darkened eyes are a must to wear. Traditionally, the eyeliner needs to be extended well, or else it would spoil the bengali makeup look.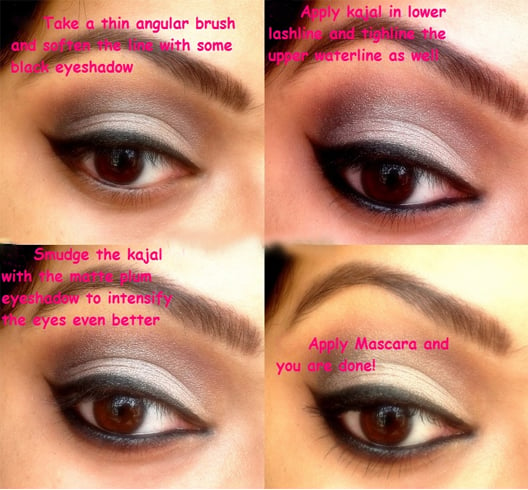 2. Large Bindi
Sindoor for the married women along with red large bindis on the number 8 count of the packet (size description) are a must to wear with the traditional sarees. For spinsters though, large bindis with crystal or stones these days are a fashion fad; culturally it has to be one large dot on the forehead and that too in burning red. The large red bindi is a symbolic statement every Bengali woman wears, and it gels into any color or hue of ethnic wear too.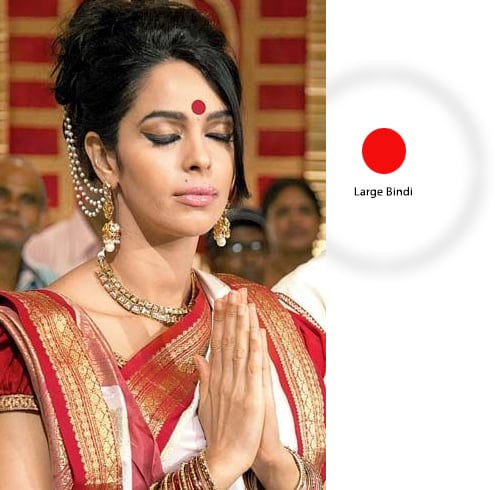 3. Wavy Long Hair
If you don't have long hair, check with our previous posts on how to doll up your hair into chic chignons and updos, for short hair. However, if you have long hair, check on our previous posts on crimping, waving or sea salt spraying and spritzing of the hair, which helps you with beach waves that mostly resembles the gorgeous flowing long hair of the Bengali woman. She flaunts it or ties it up into a chic updo for the four days of the Pujas, depending on the occasion she has to go to. An important aspect of the bengali dressing style, you cannot ignore when wearing a bengali style saree.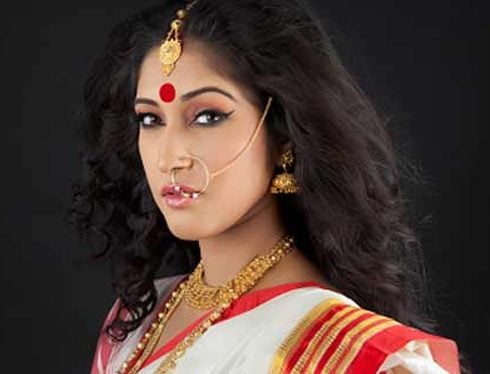 4. The Traditional Bengali Saree
We have to mention the traditional bangali saree in white and red, without which the scene goes amiss. The drapes are worn differently from what you would see women across the nation wearing, and the kantha stitch sarees or the gold brocade paar are the most wanted by bong beauties whilst the festival season is on. Along with the saree, accessories to wear are jhumkas and gold earrings, a heavy statement neckpiece each day and the quintessential big bindi in red.
[Also Read: Tant Saree – Wearing The Six Yard Long Slice Of Bengal]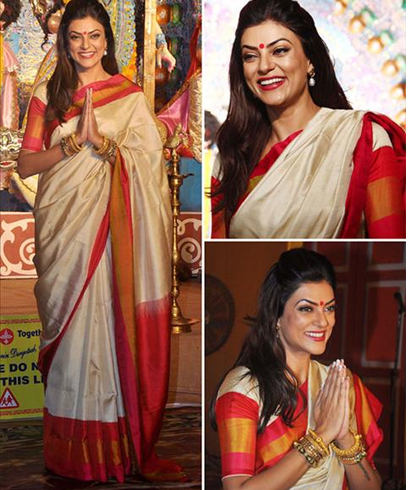 5. Blouse Styles
Now when wearing the cultural and traditional Bengali saree, your blouse should be ethnically befitting. Do not even try to experiment with an edgy choli with this look, or else it would be a FAIL. What you need is either a long sleeved cotton blouse with or without embroidery on it, or a puffed sleeved blouse to wear with the sarees. Check our posts on the various blouses that speak of vintage and retro styles, and you'd find inspiration to match with the bengali saree draping style you choose to wear.
[sc:mediad]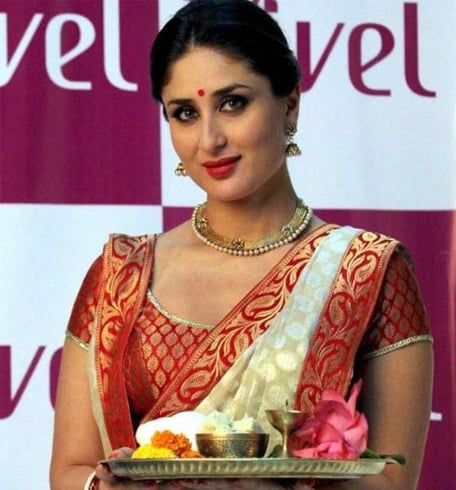 6. Footwear Talks
For the feet, we would want you to remember the occasion you have been called for. If it is offering anjali at the puja mandap, you would rather be wearing flats and open toe sandals without an inch, because of the much movement you'd be doing. If you are attending a lavish gathering or a dinner party, you can pair up heels or pumps or open toed sandals, mojaris and khussas for the feet, to match with the bengali attire, you would be flaunting.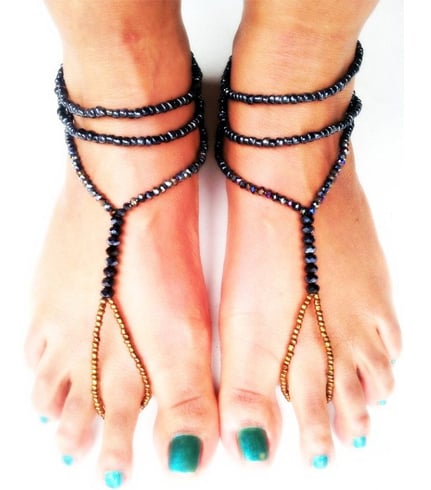 7. Perfumes
Sweet scented perfumes are going to be hits this season, just like they are every year. You maybe a girl that loves a musky woody scent otherwise, but when it comes to the four days of festivities, everyone goes gaga over sweet scented floral touches.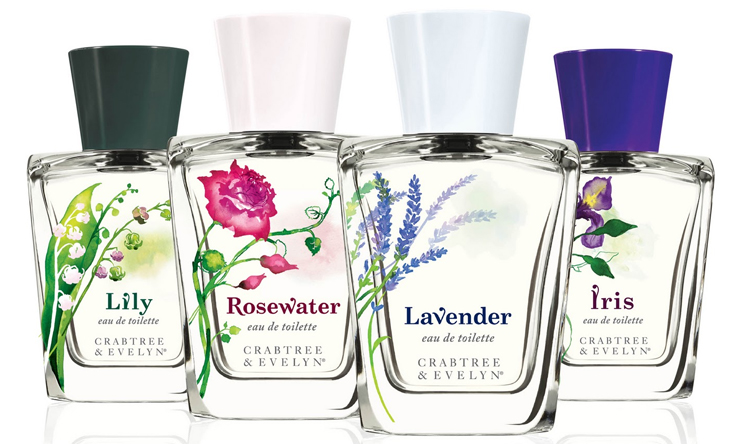 Do let us know your thoughts about the overall Bengali style dressing, makeup, bengali hairstyle, bengali traditional dress and more that we have spoken about at length!
Images Source: pinterest