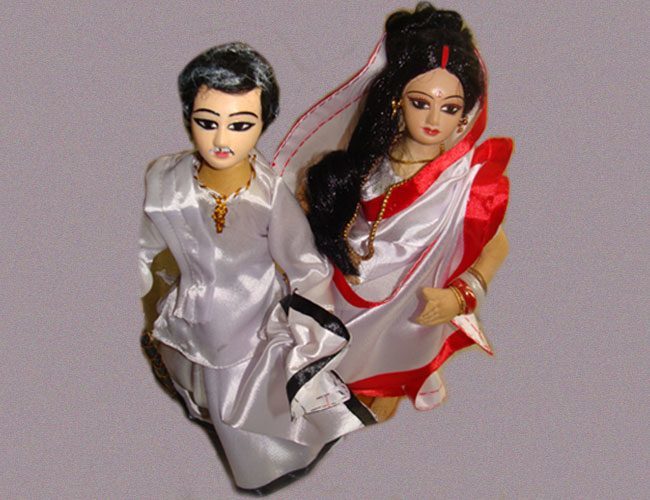 While Bollywood has introduced us Indians to the 'Babumoshais' and 'Didimonis' of Bengal through movies, there is always a quaint fashion sense of Bengalis that seems to strike our visual senses; no one's complaining. Very minimalistic and can be gelled well with anything you wear, you would know you are a Bengali (thoroughbred) when you spend and splurge on any of these five items listed below. In no random order, take a look and be inspired, while munching on maacher jhol (fish curry) and bhaat (rice) or popping in a rosogulla (sweetmeat) or two!
Shari
Or the saree – tangail, muslin, jamdani or cotton, dhakkai, khadi, dhaniakali, shantipuri, phulia cotton, begumpur cotton, garad, tant, murshidabad silk, baluchari, Kantha silk and batic cotton, phew! The state of Bengal and a little from the neighbouring Bangladesh can make the women in the nation go berserk over the choice they can choose from. The quintessential red bordered saree with a white body, worn by Bengali girls and women of all age groups and status-quo in society is a must-have. Remember, when you shop for sarees in Bengal, you pronounce it as 'Shari' or else you'd lose the charm of shopping from a myriad range of them! And yes, you need to wear that trademark minimal daily daytime makeup too with the Shari – a large red bindi, a chain for the neck and hair tied into a high updo!
[Also Read: Eclectic & Contemporary Cocktail Sarees]
The sindoor
Sindoor holds an important place in Bengali society. The tradition of application of sindoor in the parting of hair by married Hindu women is considered extremely auspicious and is being carried on since centuries.
Batic designs
From kids to school children, high-school to college-goers, men and women across all age groups, and sometimes seen as Friday dressing too, the quaint batic designs have coloured the fashion sense of Bengalis, like a tsunami washing the shores. Taught from school, the wax and colour amalgamation of art can be seen on ethnic, traditional, indo-western and western wear; across malls, shops and street-vendors.
[sc:mediad]
Tie and dye
What do you get when you rope in and tie a few beads to a piece of cloth and dye it in a myriad of colours- a fantabulous design for sure. The tie and dye nomenclature, much on the same lines of batic, has taken the state by storm ever since it was discovered by mistake in the imperial days of british rule in Kolkata. From shirts to kurtis, jeans to trousers, winter wear or summer wear – so bongi we tell you!
Shaka- Pola
Married women wear bangles made of ivory; white and red. The status-quo of a married Bengali Hindu woman is all about simplicity and grace, hence the Shaka Pola (bangles for married women) are worn till the time their husbands are alive. Spinsters dare not wear it as a fashion statement, which only goes to show the respect they have for their culture.
Once known as the erstwhile bastion for the colonial rulers- the British, West Bengal in all its glory and cultural fanfare has come a long way since. But there are grey shades to the state, and fashionably speaking, the Bengalis have maintained their cultural and traditional ways with clothing and accessories too. Ending on a note "Bhalo Theko" (stay well and safe)!