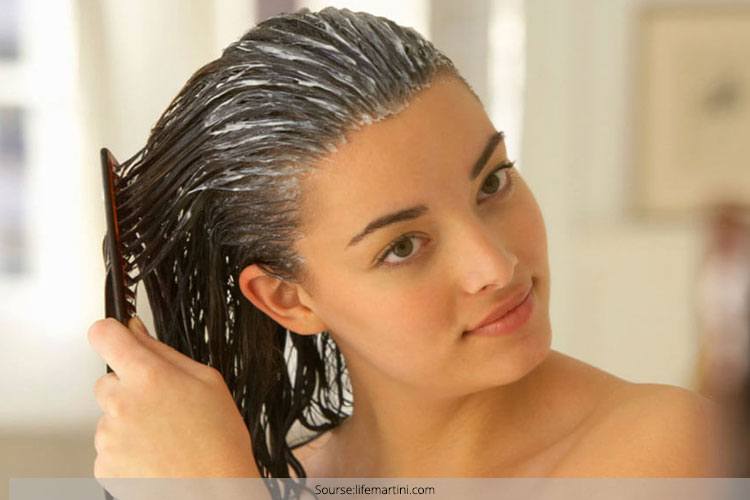 Your hair is regarded as an asset which enhances one's physical appearance. No one wants flat, limp hair which makes styling your hair an even more challenging task. But, hair loss has become a very common problem in recent years so we get why you get a little envious when you run into that friend with the impossibly thick hair, luscious and bountiful locks. Well, guess what, that can be you too! We know the only thought lingering in your mind would be how to make hair thicker? Since balding or thinning of the hair are some problems that many want to correct as soon as possible, it is important to identify the root of these problems.
Some of the most common factors contributing to the thinning of your hair are excessive physical or emotional stress, nutritional deficiencies, hormonal imbalances, air pollution, allergies, use of absurd hair care products, poor hair care maintenance, bad styling aftercare regimes and heredity. But, the good news here is there are a number of solutions to get thicker hair naturally. There is no need to spend a fortune on expensive hair treatments and products since there are many natural remedies to help you get thicker hair.
In this article, we are going to share some top tips and tricks on how to make hair thicker and how to increase hair volume naturally.
How To Increase Hair Volume Naturally
List of Home Remedies to Increase Hair Volume Naturally
Constantly using harmful products and chemicals can damage your hair and result in hair loss and thinning of your hair. Along with using preventive measures, you also need to ensure that you fix the damaged hair. Below are some home remedies that you can try out to get thick hair naturally.
The best part of using these home remedies is that you do not have to worry about any side effects.
1. Eggs
Wondering how to thicken hair naturally? Try using eggs which are rich in proteins for better hair volume. This would help in making your hair thicker and stronger. Take two eggs and whisk them together. Apply it on your hair and rinse it off using a mild shampoo after 20 minutes.
For best results, follow this dense hair home remedy four times a week.
[Also Read: How To Make Curly Hair Straight]
2. Henna
A post on how to thicken hair cannot be complete without the mention of henna as a remedy. Henna will make your hair softer and thicker and also add a natural color to it. This is one of the most used home remedy to increase your hair density naturally.
Make a paste by combining henna and water and let it rest overnight. On the next day, add two teaspoons of lemon juice and one egg to this paste. Mix them all together and then apply it on your hair with a hair brush. You can wash it off once it becomes completely dry.
3. Coconut oil
Coconut oil is a sure shot natural remedy to increase your hair growth rate as well as prevent hair loss too. Take some coconut oil and warm it up first. Now massage this gently onto your scalp and hair and cover it with a hot towel.
The hot towel will keep the oil heated. Rinse it off after 30 minutes with a mild shampoo. Regular use of this remedy will result in thicker and healthier hair volume.
[Also Read: Best Natural Hair Conditioners]
4. Olive Oil
Here is another remedy that can answer your how to make hair thicker query. Just like coconut oil, another oil that you can use is olive oil. Massage it well onto your hair and scalp and rinse it off after 30 minutes.
You can also leave it overnight and wash it off n the morning for better results.
5. Avocado
Avocado is an essential ingredient that you can use to get thicker hair. It will also help in making your tresses shinier than before. Mash an avocado and mix it with some olive oil. Damp your hair and them apply this mask. Wash it off after 20 minutes and don't forget to use a conditioner afterwards.
Another mask that you can use is mixing mashed avocado and mashed ripe banana. Apply the hair mask and leave it for 30 minutes. Wash it away with a shampoo and conditioner.
6. Castor Oil
If you are looking for one of the easiest ways on how to get thicker hair, then look no further than castor oil. It has multiple benefits like promoting hair growth, protecting against hair fall, thickening hair naturally, etc.
You need to follow this remedy at least once a week to see visible results. Take equal proportions of castor oil and coconut oil, warm them up, apply it on your hair thoroughly and cover it with a hot towel. Use a regular shampoo to wash it off after an hour.
7. Aloe Vera
Get rid of your how to grow thicker hair dilemma with the help of aloe vera. There are a number of remedies that you can try using aloe vera as the main ingredient.
One such method that you can follow is – take some fresh aloe vera gel and add two teaspoons of coconut milk to it. Mix it well before you apply it on your scalp. Rinse it after 30 minutes. Make sure to do this twice a week.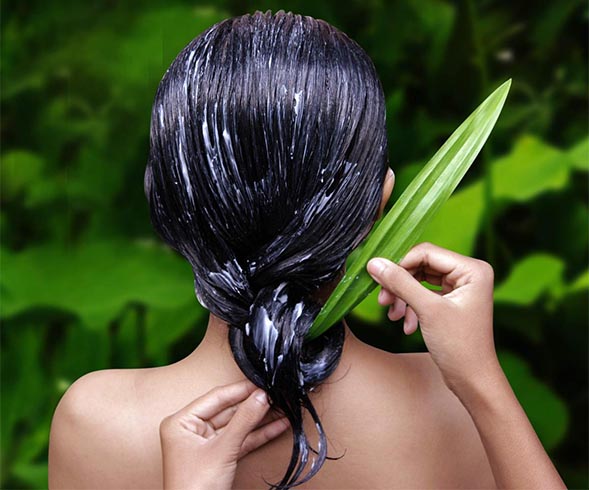 [Also Read: How To Repair Damaged Hair]
8. Hibiscus Flower
A remedy using hibiscus flower will not only help in thickening your hair naturally but will also get rid of dandruff.
Take some hibiscus leaves and mehandi leaves,; grind them both together. Now add half a lemon's juice to it and apply it all over your hair. Youu can rinse your hair after 30 minutes.
9. Take Supplements
Taking essential supplements is another way which can help in thickening thin hair. There are three vitamins which are extremely important for a good hair growth. Vitamin B3, vitamin C and vitamin B7 ate the three vitamins which should be included in your daily diet.
10. Health & Diet
Maintaining a healthy diet i
s also responsible for increasing hair's density and making it stronger, shinier and thicker. Some of the food items that you need to include in your diet are – red meat, blueberries, whey protein, alonds, milk, salmon, nuts, etc.
Simple Home Tips to Get Thicker Hair Quickly
In this fast paced life, we want everything to be done quickly. Be it losing weight, getting rid of skin problems or thickening our hair. Below are some tips that you can follow at home which will answer the question, how to make hair thicker quickly. These 10 tips will also give you ideas on how to volumize hair naturally.
1. Pick A Naturally Thickening Shampoo And Conditioner
If you don't want to try extensive supplement regimes to increase hair thickness, there's always the tried and tested method of adding volume, which is to pick a naturally hair thickening shampoo and conditioner. How to make hair thick and voluminous, choosing the right kind of hair products that you use on a regular basis is a must. You can either go for a variety of natural products available or you can choose to prepare your own organic hair wash. Either ways you end up nourishing your hair and adding volume to hair.
2. Dry Shampoos Are The Best
There is also a third way besides natural shampoos and organic hair washes – the Dry shampoo. It is one of the modern miracles that can make your dirty locks look clean when sprayed along your roots, then massaging in leaving you with a little boost of volume.
[sc:mediad]
3. Keep It Short And Sweet
Having longer hair does not essentially mean that you have thick, voluminous hair. Some girls grow their hair without paying attention to volume, which makes the hair end up looking unhealthy, stringy and rough. If you have thin hair, you should opt for a haircut that is short to medium length. The shorter length ensures that the hair grows lengthwise and also in volume. This also makes your hair more manageable and undemanding.
4. Brush It Right
Brushing your hair doesn't have to turn you into a full-fledged runway diva. But, it is essential that you brush your hair once every day to keep away tangles and knots which eventually lead to breakage and thinning. If your locks tend to fall flat, gently reverse brush it from the roots to the tips, this helps get volume in hair almost instantly.
[Also Read: How To Stop Hair Fall]
5. Go Low On The Styling
While you are styling your hair, one of the major precautions to take is not over-drying your hair. Over-stretching, too much heat or straightening the hair repeatedly whilst drying it, will take away all the elasticity and natural volume out of your hair. Make sure you are gentle with your hair and don't over-dry it, especially if you regularly style your hair.
6. Don't Overdo Your Hair Color
Hair color can look great as many women actually feel colored hair means more texture, but you need to be careful not to overdo the bleach. Coloring your hair too often, to the point of becoming dry and dull can seriously thin out your hair.
7. Curls Are Sexy
If you have naturally curly or wavy hair, don't shy away from embracing their natural texture. Girls with curly hair need to know how to work with their natural texture. If you blow dry and straighten your hair regularly, it will damage your hair and make it thin out more!
[Also Read: Fastest Ways to Get Long Hair]
8. Hair Styles
One of the best hair styling tips would be to experiment with your hair and different hair styles to go with it. You can either brush it and leave it open or you could try a loose up do or bump up the base of your pony with bobby pins or even braid it up. For the braiding technique specifically you can up your braid thickness with the famous pancaking technique.
9. Color The Scalp
Sometimes fine hair can expose a lot of scalp, so you have to be careful not to show off a lot of scalp in your hair styles. If you do have to experiment with hair styles, you can choose to color your scalp that can give your hair an illusion of volume.
10. Haircut Makes A Difference
Your haircut does change the entire outlook of your hair. To make your hair look thicker, ask your stylist for layers. This will give you volume and movement all at once. You could also flip your hair on the opposite side of what you usually would do.
Follow these tips and tricks to enjoy lustrous and thick hair without having to worry about a thing in the world. Do you have any advise or tips for our readers? Do write in and share your views with us.