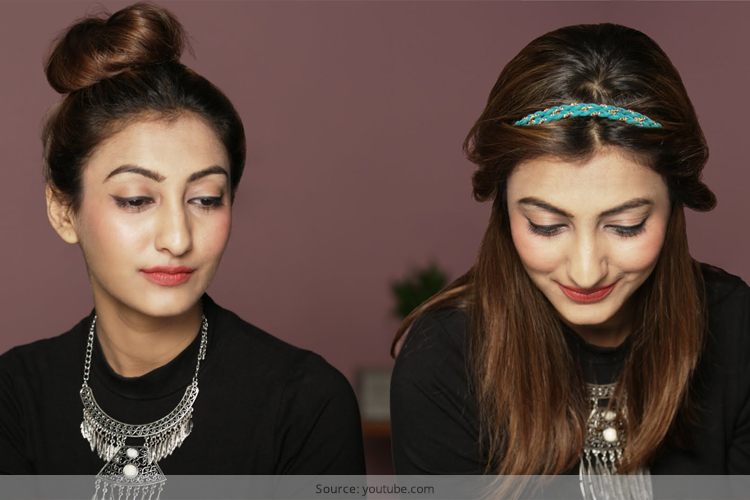 They say time is money. So who wants to spend this precious money trying desperately to style the hair into that mesmerizing style that grabs eyeballs wherever you go! Simultaneously, it's completely unacceptable that you are not getting all the limelight when stepping out! Well, do not fret! We have some awesome lazy girl hairstyles lined up for you that take less than 5 minutes and leave you looking super cool and sexy. You can now be super relaxed with these cute lazy hairstyles and put your time to better use. Check them out!
French Braid Bun
Have to attend a really sophisticated party or event! Ooze the uber chic glamorous ooze with this hairstyle for lazy girls which looks so complex but is very simple and fast to get done! For it, once your hair is well brushed, give it a side parting. Now take a small section of the hair from the wider portion and divide it into three parts. Now braid your hair as a French braid starting from the larger side front end and move in the direction of the other end. Secure the end of the braid with thin elastic or bobby pins and fold them in a bun, low and behind the ear. Secure well with bobby pins. Amp up the look by using some decorative pins, hair brooch or even flowers! Be assured of becoming a forever fan of classic lazy hairstyles for long hair!
[Also Read: Hairstyles For Teenage Girls]
Grown-up Topsy Tail
For long to medium length hair, adorn this easy lazy day hairstyle for casual or work look! It will keep all your hair nicely tied to leave you free to work whilst making you look edgy and attractive! Simply tie all our hair in a mid height pony with an elastic band. With a thin section of hair from the side, roll it around the band to cover it properly and secure it with bobby pins. Now tie a clear elastic band after leaving a length of about 2.5 to 3 inches from the top. Now separate this section into two so that a hole is created in between and flip the tail end portion of hair through it! Now pull your hair and adjust it to give the nice tight and neat look. Similarly create as many sections as your hair length allows! Oozing a braided look, it is one of the cutest lazy hairstyles for medium hair all your young girls!
[sc:mediad]
The Knee Melting Sexy Spikes
This season, the pixie cut is huge fashion rage! Cut on its usual polished vibe with this edgy spiky lazy hairstyle for short hair to create a bombshell look for any occasion! To create it, blow dry your just shampooed hair, but remember to brush through to keep them straight and sleek and not roll them over your round brush. For those having relaxed hair, use a dime size of any thick conditioner and about one quarter size of non-alcohol medium hold gel before blow drying to keep it soft and shiny. Next, use the molding paste and give your hair some spikes in as edgy a style as you wish. Now finish off with some shine spray and Whoa! You are adorning one of the sexiest and mesmerizing lazy girl hairstyles in less than 5 minutes. Be it your shopping spree or a bonfire party, you are ready to rock!
The Winding Side Braid
Give your side point a casual coif fit and look super sexy while keeping your medium to long hair managed! This is one of my favorite lazy hairstyles! To achieve it, give your untangles and brushed hair a side part and make a braid from a thin front section of the wider part and tie its end with a clear elastic band. Next, using bobby pins fasten the braid stylishly and smoothly under the crown of your hair. Ensure that all pins get covered by hair to ooze an effortless and neat vibe. Now wrap the braid around the pony as shown in the image and tie its end and the ponytail end with a clear band. Simply flaunt it now for any occasion and get overwhelmed with compliments!
Crown Braids
If you wish for your hair to let loose yet managed, try this lazy girl hairstyle which keeps you trendy with both the center part and braid fashion trends. With your well brushed and center parted hair, create two regular braids with one inch chunk of front hair from either side! You can leave a few strands loose in the front for that soft sexy front vibe! Now take both braids at the back and intercross them at any height you feel looks best though the nape of neck of just below the skull is most ideal! Secure with bobby pins or bands and you are ready for a slew of compliments!
[Also Read: Pretty Knot Hairstyles for Long Hair]
Finally, do share if you had oodles of fun trying these lazy girl hairstyles and which became your eternal favorite!