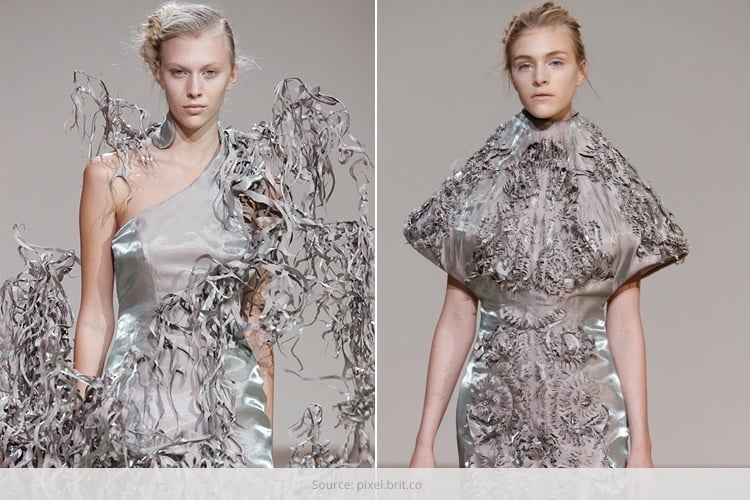 3D printing was first invented in the year 1984, and that seems pretty long away because with time, 3D printing has actually seen itself in the fashion scene and now 3D printed haute couture is even a thing! With 3D printers being available more and more (thanks to their decreasing prices and supply), fashion designers are now using this unique printing style to actually come up with haute couture dresses!
[Also Read: 10 Haute Couture Statements From Elie Saab]
So, when was the first time any designer dared to bring this style of printing in the runway? If you think of it, it was actually in 2011, nearly 5 years back! In 2011, the Time Magazine named Iris van Herpen's 3D printed dress as one of the 50 best inventions of the year 2011!
Iris van Herpen was also a gutsy woman and she is not scared to experiment. As a part of the Chambre Syndicale de la Haute Couture, she is and known to test all the boundaries of materials and designs that are there in the fashion world. In fact, recently she had also presented two very new and innovative 3D printed textiles during which were showcased in her 'Voltage' presentation during the Haute Couture Paris Fashion week.
This is her video of how she made those:
Together with Materialise (an innovative 3-printing firm) and architect Julia Koerner, Iris came up with a black lacey dress that actually looks like there is a web woven over the body. If you look at it from a distance, you will feel as if the material has delicate textile fibers and they are intertwined and handmade. But the funny part is, it is a fully 3D printed dress made and is actually from lasersintered plastic. When Van Herpen developed this innovative new textile, she did not think that it would be so amazing! She called it the TPU 92A-1 and now it is being thought as one of the first printable materials that is extremely flexible and is also durable enough to be worn. She says that the material can actually be put in the washing machine too. Now that's one huge step in the fashion industry and if this seems to catch on, very soon there will be a gargantuan shift in the way things work at the fashion world!
[sc:mediad]
The second innovative fabric that Iris van Herpen's came up with is even more fascinating. For this, she worked with another 3D printing company – Stratasys and MIT's professor Neri Oxman. They came up with a printed cape and skirt, which actually look like they are composed of mussels! Unlike the previous one, this textile material is actually made of two materials; one soft and the other hard. But they are printed together.
This is also the first time in 3D printing that two different materials are combined in a single print. This again resembles a paradigm shift in the industry because the designer and the wearer can actually decide and have two different flexibilities for each part of the material!
Another look:
3D printing is actually catching on with a lot of designers and they are trying their own hands at it before launching it. But Herpen has already launched her first Ready-to-Wear line last season. She is thrilled about the fact that 3D printing could actually be a helping hand to bridge the gap between ready to wear and haute couture. Many Haute Couture Fashion houses are actually looking at ways to mimic both with 3D printing.
How do you think it would change the fashion industry? Well, people can actually now get a 3D printed scan of their body and buy dresses which will actually be their perfect fit. Now this is exactly the concept of Haute Couture dresses, except that 3D printed Haute Couture Dresses will actually be a lot more affordable than their previous counterparts. High fashion is on your fingertips, right?