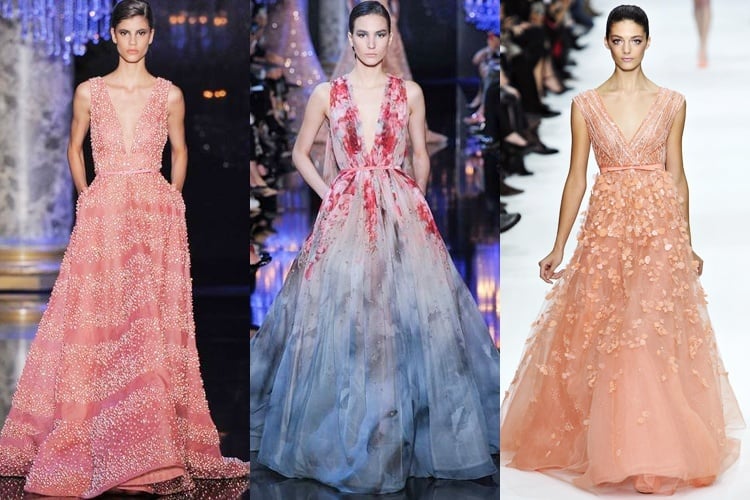 One name that comes to the mind when we say India needs a fabulous western bridal wear designer, and we would all point fingers lovingly at the famous Elie Saab.
Here's to the ever wonderful creations in pink by the Lebanese designer, Elie Saab
With plenty of oomph touches and chic trends being created at the workshop each year, the ramps for fashion weeks across Milan, Paris, Tokyo, London and everywhere you could think off, sports Elie Saab with aplomb and high taste.
Elie Saab | Pre-Fall 2014
Who would have thought an all-pink haute ensemble would make heads turn, but Elie Saab did it! Pre-Fall 2014, Elie Saab made a statement with the perfect pale pink overcoat, flowing from the mid-waist mini-skirt!
Coral Pink Gowns
Beauty at its best, with embellishments of bling and sequins, terrific coral pinks as well, Elie Saab leaves nothing to chance to bring the 'toga' feel out. Unprinted and draped well, with a one shoulder for support, plus a sleeve too, who else would think of such innovations in fashion!
Elie Saab Haute Couture Spring Summer 2011 Collection
OMG, could we bring back the Haute Couture Spring Summer 2011 Collection by Elie Saab in 2015, especially for this floral pink haute gown? Could we!
[sc:mediad]
Elie Saab Couture, Spring 2012
The ramps showcasing Elie Saab Couture, Spring 2012 were set ablaze with touches of pale and peachy pinks. It was Elie Saab all the way, and the dress with gota touches and the toga feel brought on the mesmerizing look!
Elie Saab Resort 2015 Trunkshow Look 25 on Moda Operandi
At the Elie Saab Resort 2015 Trunkshow Look 25, our designer made heads turn and others burn green with envy displaying the fabulous pinks in all their glory. From cocktail gowns to bridesmaids clothing, pretty pinks ruled.
Halle Berry in Elie
Halle Berry in Elie Saab 2014 at the Emmy Red Carpet fanfare, which only goes to prove that our celebrities worship the Lebanese designer – Bond Girl Halle Berry wears Elie!
[Also Read: Designer Asmita Marwa Style Check]
Elie Saab Fall Winter 2014-15 Haute Couture
A play of satin-silk and with net and sheer undertones, the Elie Saab Fall Winter 2014-15 Haute Couture collection showed us a play of shades in pink and peach, with touches of fabrics in various denominations; a perfect amalgamation that would steal your breath!
Elie Saab Spring 2013
Sheer play of lace and net, Elie Saab Spring 2013 showcased collections from cocktail dresses, skirts, gowns to modern day office wear as well, and all in various shades of pink that too.
A Little Bling And Shine From 2012-2013
ELIE SAAB – Haute Couture – Fall Winter 2012-2013, wowed the world of fashion with embellishments and sleek waist gold bands on dresses, skirts, midi skirts and more. Pale peaches to pinks, keeping it low but sensual was the key.
[Also Read: Anita Dongre Designs]
Nina Dobrev in Elie Saab
When Elie Saab met model Nina Dobrev, the 2013 SAG red-carpet saga couldn't stop itself from burning into a billion embers. Sleek cut-outs and an all-dark-shocking pink gown by Elie, was the talk of the event!
Elie Saab Fall/Winter 2014-2015
A sneak-peek into the Elie Saab Fall/Winter 2014-2015 backstage soiree told us a lot about the Lebanese designer's love for all things pale, peach and pinks! From low V Backs to the round necks, polo necks to the flowing beaded skirts, sheer and net to lace and chiffon, Elie played with them all.
Magical and enchanting, each creation by Elie Saab is such that one would want to emulate them for our Indian weddings with a touch of desi designs too. Elie Saab, are you listening, we need you here!