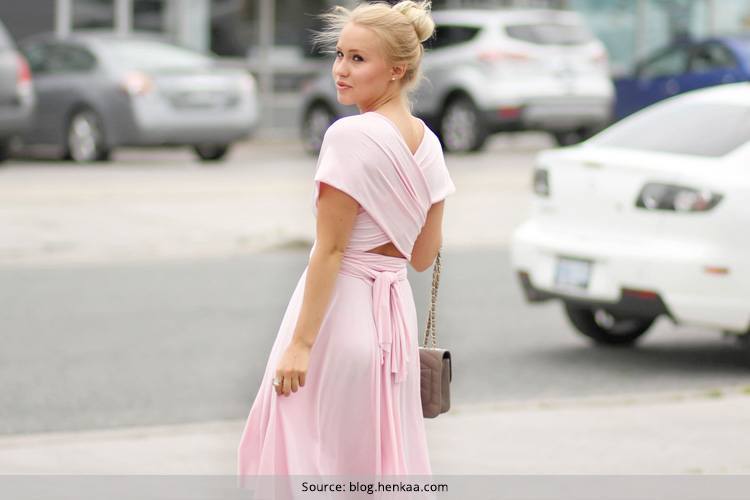 We girls love the shades of pink and baby pink especially, well almost all of us. Now if you want to flaunt your feminine charm and look innocently seductive too, there are ways on how to wear baby pink, and make a fashion statement out there.
Different Ways To Wear Baby Pink On You
Take a look at some of the few stylish style statements and different ways to wear baby pink on you, in Indian scenarios too. Seek inspiration and do refer to our post on mix and matching styles, to get all creative and stylish too. Learn how to wear baby pink and get to be your own stylist!
[Read Here: Rules For Mixing and Matching Prints and Patterns]
1. If you are out for a formal event and would like to quirk things up a little wearing baby pink, you could opt for an all pink frock. Complete the look with pink flushed cheeks, pink lips and instead of black heels or pumps, opting for neutral or nude footwear would be the right way to balance the warm toned look. Accessories too should be neutral as shown; a chunky neckpiece is a must with a clutch or a bag in hand as well!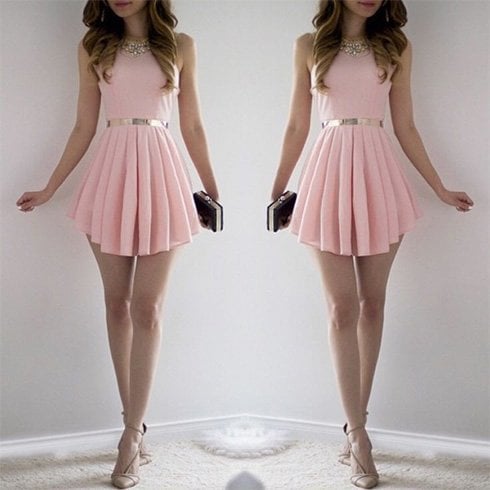 2. Baby pinks can be worn to work as well and you don't have to try too hard to make a fashionable entrée on a Monday morning. Stir up some action in a long pink summer coat, over a black top and skinnies, with baby pink footwear and a chic neutral shaded bag for company.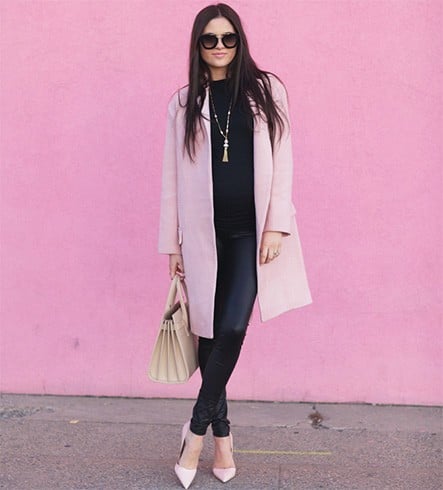 3. Baby pink cropped tops with baby pink midi skirts are sexy and cute to wear. You can complete the look with nude makeup, loose hair, a chunky wristlet and a statement neckpiece to flaunt, with nude heels for the feet.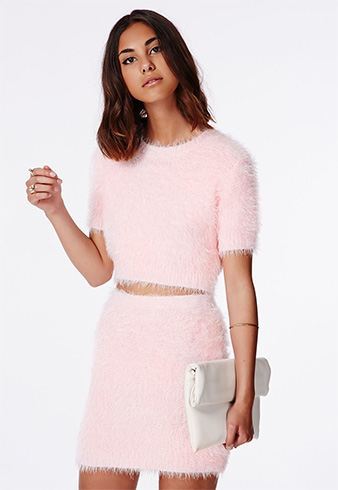 4. We have spoken many a times about how to wear and style your humble skater skirt. Here's another way to wear your baby pink skater skirt, and this time with a white cropped tank top inside. For the feet we would opt for shoes or tracks, while the makeup is kept to the bare minimal or nude.
[Also Read: How to Wear Skater Skirts]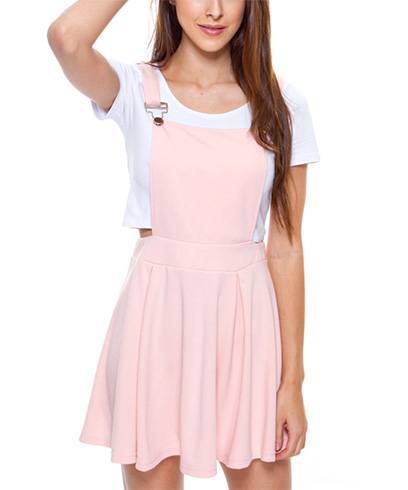 5. Ripped jeans, a baby pink coat and a white top, this is what we mean by the diva on the streets. Street style is all about fun, about exploration and flaunting your fashionable quirky sense, so why not do it in style with baby pink files?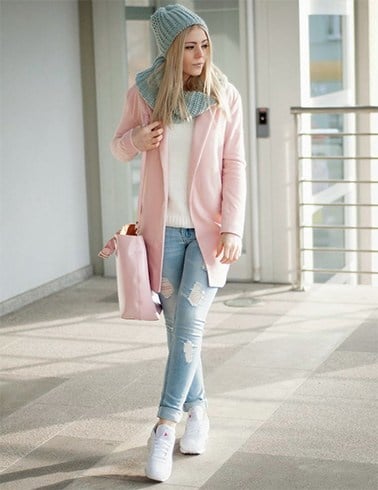 6. Off to meet MIL? Here's an idea on how to wear baby pink to woo MIL. You wouldn't cross lines with this fashion statement, wearing a long flowy baby pink skirt, with gray top and a chic bag in pink for company. For the lips, we would learn how to wear baby pink lipstick, to complete the look.
[Also Read: How To Be Stylish]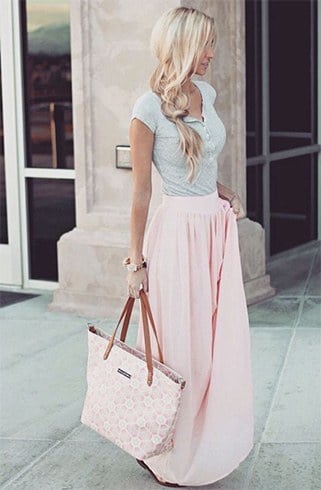 7. Quite feminine and powerful for work or for formal parties, the sleek moto jacket and a pink baby doll dress is an apt couture to flaunt at the gatherings. If it is a daytime affair, you can complete the look with dark shades for the eyes and minimal blush for the cheeks.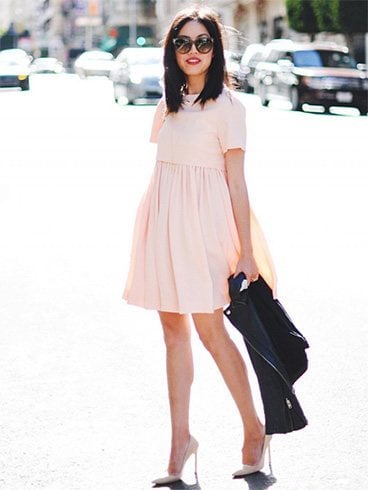 [sc:mediad]
8. The best part about wearing and knowing how to wear baby pink jeans is that there are no limits as such. Be a fashionista in your own ways, wearing your baby pink jeans with striped tees, block printed tees, kurtas and kurtis or a mid-length anarkali. You can wear baby pink jeans to work too; a self-colored shirt and pink jeans with nude heels!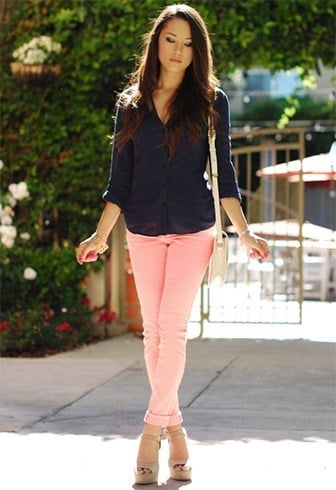 9. One more number in baby pink jeans to sport with would be a polka dotted top, paired with a heavy neckpiece and a cute but large handbag. Nude heels for the feet matches up with the baby pink jeans.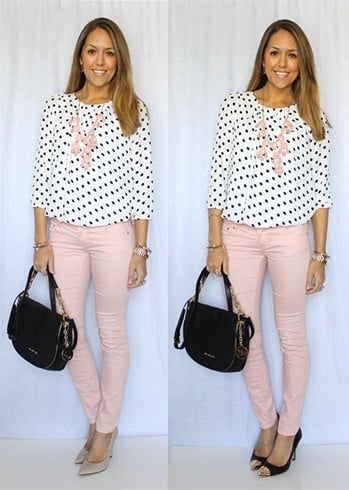 10. The best way to wear and know how to wear baby pink blazers would be to pair it up with neutral or dark shaded bottoms. For example, pink blazers and stone washed jeans or dress pants in dark shades can be a titillating effect to the eyes!
[Also Read: What To Wear Under A Blazer?]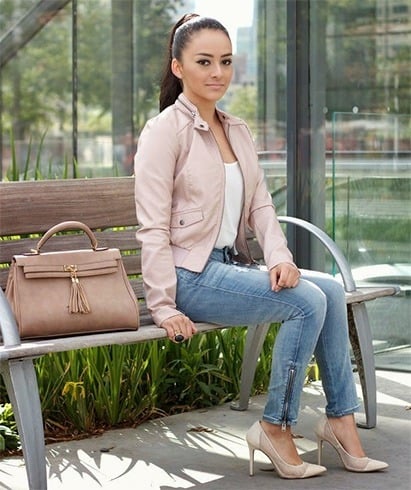 Loved our ideas on baby pink fashion? What's your take on it now?
Images Source: pinterest.com