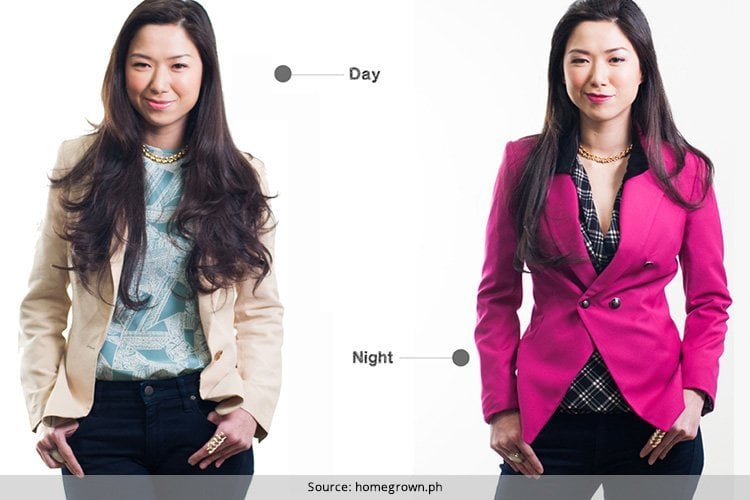 The ultimate way to look sharp-We unanimously voted for a blazer! Yes, the quintessential winter weather attire can look very different depending on what you decide to wear under a blazer. In fact, many fashionistas are often confused on what to wear under a blazer. Some feel a t-shirt may look too dowdy or dress may end up looking too dressy! So, what do you wear under blazer? Shirts and tops are not always the answer.
[Also Read: Why Styling White Blazer Is So Easy]
Ways To Wear a Blazer
We are here to tell you that you needn't be confused about what to wear under a blazer because anything and everything, if styled correctly can look amazing under a blazer. Read on to know ways to wear a blazer:
Blazer Jacket With Jeans?
One looks extremely classy and then the other one is mostly worn on casual occasions, so will these two fit? Well, we ask you to take a look at this fashion blogger: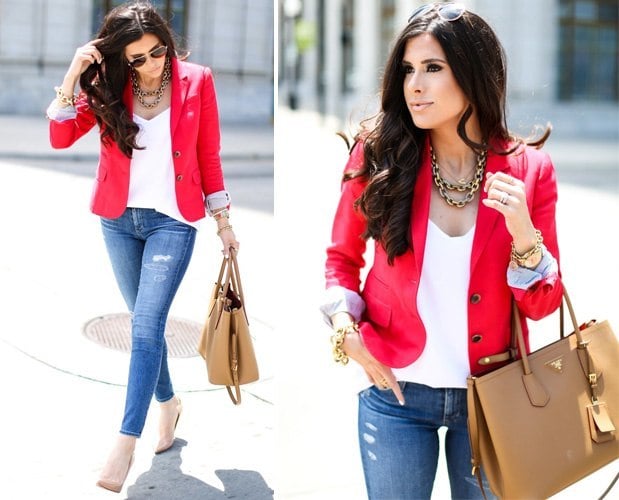 She nailed it, didn't she?
So you see, blazer can be worn with distressed jeans or for that matter, any kind of jeans! It's just the way you carry it. And wearing a blazer and jeans gives a casual-chic kind of air and you wouldn't have to work hard for this look. Trust us!
Can You Wear A T-Shirt Under A Blazer?
Like we said before, anything and everything looks great with a blazer! And to answer this perennials and confusing question, we will give you examples of how different bloggers and fashionistas styled their blazers with T-shirts of different kinds. We are sure this will give you enough inspiration!
Let's start the trend with the Queen, literally! Kate Middleton wears a striped T-shirt under her royal blazer:
Wearing a light cardigan type T-shirt when it's a little cold:
Wearing a V-neck T-shirt under your blazer:
[Also Read: What To Wear Under Flannel]
How wonderful does this blogger look with her very boho style way of wearing the blazer!
Now that you know that wearing a T-shirt under the blazer is not a cardinal sin, let us give you some more Style Tips on How to Wear a Blazer:
[sc:mediad]
Choose A Patterned Blazer
Who said blazers have to be of one colour only? You can choose patterns and style them with dresses which are monochromatic! Take style cues from this blogger:
Now that you have a patterned blazer, make sure you do not go overboard with too many patterns and prints. It will look a little OTT. Limit the prints, but rock the printed blazer!
Add The Blazer With A Maxi Dress Or Skirt!
Now you didn't think it could be an option too right? Well, we are repeating the drill: BLAZERS can be WORN with ANYTHING! (Yes, we literally shouted!). Check out this creative way to rock a blazer and a maxi dress:
Toss It Over Your Shoulders!
Yes, that's one way to dress up with your blazers too. Simply draping on the blazer on your shoulders looks extremely appealing too. It is unconventional and at the same time looks extra edgy. If you are planning to go somewhere professional, the over-the-shoulder blazer look can give you brownie points.
Take cues from our very fashionable blogger here:
Wear It With Flannel
If the cold is a little too much to bear, then flannel and a blazer make the perfect pair. To make your attire look a little less formal, add a statement necklace like our blogger here:
[Also Read: Different Styles for the Flannel]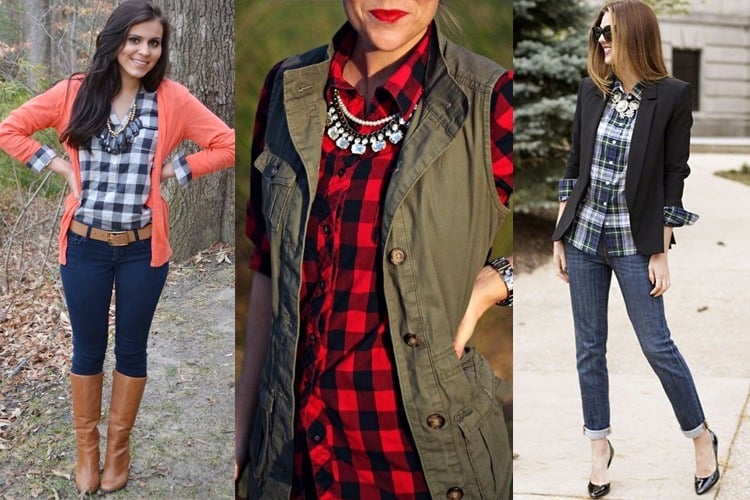 There you go! Our list of different ways to style your blazer- Just remember, a blazer is very versatile and it can be worn in a hundred different ways. The only important thing is to carry it off confidently!