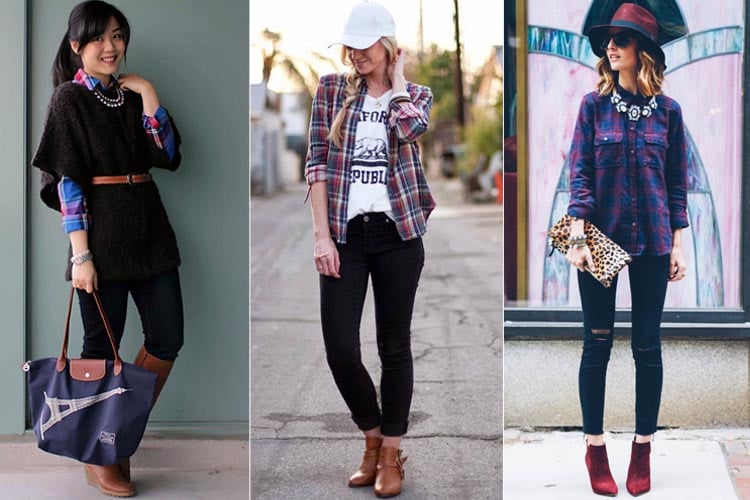 Flannel and fall! What an amazing combination! We love fall fashion and a staple is wearing flannel during this season. But the one thing that comes to our mind when we talk flannel is our night suit, cause not many of us know what to wear under a flannel. The funny thing is, when flannel first burst into the textile industry, it was never seen as a fashion statement or attire. It was to be worn at home and as pajamas! As years passed on, people began to realize, "hey, flannel ain't that bad!" And this is where Flannel Fashion was worn.
[Also Read: How to Wear Flannel Shirts]
Flannel Outfit Ideas
Today, flannel is one of the most important fashion statements for cold weather fashion and if you are a fashionable chick, you wouldn't want to miss out on them right? Here are our style tips on how to wear a flannel shirt and other flannel outfit ideas.
How To Wear Plaid Clothing:
Let's start off the list with something simple: What to wear under flannel
Wear It With Jeans!
Well, like we said, flannel had a completely different outlook when it was first invented. But now that view has changed and it has become a staple with almost every fashionistas! The simplest way to wear plaid is to wear it with jeans. Wear it with your favorite pair of jeans and graphic t-shirt and don a pair of comfortable sneakers. Yes, madame, you are ready to go!
If you are not that into sneakers, you can also wear a pair of comfortable sandals.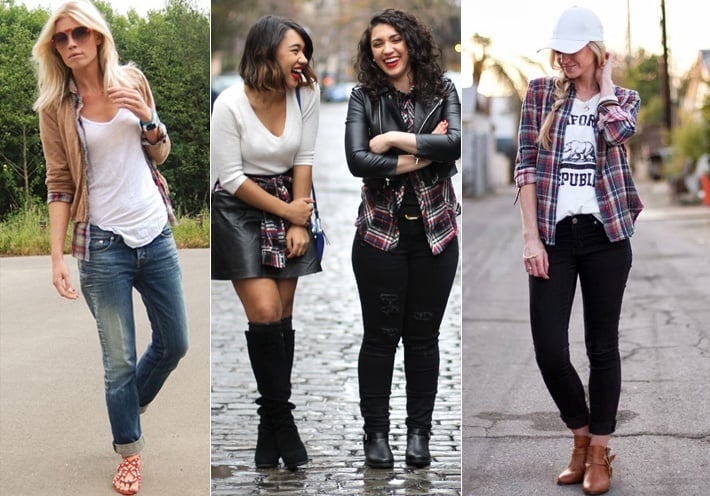 Tuck It In With A Skirt:
If you want a more refined silhouette, you can easily wear it with a skirt and high boots and tuck it in. Doc Martens or a polished pair of ballerinas will go perfectly well with this combination. For flannel outfit ideas, keep a tab on Pinterest and you will find truckloads of options! Since it's a cold weather outfit, make sure you wear socks and boots to keep yourself warm. Take a look at this outfit idea:
[Also Read: What To Wear Under A Cardigan]
Look At This Green Beauty:
Make It Work Appropriate:
And you never thought that you can wear plaid to office right? Flannel Shirt Outfits look extremely good in the corporate environment but you will have to style it right. Wear it with ankle booties and add a statement necklace to accentuate the look. Don't forget to accessorize your look with a formal bag. Take a look at this:
[Also Read: What To Wear With Light Blue Jeans]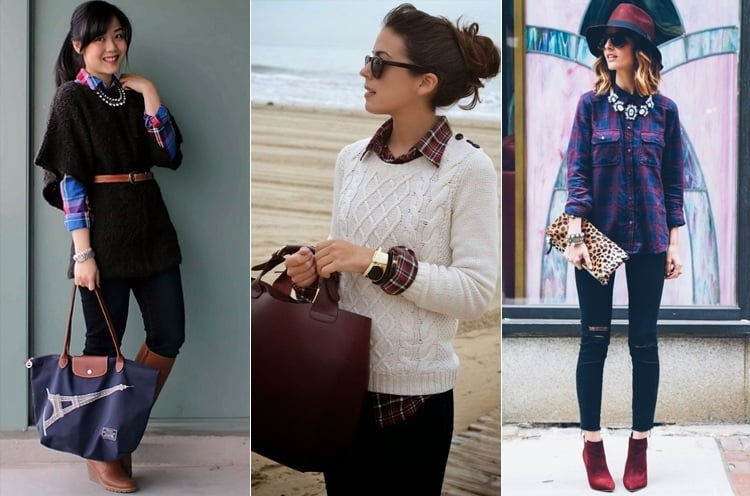 Tuck It Into Your Jeans:
You can wear flannel and jeans, but if you want to give your denim outfit a slightly more streamlined and dresses look, you can tuck in your plaid or flannel shirt and use a belt to accentuate the look. You can also add a gold necklace to make it look even better.
[sc:mediad]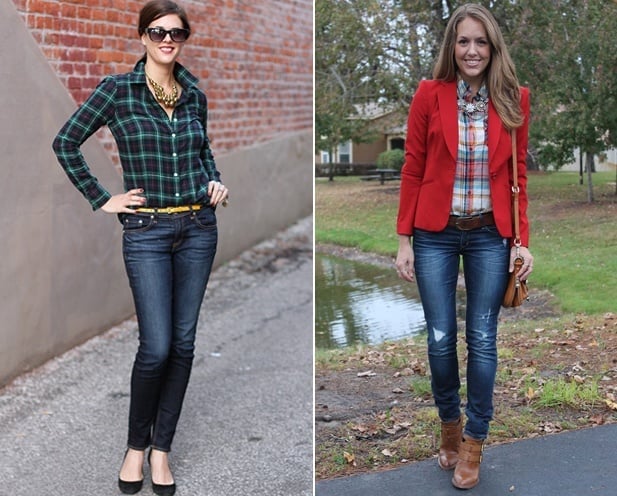 Borrow Your Boyfriend's Flannel T-Shirt:
An oversized flannel shirt looks wonderful with jeans too, especially if you can borrow your boyfriend's T-shirt! For a causal outing, accessorize it with oversized shades too. Take style cues from our fashion blogger here:
Not just jeans, but you can wear it with a skirt too! And our fashion blogger here will show you how to do it!
[Also Read: Different Styles for the Flannel]
Here Are Three Different Ways You Can Use Your Boyfriend's Flannel Shirt:
Style It With Monochrome:
Did you know that plaid and monochrome go hand-in-hand? If you want to style your plaid shirt, wear it with a black or a white shirt, a monochrome jumpsuit or even a plain dress. It's perfect for a casual day out with friends or for a day out with your better half.
Plaid and flannel have come a really long way and we hope these style tips will tell you what to wear under flannel!