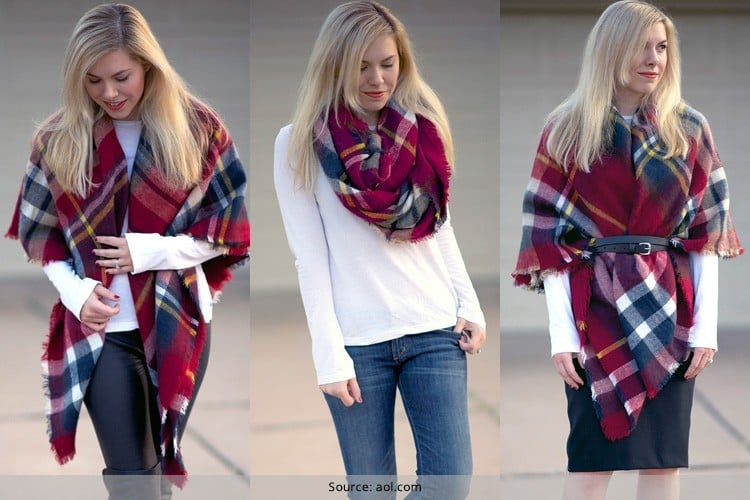 Winter time is here! You can't flaunt your summer dresses and mini-skirts anymore. So what do you to look chic and trendy in this season of 'brrrrrr'? Well just because its winter doesn't mean you can't have fun dressing up and look as stylish as you always do. This is the season wear all the boots, long coats, oversized sweaters, leather jackets and blanket scarves come into fashion. The rest being easy to dress up in, however wearing a blanket scarf in the correct manner can be pretty difficult to figure out.
[Also Read: Infinite Possibilities On How To Wear An Infinity Scarf]
Blanket scarves (in case you don't know) are a bigger adaptation of regular scarves. They are so big that they can even be utilized as a blanket (didn't see that coming!). They are super cozy, warm and can be tied by tons of techniques. They can be used as capes, shawls, ponchos whatever scarf style you desire; via a few turns and loops of the fabric. To help you grasp the coziest trend of the season read on to learn the art of immaculately tying and wearing the blanket scarf.
1. The Loop & Pull
Simple and easy, this is one splendid style of embracing the cold chills of the winter with your blanket scarf. Follow the steps below and learn how to wear blanket scarf in a simple way.
How To Wear – Step By Step
Fold your scarf lengthwise and gather it all together.
Put it around the back of your neck, keeping one side longer.
Loop the longer side around your neck from the back to front.
Now put this longer side through the loop and pull through loosely. Adjust to your liking. There you go!
It's a great way to protect your neck and chest area from the cold.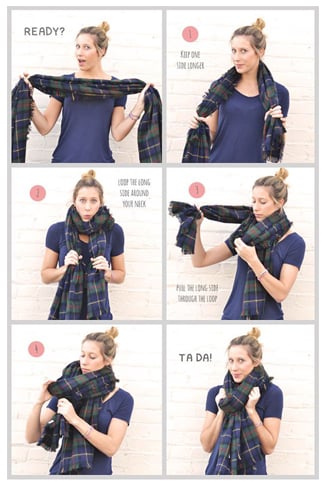 2. How To Wrap Blanket Scarf
Do you need a warmer and more comforting style with the blanket scarf? Then you have hit the right spot. If you are not so skilled at trying complicated styles, switch to this simple wrap style blanket scarf that will make your winter theme interesting.
How To Wear – Step By Step
Again hold the scarf lengthwise and just wrap the scarf 3 to 4 times around your neck
Now tie the left-over length with a knot in front. Yes, that's it!
[Also Read: How To Wear A Pashmina Scarf]
It's too easy too even be written down about! Plus, you can tuck in your hair and cover up your mouth, really cozy right?
3. How To Wear Blanket Scarf As Shawl
The winter is drifting away but you still can't stop feeling teeny-tiny bit cold, then go the classic style- The Shawl pattern. This is a less complicated choice, renders an elegant feel and caters to the needs of the cold.
How To Wear – Step By Step
Hold it like a cape.
Put the scarf around both your shoulders.
Then throw the longer side over one shoulder.
It's as warm as it is easy! It will shelter the top half of your body from the cold.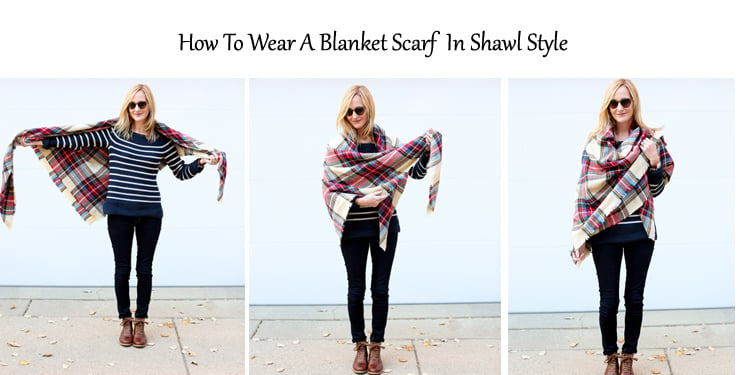 4. The Kerchief
Loosely wrapped yet cozy comfort is what this style of blanket scarf offers. Set out in this style this chilled out winters and flaunt your style with rocking attitude.
How To Wear – Step By Step
Fold the scarf into a triangle.
Take the two far ends of the triangle with each hand and cross them at the back of your head.
Pull them by bringing them to the front.
Leave them drooping at each side in front.
Works brilliantly, and is the most common way ladies wear it.
[Also Read: Learn How To Wear Hermes Scarf]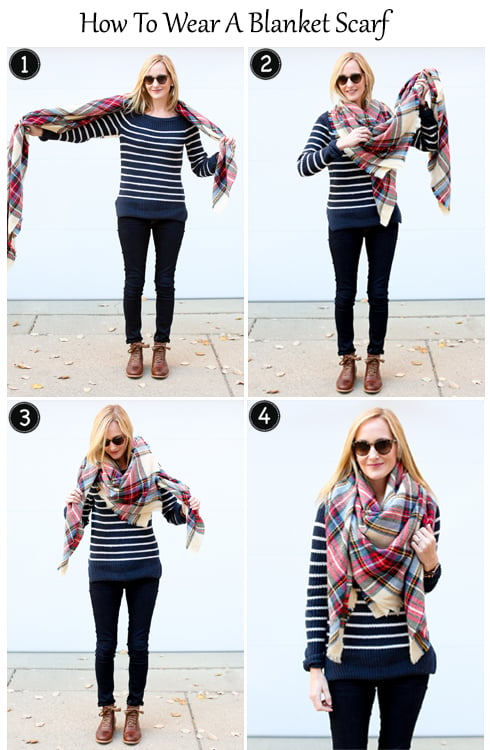 An alternative option of the kerchief style is by tucking the loose ends into the wrap. Here is how you do the perfect fortune cookie style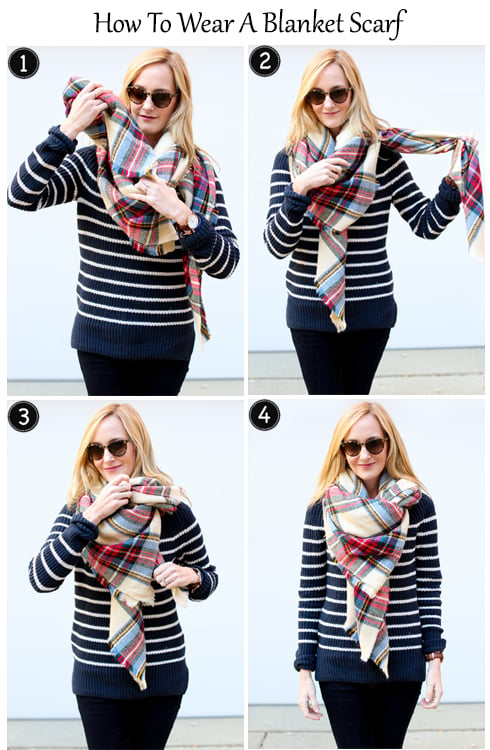 5. The Cape Style
Make your boring tee shirt interesting by draping a blanket scarf like a cape. Wondering how? Follow these easy steps to achieve the ultimate look-
How To Wear – Step By Step
Fold the scarf into half; to get its triangular shape.
Put the centre part of it behind your neck and drape over your shoulders bringing the scarf to your front.
Tie a belt loosely around your waist and make the two halves of your scarf at the front overlap. It appears to be a wrap dress.
It looks just as brilliant belted around your hip.
This can also be done without folding the scarf in half and draping over your shoulders directly.
A little tricky, but as warm as wearing a sweater!
[sc:mediad]
6. The Western
Chic and trendy is the western style of blanket scarf. If you don't like the loose ends peeping from under the scarf, then this is the best style to opt for.
How To Wear – Step By Step
Repeat by folding the scarf into a triangle.
Hang scarf around your neck, with the middle part touching your necks back.
Wrap the scarf around your neck in a manner that the triangle is directed towards your feet.
Grab each end and tie them up in a knot, at the front.
After checking it is all correctly done, pull out the triangle from over the knot.
This will give a puffy and snug appeal to your scarf. As the name goes, this is how the scarf is worn in the western countries.

7. How To Tie A Blanket Scarf Braid
Tighter and cozier is the braid style of wrapping the blanket scarf. A bit tricky but it keeps your chest and neck warm and comfortable on the worst winter days.
How To Wear – Step By Step
Again, fold the scarf into a triangle.
Wrap around neck such that the triangle points downwards.
Hold the triangle and twist to make a hole.
Hold one end and pull it through the hole from the back.
With the other end, push it through the hole from behind and pull from the front and tuck.
You will ultimately get a braid like look on your scarf.
Everyone will wonder how you pulled this one off, give it a go!
These easy steps will teach you how to wear a blanket scarf and give you a stunning look with your blankets scarves. One of the best things about winter is that you ladies can go out literally wearing blankets, and no one will think twice. Also, they merge beautifully with any outfit and give a stunning look. Each technique will give a new look, leaving people in awe. So why hesitate! Just grab your blanket scarf and start styling today.

Recommended Articles:
Most Expensive Celebrity Wedding Dresses
How To Wear Palazzo Pants
Ways to Wear Ankle Pants
What Shoes To Wear With Jeans