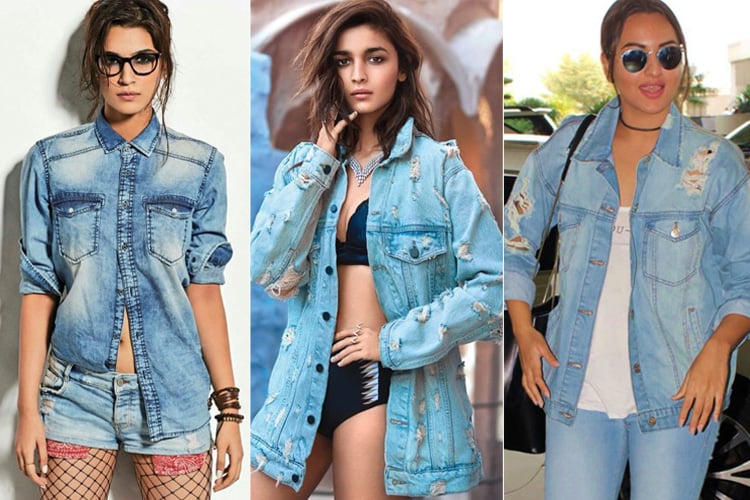 There is plenty of skin showing when it comes to ripped denims. But how much is too much? Or has too much become the new trend? Well, to rest our case, let's just say, we are starting to get to know the bold style statements for anyone's standards. Drawing attention towards the trend, we reflect back on this one consistent style. It has ever been naughty and effortless. And, it is time to give your clean knee slashes a whole new depth.
Even if it means clinging to your ripped holds or practically living in them, these denim pairs can be worn over and over, unapologetically. But most women might be a little apprehensive of imitating these trends, because they are clueless on how they are going to sport it. Well, we are here to guide. In an attempt to revive your ripped denim turn around, you should look up for fresh ways to wear every bit of your ripped denims with.
For an easier way to find out, why don't you scroll down below to check out? There are few celebrity denim inspirational looks that are bold, sexy, and cool and everything good. It might just be what you are looking for- a whole new meaning and depth to your ripped denims. We won't disappoint.
1. Fishnet Tights with Ripped Denims
We have always considered our tights and our jeans as two different items and worn it separately. But there is a massive pop up trend that involves wearing fishnet tights under denims. Many girls out there might be hesitant to try the style initially. But showing off a small amount of the tights underneath the denims is one step closer to loving the trend. All the more, snapping the trend from downhill sleazy to uptown.
There are several approaches of wearing the fishnet tights.
One method is to let the fishnet tights peek out under the denim holes, or showing off a peek-a-boo of the tights just above your denim waist
Show the fishnet tights under midi-skirts, slip dress, oversized jerseys and silk separates apart from full denims
Footwear should not be limited to heavy boots alone. Wear it with loafers, canvas, pumps, oxfords, strappy heels, etc
Ripped your fishnet stockings? Just wear it along- you can keep the secret. It will look the part anyways
Seen the fishnet sock variation yet? Kendall Jenner will show the inspo down below
Here are several celebrities rocking the trend in different ways.
Kendall Jenner
Kendall Jenner can make the most insane look wearable. Like her, you can showcase just a subtle hint of fishnet tights. Those apprehensive of giving this look a shot can try her trick.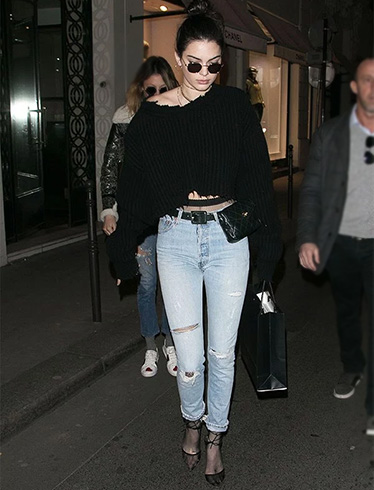 The Kendall Jenner fishnet sock variation- interested much?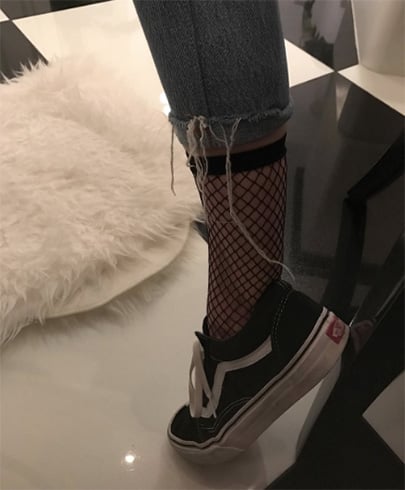 Hailey Baldwin
This is a slightly bolder look as shown by starlet Hailey Baldwin. Her risqué fishnet tights paired with her long slung denims displayed her toned midriff. She is seen wearing a black New Kids on the Block t-shirt with oversized reflective shades. Rounding up her look was her Balenciaga ankle boots.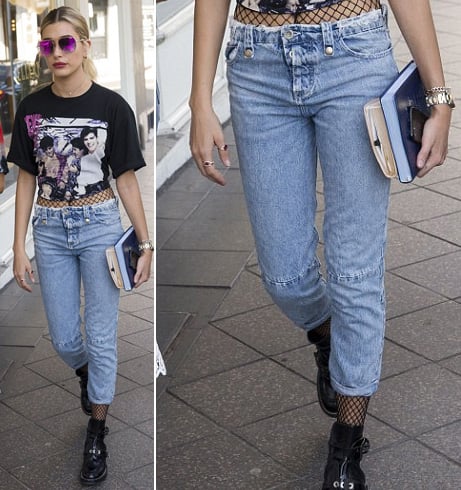 Kriti Sanon
Seen in the image is Kriti Sanon in a shot for Cine Blitz magazine. The actress is posing for the camera in a denim-on-denim getup. Her fishnet tights meshed with denim shorts is a style inspiration, you can take on.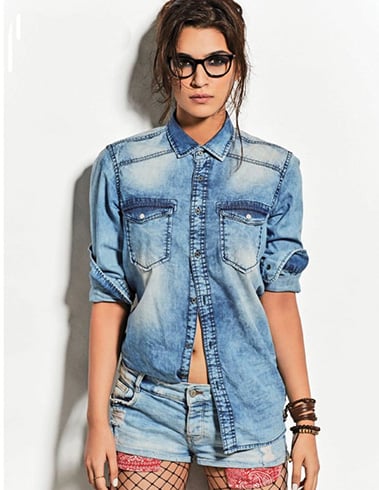 2. Ripped Denim Jackets
If you think, you are done with denim jackets, think again. Ripped back, shoulder and all-over denim jackets are splashed everywhere and have effortlessly evolved. These jackets are every bit every dream date. Rip the trend with washed and raw styles.
Wear it up with leather bottoms, classic blouses or even with non-matching items like girly stilettos
You can always layer it with another ripped item. That way it all collaborates and streamline quite naturally
[sc:mediad]
Nicole Scherzinger
Nicole Scherzinger wore all over ripped off destructed jacket for London Fashion Week. Her oversized denim jacket is expressive and natural in spite of all the fraying work. The singer wore her denims with a leather mini skirt and Casadei stiletto ankle boots.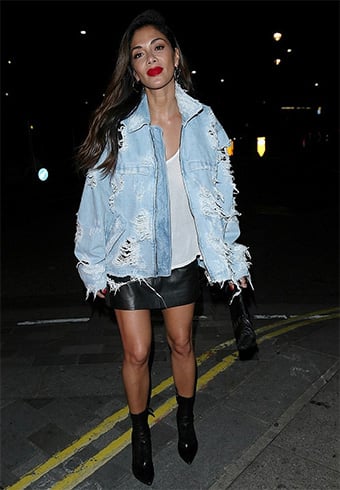 Sonakshi Sinha
In the image, Sonakshi Sinha is seen in a denim-on-denim getup. But the focus is quickly shifted to her ripped denim jacket. We love her effortless styling here. It does not seem forced but rather spontaneous. And that's how it should be worn.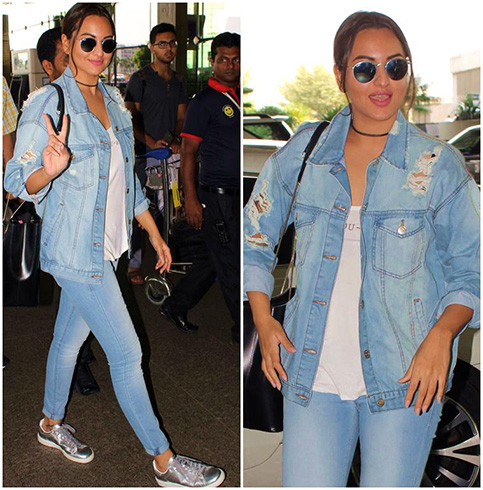 3. Bare-Butt Ripped Denims
This style is a total rip-off from one of Kylie Jenner's bold Instagram posts in 2016. It literally became to be known as her style. This style is not for the faint hearted though. But if you feel brave enough, you can get yourself one.
Keep it simple. You don't want to look skimpy altogether, so pair it with solid classic matches
The fit has got to be right for this- the key is looking sexy and not sloppy
Look for a small slit to avoid a wardrobe malfunction
Here are few celebrity inspirations including Kylie Jenner's.
Kylie Jenner
This is one of those posts that became an instant rage last year. And this is something only a Kylie Jenner could introduce and pull off.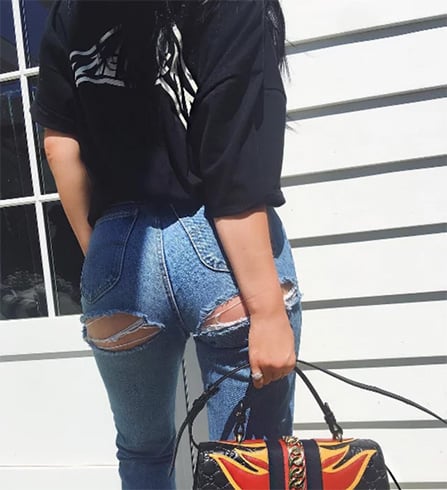 Kristen Stewart
Kristen Stewart wore the trend as she was snapped walking around girlfriend Stella Maxwell at New Orleans. Interestingly, both partners are seen in bare-butt ripped denims.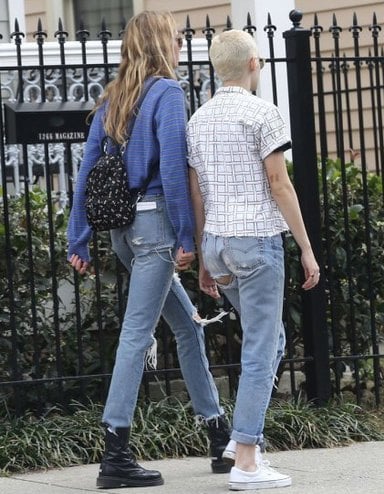 Ariel Winter
Just when we were getting over the fact that Modern Family actress Ariel Winter has come out age. Then we discovered that the 19 year old has already found her daring side. She took to Instagram to post her picture with friend Jessie Berg. She is seen wearing a crop top and high-waisted butt-bare ripped denims posing on a motorcycle.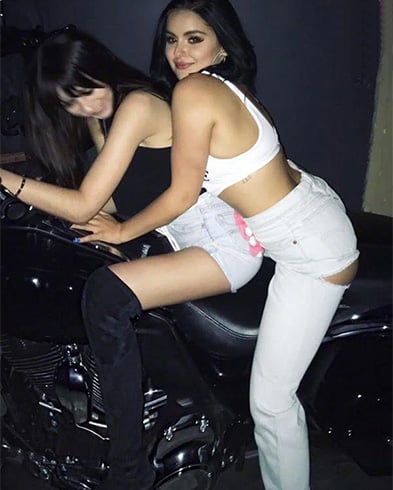 These celebs version have absolutely infused a sexy twist on the rather fading trend. Would you get on board with all these ripped-off styles? Tell us your take on it. We would love to hear.
Images Source: pinterest