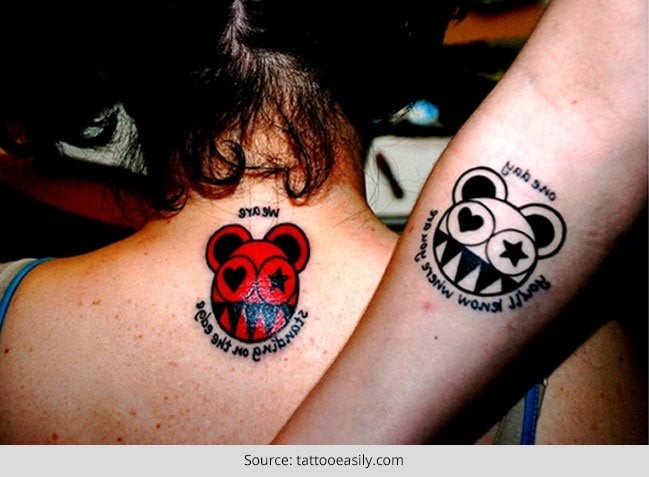 We all know that tattoos are getting extremely popular especially among stylish and cool youngsters. However, there are so many tattoo designs to choose from but some of them are extremely creative, cute and trendy as well.
Couple tattoos are a sweet and incredibly creative way of telling the world how dedicated you both are in a passionate relationship. Those pretty pieces of body art on your body have extremely romantic, unique and obvious significance for your relationship.
While one can also choose mehndi designs as temporary tattoos, there are couple who are going one step further and to have the permanent inking done to make it last lifelong.
Check out these creative and cute couple tattoos ideas that tell the world how well these couple get along with each other.
1. Black And White Flower Power
2.Together Forever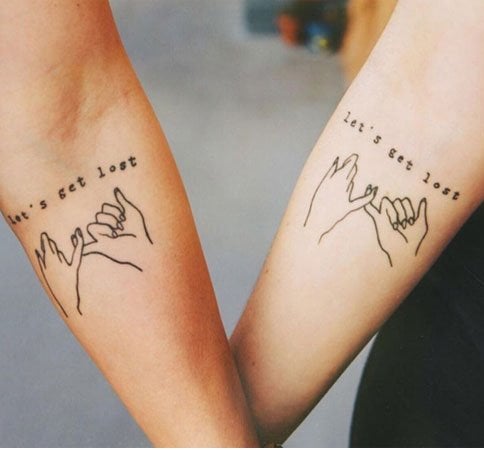 3. Circles Of Life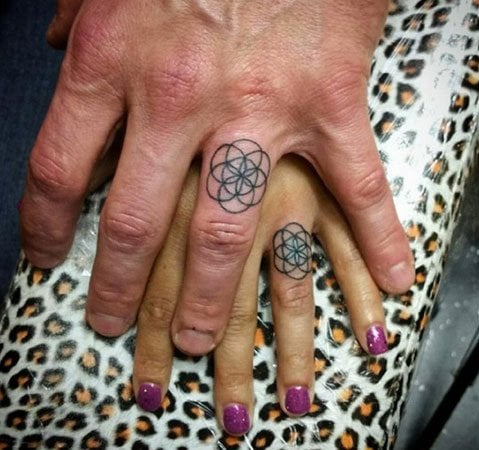 4. Space Love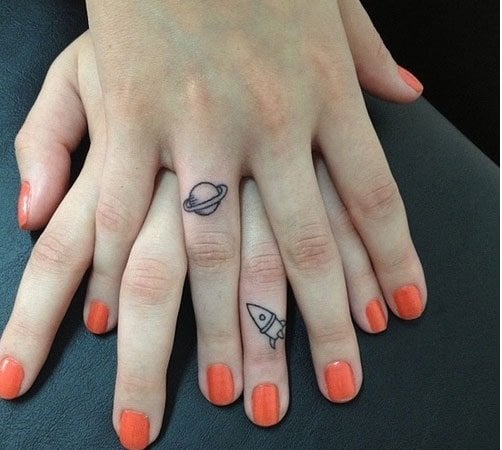 5. Two Halves Equals One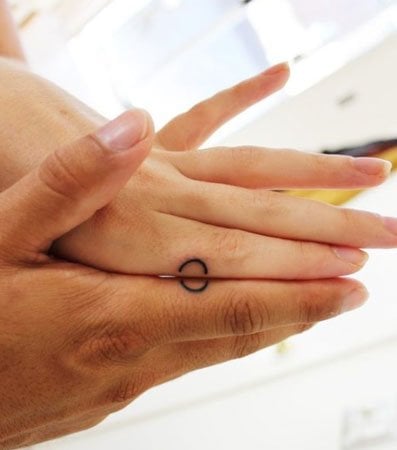 Locks and keys are cute couple tattoos who want to show how they have locked their respective partners in the hearts, mind, and souls.
6. Lock And Key Tattoo On Inner Wrist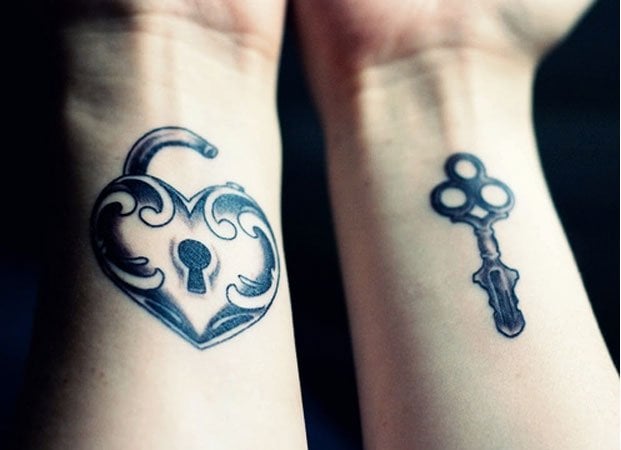 7. Intricate Couple Tattoo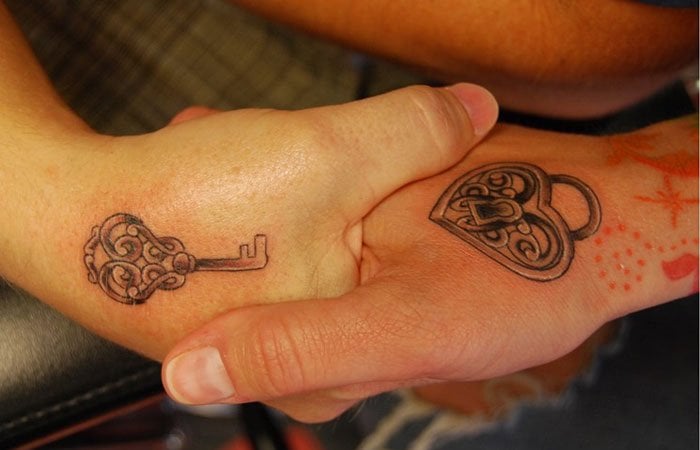 8. Lock And Key Tattoo Design For Foot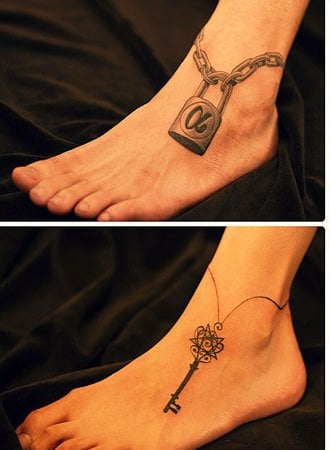 It's a great bonding act for a couple to get couple tattoos together, these romantic and sweet tattoos make their commitment for the relationship even stronger.
[Also Read: Celebrity Tattoos]
9. Game Of Love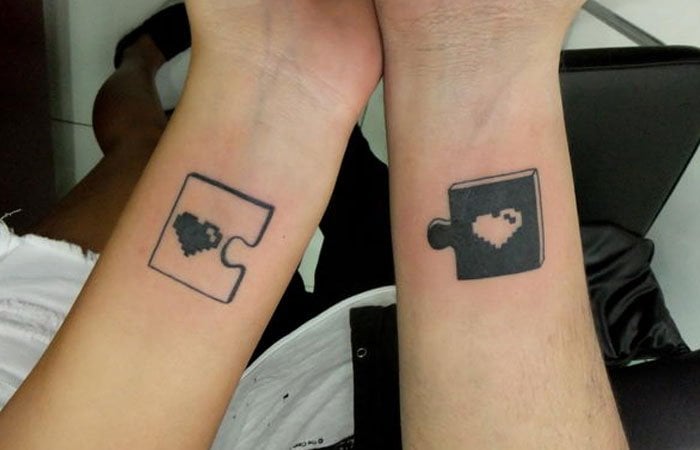 10. Interlocking Hearts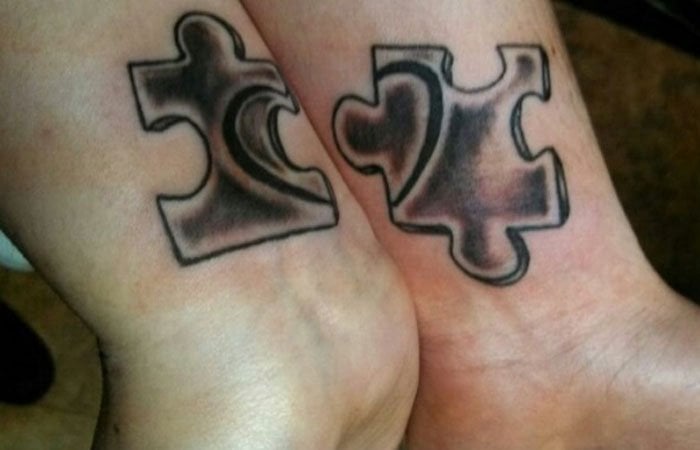 11. Black And Grey Puzzle Piece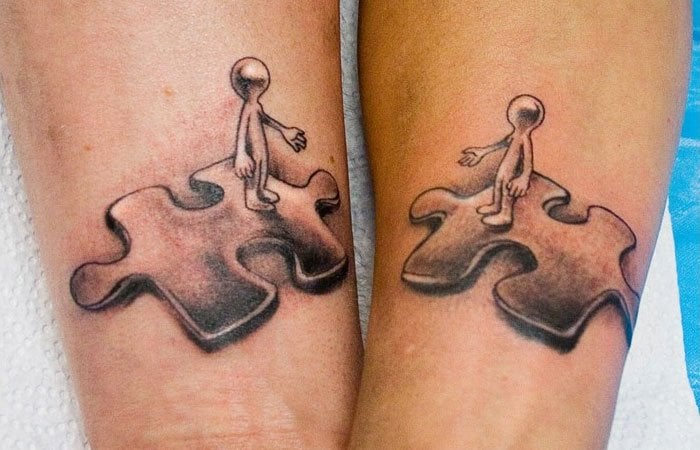 Those who want to be adventurous can try these creative couple tattoos to be different for the others.
12. His And Hers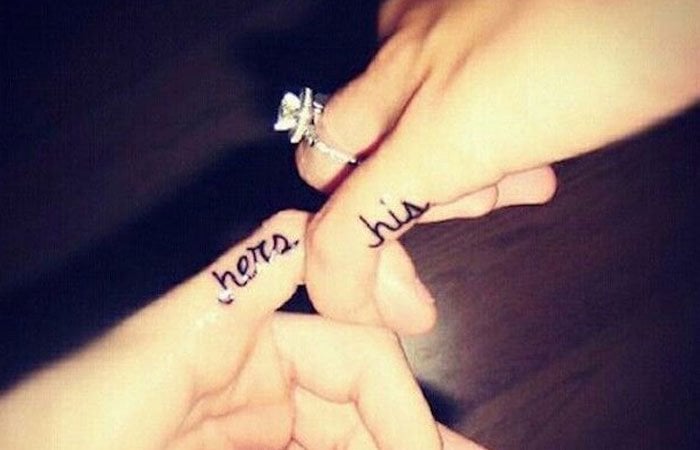 13. Pinky Promise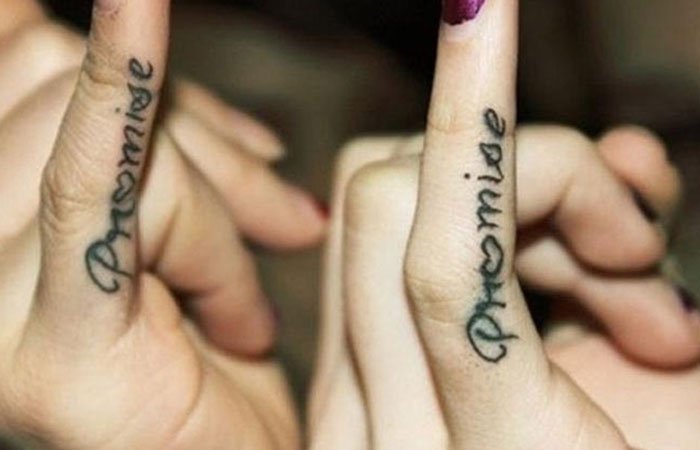 14. Matching Couple Tattoo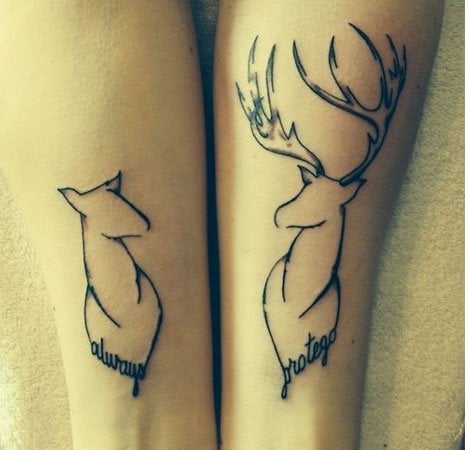 If you want to tell the world how passionate you are in the relationship, go for these cute and really creative couple tattoo. Couple tattoos usually have some part of a tattoo inked on your body and the other part on your spouse's body. Both the designs look identical and will complete the design only when they come closer to each other. It is a kind of passionate and really romantic gesture.
15. King And Queen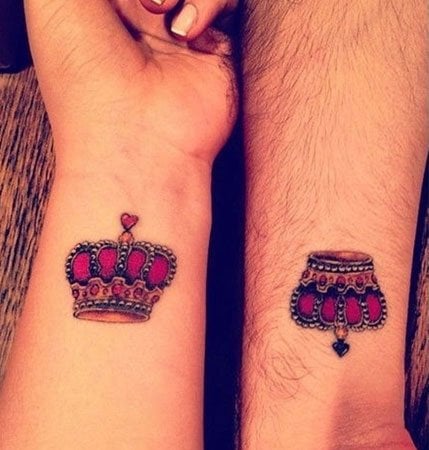 16. Cute Couple Tattoo On Fingers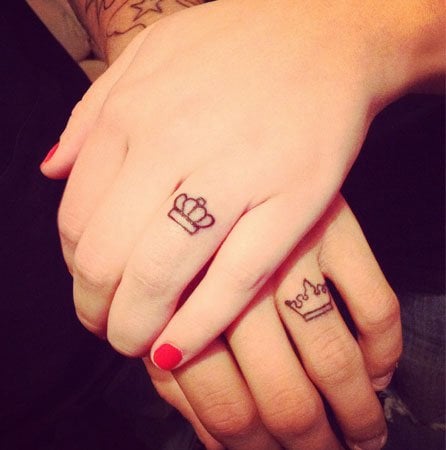 17. Bow And Arrow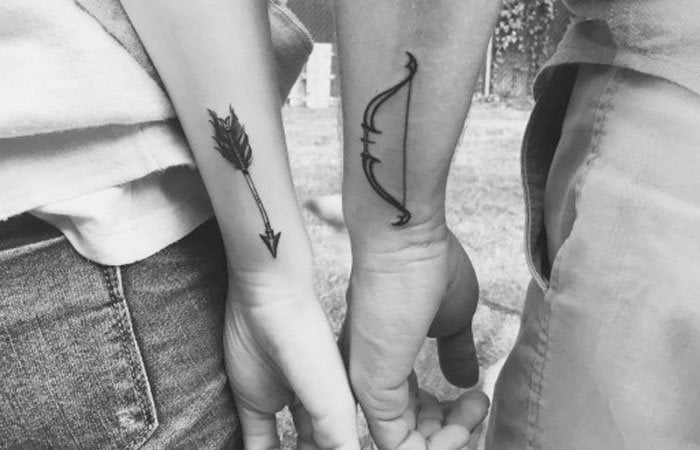 18. Unique Finger Tattoo For Couples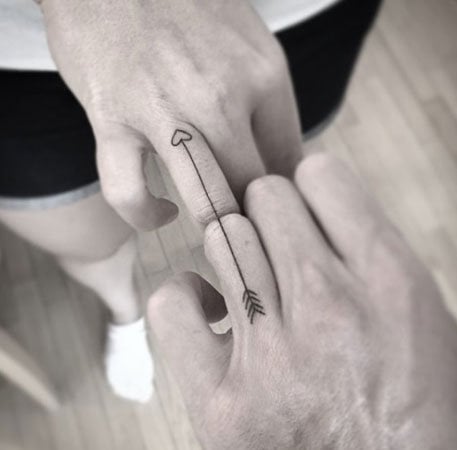 Finger couple tattoos look very trendy; couples get same or correlated tattoos on their fingers and feet. This latest trend is suitable for the couple who share the similar kinds of interests, likes and ideas.
[Also Read: Tattoos and their Meanings]
19. Worded Couple Tattoo

20. Ship Wheel And Anchor Tattoo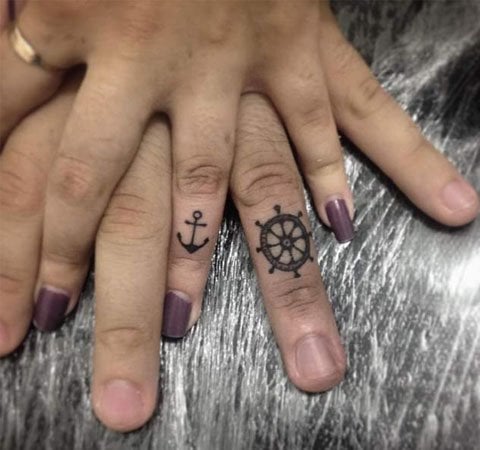 21. Unique Bow Tattoo For Couples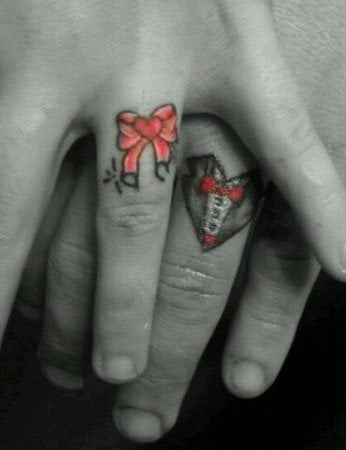 22. Simple Couple Tattoo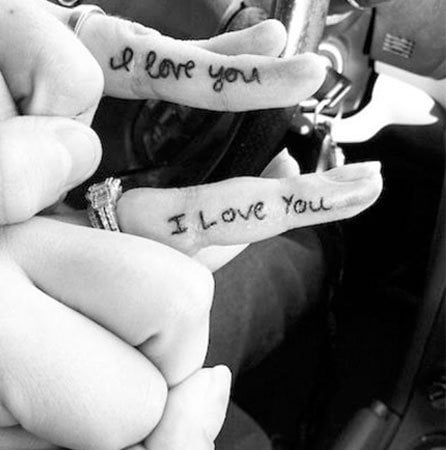 Couple tattoo images can be for a boy and girl or for best friends to try.
23. Matching Heart Tattoos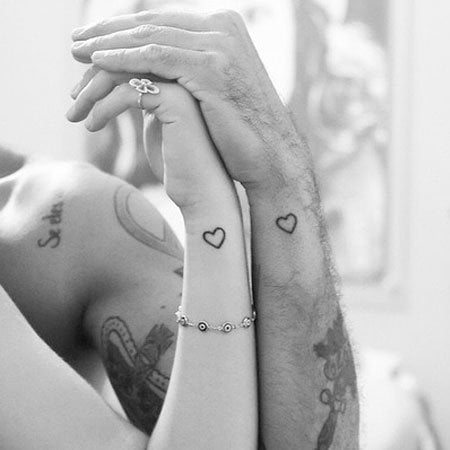 24. Watercolor Heart Tattoo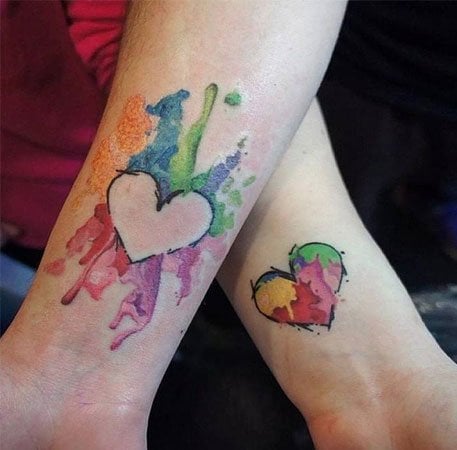 25. Two Souls One Heart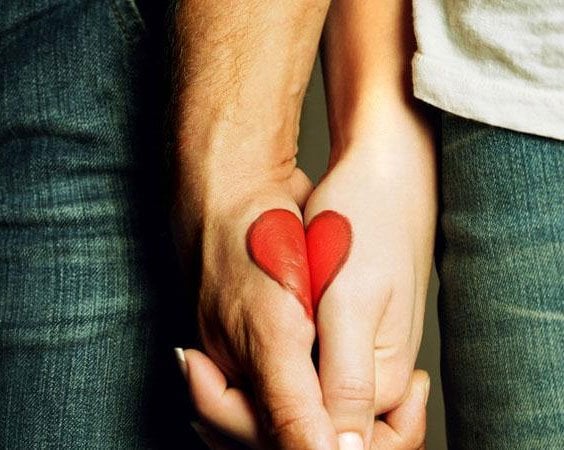 Before going for a body art, couples should think carefully about it, because once a design is embellished onto your body, it is generally an everlasting tattoo.
26. Infinity Couple Tattoo With Initials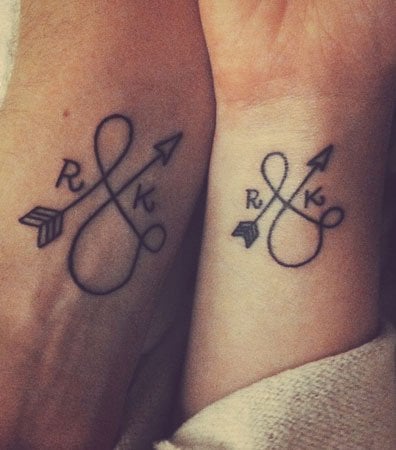 27. You And Me Forever
28. Through Thick And Thin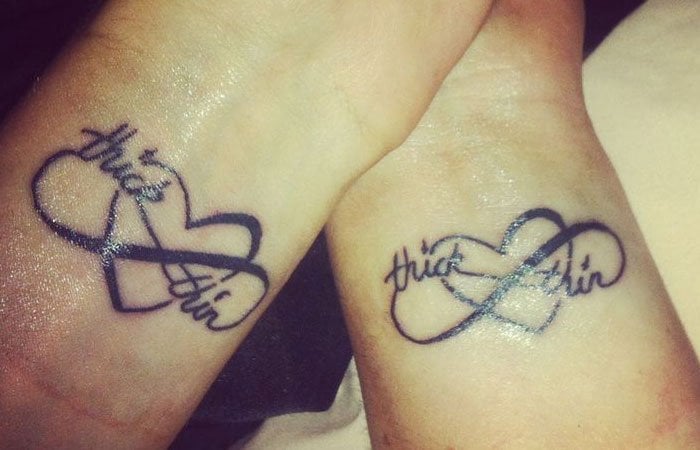 29. Infinity Couple Tattoo With Names And Feathers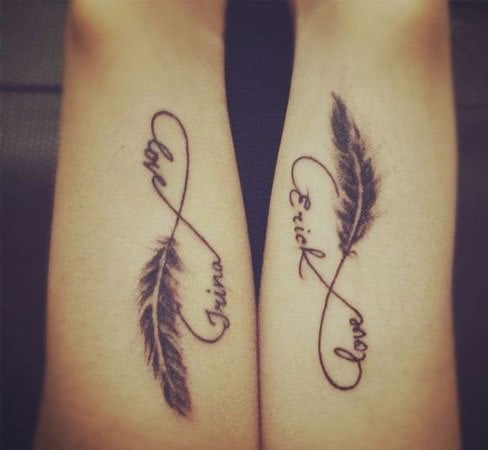 When a couple wants to pick related or identical designs that both the partners like, it is recommended that the couple take enough time and have a deep discussion about the kind of romantic design they want.
[sc:mediad]
If you want the identical or couple tattoos, as your spouse's, then agree on a particular design or slogan ad get it inked on your skin as well as on your partner's skin.
Same design couple tattoos are very fashionable and trendy. You need to agree on a design or slogan and get it tattooed on your skin as well as your partner's skin. Identical and related couple tattoos also indicate how much you both care for each other.
[Also Read: Eyebrow Tattoo]
30. King And Queen Of Hearts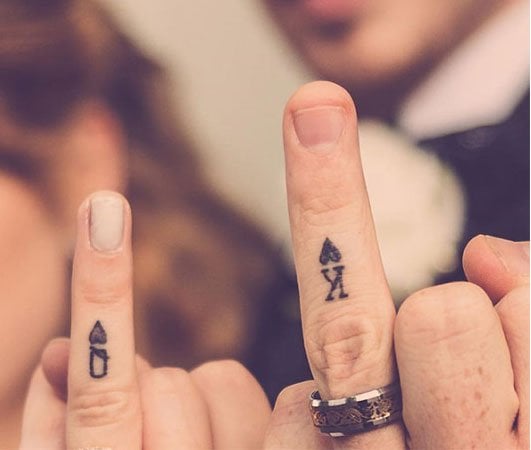 31. Couple Wrist Tattoo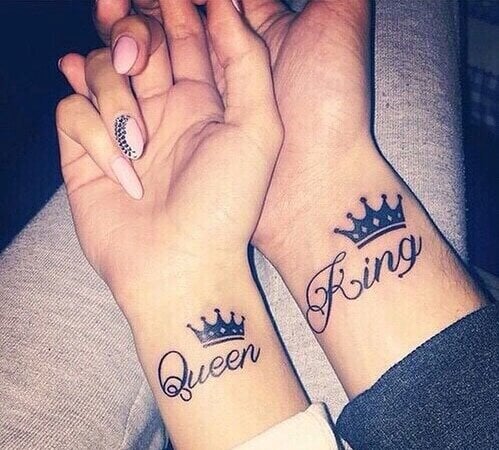 32. Roman Numerals Tattoo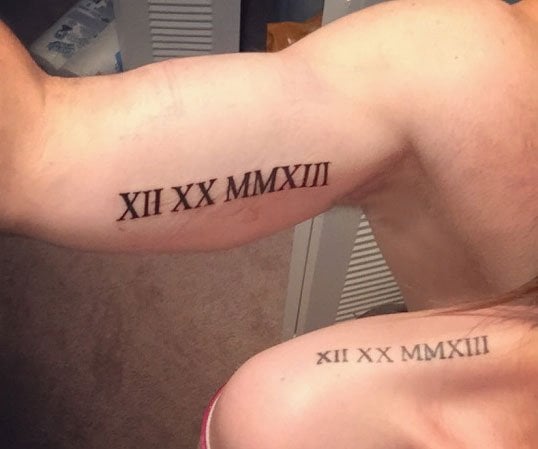 33. Ink That Date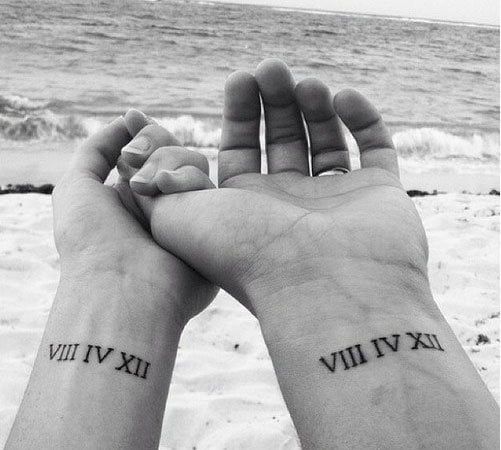 Pick the best slogan or design that can help you both recall your sweet moments together and get them printed. You can relate to these couple tattoos designs easily when you both are physically close to each other and join these tattoos.
34. Simple Worded Arm Tattoo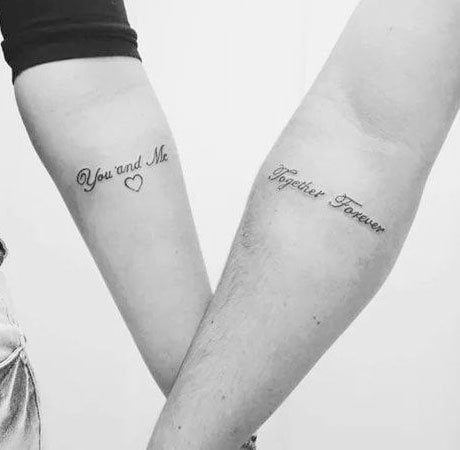 35. Together In Love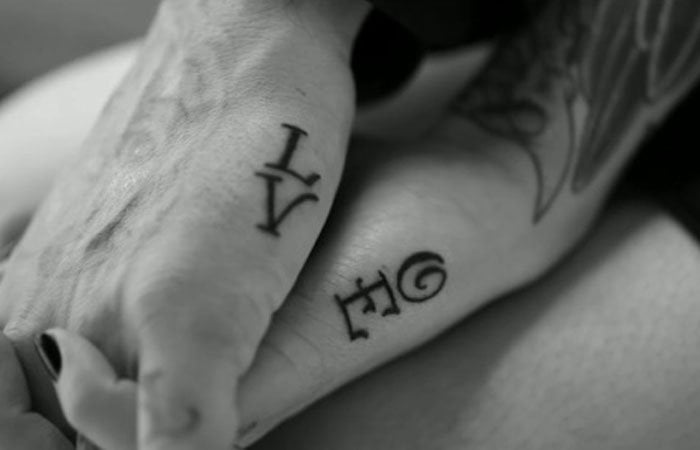 36. Cool His And Her Arm Tattoo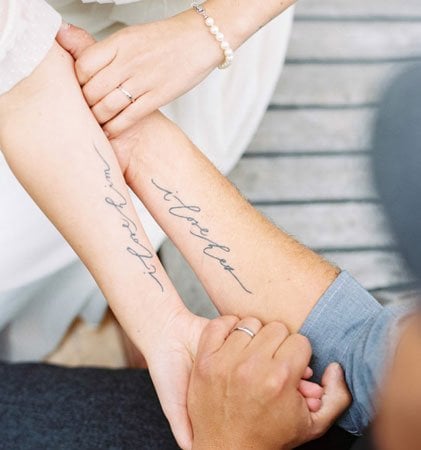 Sky is the limit, when it comes to the romantic designs and slogans for couple tattoos. If a couple is going to celebrate their anniversary in an extremely classy and fashionable way, they can get those very creative and romantic tattoos.
[Also Read: Least Painful Place To Get A Tattoo]
37. Married Couple Tattoo On Arms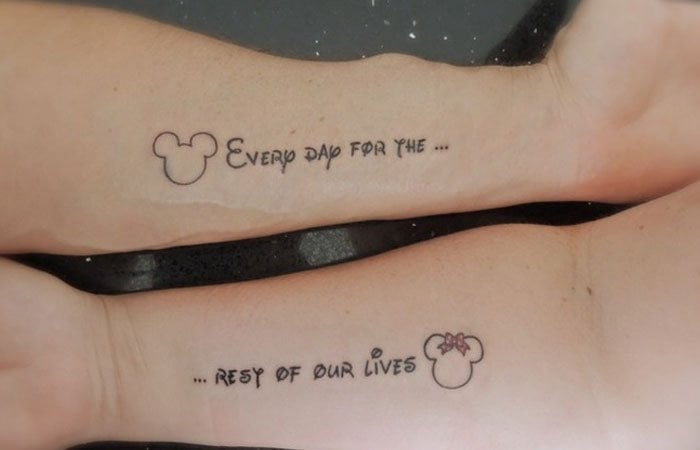 38. Mr. And Mrs. Skull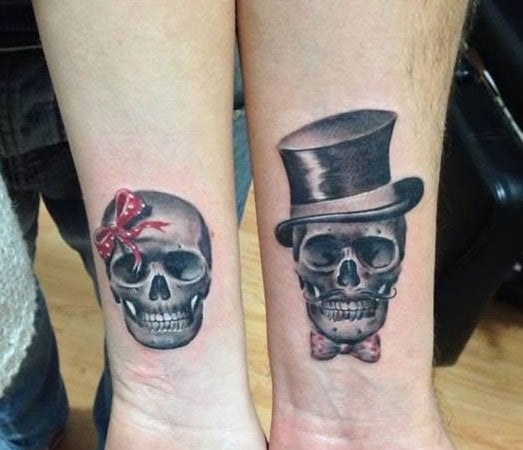 39. Game Of Thrones Lovers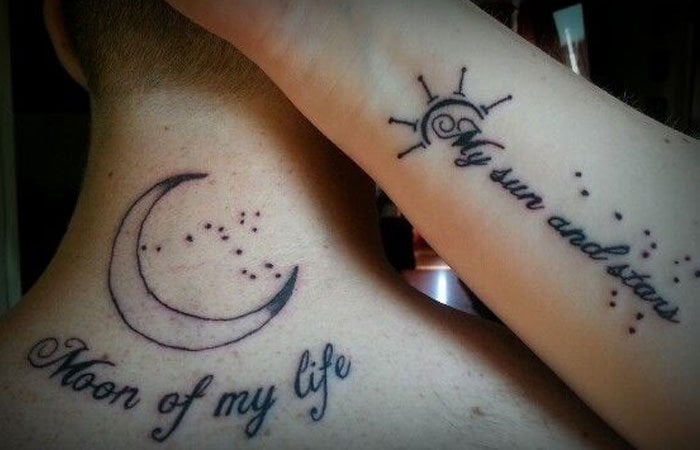 40. Lock And Key Tattoo With Words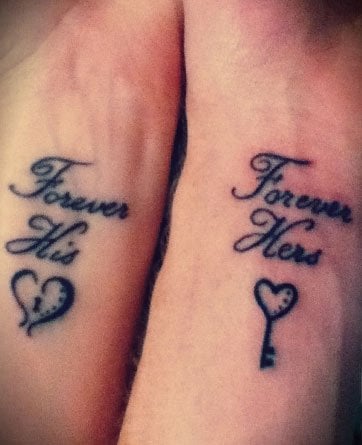 Some of the very common couple tattoos include a pair of cute animals, hearts, funny cartoons or identical or related symbols or designs that complete each another.
So if you have made your mind to get your skin inked with couples tattoo along with your soul-mate, we suggest you to do some serious exploration around. The reputation and experience level of a tattoo or body art specialist can be checked using Google or local review websites.
41. Couple Tattoos With Dates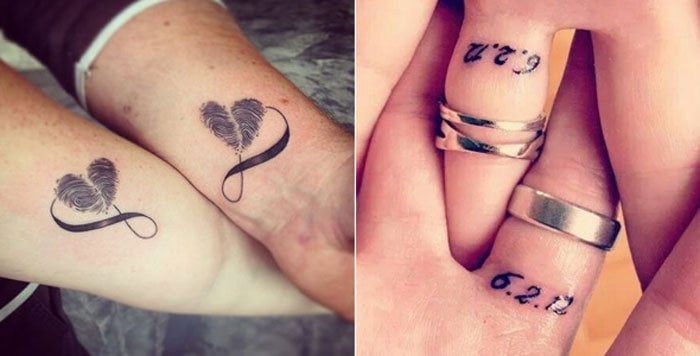 42. Music Lovers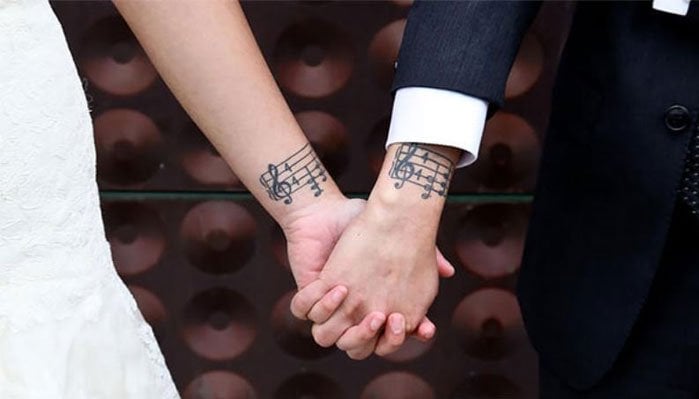 43. Funny Couple Tattoo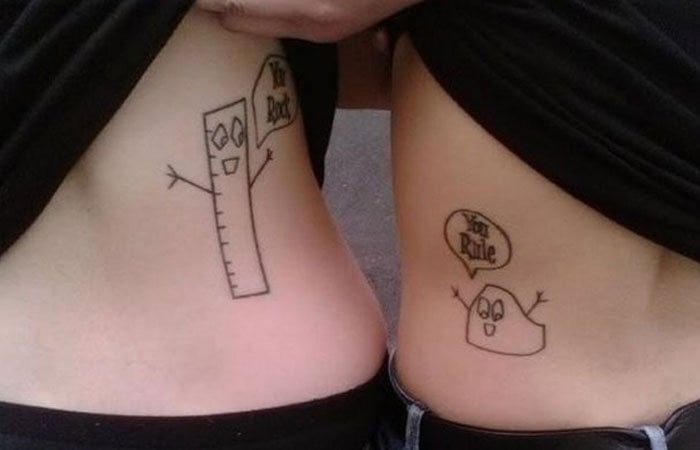 Scroll down to have a look at some of the other unique couple tattoo ideas, couple tattoo designs for love, etc.
44. Cute Mr. And Mrs. Tattoo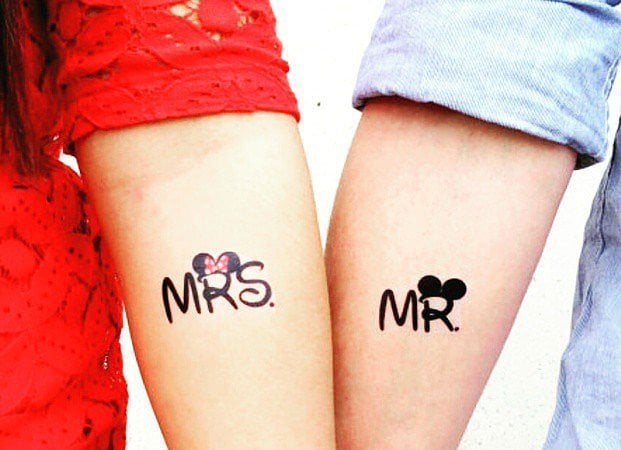 45. Beauty And Beast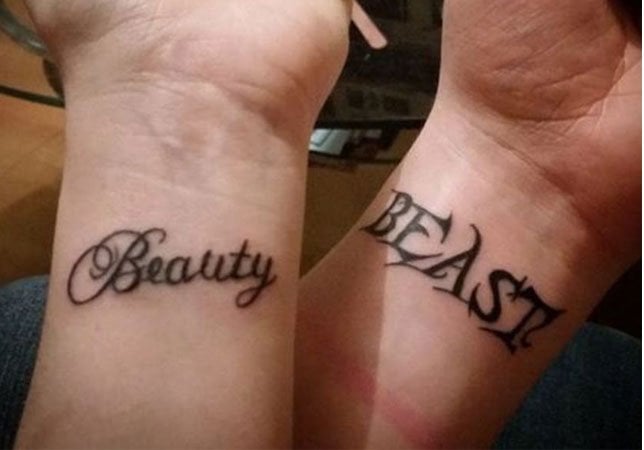 46. Cute Disney Couple Tattoo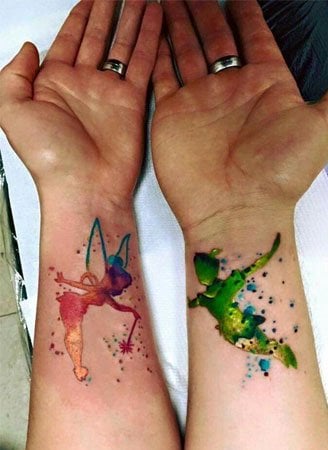 47. Love And Respect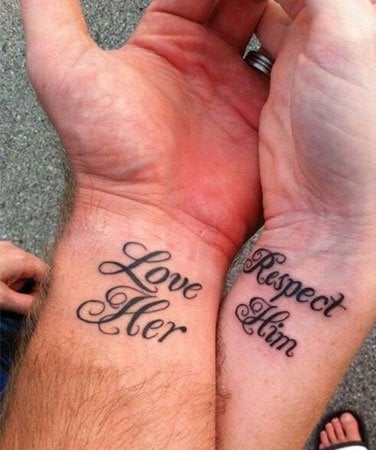 48. Wedding Ring Tattoo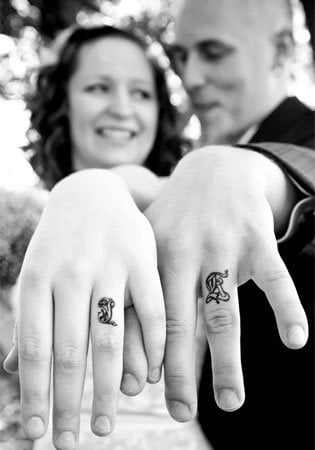 49. Chess Lovers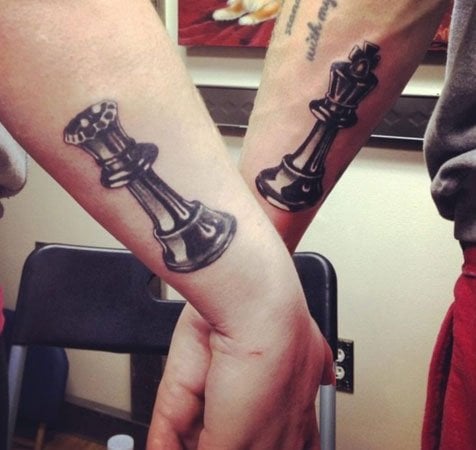 50. Colored Hearts With Initials Tattoo

For those who still are not convinced about getting a permanent tattoo, can try the temporary gold tattoo. These are extremely trending and look good when tried during holidays and other party events. So go on and explore all the possibilities. Hope you enjoyed this post on cute couple tattoos.
[Also Read: Christmas Tattoos]
Images Source: tumblr.com