Tattoo art is one phenomenon which has caught on like wildfire amongst the teens and youngsters. The latest one to attract attention is the collarbone tattoos: now a high fashion trend. The collarbone tattoo designs are a subtle statement of your personality and attitude. And this particular tattoo is unisex – meaning it is apt for both ladies and gents. Would you still like to hide and conceal collarbone tattoos and under collarbone tattoos?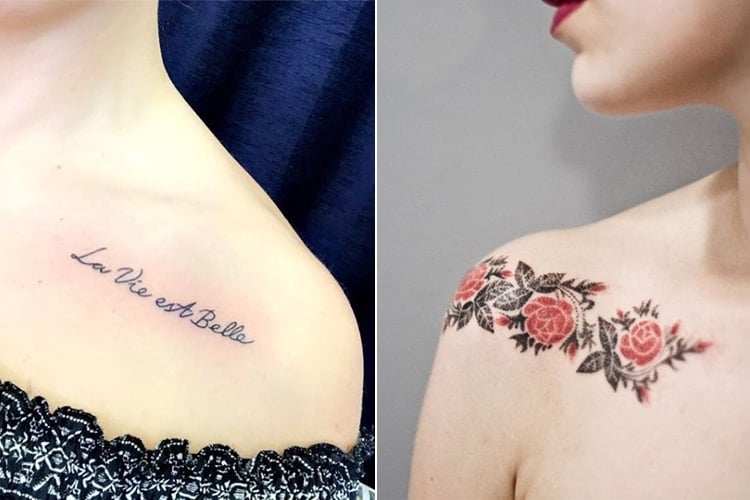 Nah, don't do that as they are a perfect match for girls who love to make BOLD style statements.
The collarbone tattoo for a girl can be worn in various ways – either in the form of small delicate designs tattooed on the collarbone, or large and prominent ones on both sides of the collarbone, up to the neck or down the chest. It all depends on the design of the collarbone tattoo ideas and preference of the tattoo bearer. Hello, the collarbone tattoos can even reach to the back area to create a unique impact. So between delicate and dainty to fierce and powerful, the options in collarbone tattoos are huge and dynamic.
So, when you are wearing cute collarbone tattoos, you need not hide them under your scarf, dupatta or sari pallu. Go ahead and flaunt them silly.
Let's see the range of collarbone tattoo designs you can pick and choose from.
What Are The Popular Collarbone Tattoo Designs?
Immense variety is what you get when it comes to collarbone tattoos for females. As you know, they vary from the tiny ones to the really big ones that go up to the neck, back or the chest. Whichever design you choose, do it with care, keeping in mind the aesthetic beauty and the symbolic value.
Getting the collarbone tattoo designs inked is a painful process. So all you fashion frenzy girls, if you are game for it, then go ahead sport this interesting and exciting trend.
Okay, collarbone tattoo come under the following categories:
1. Floral Collarbone Tattoos:
Flowers make an amazing choice for collarbone tattoo for girls. Guess why? Because flowers have been always looked upon as symbols of beauty, love, and purity. Since they are feminine in nature, the floral collarbone tattoos are loved most by women.
The choice of flowers is huge and tremendous – from rose, lotus, cherry blossom to daffodils, lilies. Each one is symbolic. So you can choose the one which is closer home to the message you want to get across via the collarbone tattoo.
2. Script Collarbone Tattoos:
Script tattoos are a top choice for collarbone tattoos for females. On your collarbone, you can have the name or the initials of the person you love in ink. It can also be your favorite quotation which conveys your attitude loud (but not deafening).
Like for instance, you can go for a Roman numeral, a special date (it could be the day you met him or the day he proposed), any religious text. It can also be a famous quotation. The possibilities and renditions are huge.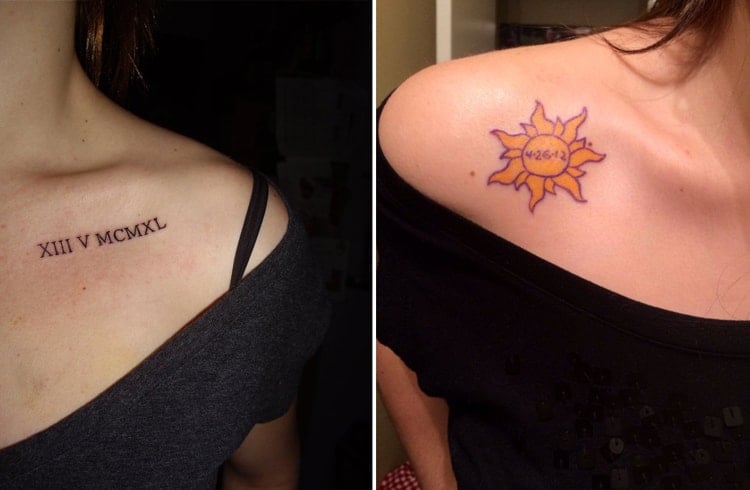 You have heard about a banner, right? But do you know what a Banner tattoo is? It is another form in which the script can be inked on the collarbone. It is larger in size than the traditional ones and can reach up to the chest. Some images can also be included in the Banner Tattoo.
3. Small Symbol Tattoos:
Our collarbone as you know is a sensuous part of our body. Even the tiniest of collarbone tattoo designs can get eyeballs. Why won't women love them? That is why small symbol tattoos are hugely popular and preferred as collarbone tattoos too.
And what are these tiny symbols like?
Well, there are hearts, birds, feathers, musical notes, and stars. Wait a minute, there are 3D tattoos (liked mostly by men) as well to show creativity in collarbone tattoos: now a high fashion trend.
Wrap Around Collarbone Tattoo Designs
These collarbone tattoo designs are meant for those girlies who do not fear the pain which comes in getting larger tattoos.
As goes the name, such collarbone tattoos for females cover larger areas around the collarbone. They give the look of an amazing flow, particularly when elements such as fire, clouds, and dragons are used.
[sc:mediad]
You need an expert tattoo artist to bring out the best in a collarbone tattoo. Some other elements can be created in collarbone tattoos for females. Examples – tribal patterns (sounds interesting), geometric patterns (they look cool), skulls, anchors, bows, arrows, ribbons, butterflies, and feathers. Either these collarbone tattoos can be made in conventional black and grey hues or a wide array of colors can be used to create a more interesting effect.
Collarbone Tattoo Designs You Can Try!
You will love them for sure. Check them out!
Floral Style Collarbone Tattoo
Wings Inspired Collarbone Tattoo Art
Collarbone Red Rose Tattoo Design
Singer Rihanna's Collarbone Tattoo
Diamond Shaped Collarbone Tattoo Trend
Little Rose Flower Tattoo On Right Collarbone
Creative Collarbone Tattoo Ideas
Collarbone Tattoo In Feather And Script Letters
Small Collarbone Tattoo Art
Birds And Feather Collarbone Tattoo Art
Cute Collarbone Star Tattoo
Little Birds In Collarbone Tattoo
Cool Roman Numeral Collarbone Tattoo Idea
Abstract Watercolor Collarbone Tattoo
Flower Collarbone Tattoo For Girls
Birds And Stylish Letters Collarbone Tattoo Idea
Feather Collarbone Tattoo Design
Red And Green Feather And Arrow Collarbone Tattoo Idea
Remember, the decision of getting a collarbone tattoo inked is not an easy one. It involves a lot of pain as this area is bony. You have to be mentally prepared first to get collarbone tattoo designs or under the collarbone tattoos done. But since the result is attractive, it is worth the effort.
All in all, how did you find this piece on collarbone tattoos: now high fashion trend? Do you already have a collarbone tattoo or want to go for it after having read all about it. Write in the comments box and tell us which pattern of collarbone tattoo you like the most.