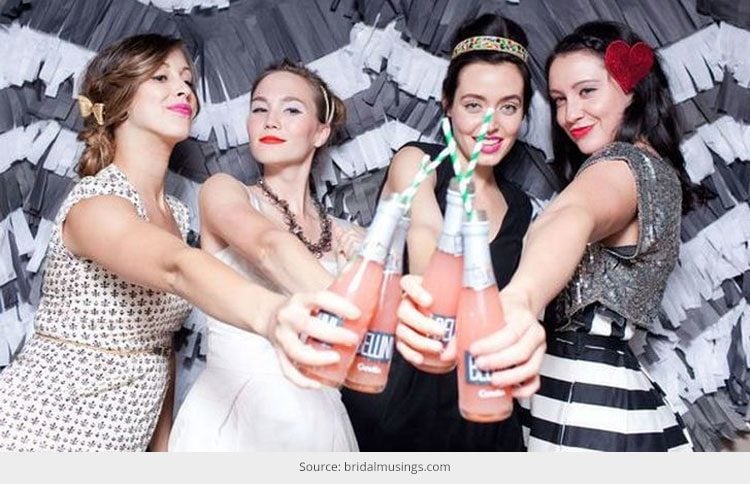 She has been your pillar of support through thick and through thin. She has seen your every milestone and she knows your every stupid mistake. She is your best friend and she is getting married. While you are in the flurry of organizing the best bachelorette party for her, don't forget, you need to give your BFF an amazing gift so that she remembers this all her life. Here are some gift ideas which can help you select a present for one of the most amazing people in your life.
[Also Read: What to Wear to A Best Friend's Wedding?]
1. Build a Book of Memories
This is something she would cherish all her life. It's a book where you all paste your memories and lovely moments with the bride-to-be. Every bridesmaid can decorate the book and pump in her thoughts and ideas. It is unique, personal and will help your BFF remember all the special people in her life always.
2. Dressed to Kill:
The first few days of her married life are going to be a rush. She will have to dress up in traditional wear and make all social visits. If she is a fan of dresses and loves wearing them, this shift to traditionalism will jolt her a little. But don't let her feel out of place. Just get together some of the best and sexiest dresses you can lay your hands on and gift them to her. She can surely wear them when she would want to feel all sexy!
3. Lingerie First!
Don't forget to pack in some sexy lingerie for your BFF. This is a traditional gift that almost all BFFs pack for their bride-to-be.
[Also Read: Fashionable Ways to Tell Your Best Friend How Much She Means to You]
4. Give Her Subscription To her Favourite Magazine
You know she loves Cosmo, no matter how ridiculous some 'sex tips' can be. But the point of a bachelorette is to make her happy! So why not gift her year-long delivery of her favourite magazine? Honey, she will thank you every month when she receives that special package. After all, good things come in small packages!
[sc:mediad]
5. Make A Wedding Profile For her
There are hundreds of sites online where you can register the bride and groom and plan a wedding! So, on sites like Wedpics, you can actually create a profile for the bride and groom and actually ask the guests to put all pictures of the wedding. This will be a comprehensive way to have all the pictures at one place.
6. Register Her For A Gift Selection
If you want your BFF to actually have some really necessary gifts, then you can register her at the local store. This way she would be able to select what she wants without much ado. She can even select what she wants and not get burdened with all the gifts she doesn't necessarily want.
7. A Basketful of Knick Knacks
She might need anything and everything. She is just starting her new life isn't she? So why not gift her something which will help her get a feel of her new life? You can pack a basket full of things she may need-a needle and thread set, some scissors, a set of different spoons, some cupcake holders…You can put in anything that catches your fancy. She is your best friend and she is definitely going to like them no matter what! It would be a pleasant surprise for her!
Whatever it takes, your BFF deserves the best! So make sure you make her bachelorette gift really special!
[Also Read: Hen Party Ideas]