Ladies with henna all over their hands and feet (let us not forget the scalp) is a common sight these days, be it for festivals or wedding functions. How many of us have seen the white henna designs on the arms and hands of modern babes? Not many, right. Time to know and befriend this new-kid-on-the-block on the mehndi front – the white henna.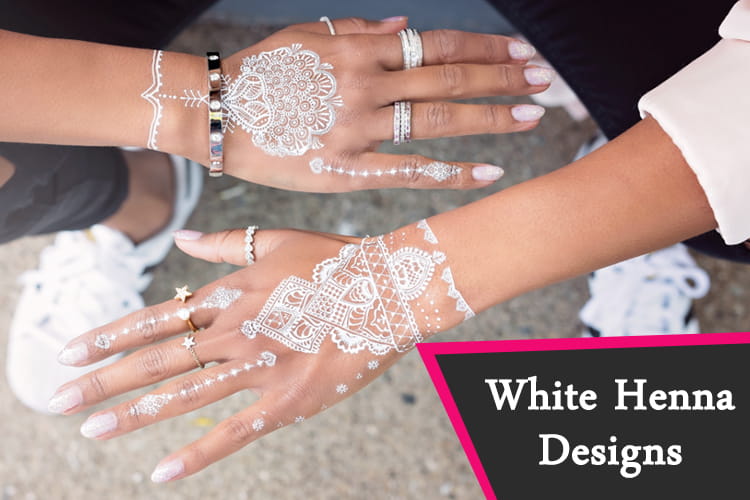 Many of us might associate white henna hands with an experimental take on traditional body art. So it is easy to understand why many boho-inspired looks have hands or any other body part adorned with this decorative design.
White henna is just a temporary body paint. The patterns that are drawn using it are similar to the ones drawn using traditional mehndi cones.
What Is White Henna?
For those of you who are new to it, white henna is becoming a favorite art among the western fashionistas. Most of the brides in western countries are opting for temporary white henna art as fashion pairing with their beautiful white wedding gowns.
Unlike the traditional art of applying henna with a cone (which all of us know), white henna is a cosmetic white paste that may be applied with a paintbrush.
The promising part (now you can breathe a sigh of relief) about white mehndi is that it does not stain your skin like the traditional mehndi which is made from henna leaves.
What Is White Henna Made Of?
To get you closer to the subject, white henna is "white" in color (obviously). Talking about the white henna ingredients, the extra thing is the metallic or glitter accents on it.
How do you get the white color in white henna?
It is thanks to the white body paint, white glitter, and adhesive. You can get the whole white henna look with white or metallic temporary tattoos. Acrylic or craft paint are used to make intricate looking beautiful patterns.
In fact, the body paint (white in this case) is a great way to decorate your hands with white henna. You could even use acrylic or craft paint.
If you ever come across pics of white henna, it is worthwhile knowing that white henna mehndi patterns are just paints that wash off at the end of the day. That is why you will never ever find any white henna stain leaving a stain on your body/hands like the way the actual henna does.
How To Make And Apply White Henna?
Here is how to go about it:
You can get the desired white henna look by mixing two things – mica powder and adhesive face paint.
Once you have got this cosmetic paste ready, start filling it in the cones. First, you need to make white henna cones.
Make sure the cone is thin (it should be unlike the staining henna cone).
Secure the open end of the cone and make a very tiny hole.
Now start decorating your hands and feet!
Follow it up with dusting some cosmetic glitter on the henna designs.
A word of advice –
Use waterproof face paint. This way, the white henna design pattern will last for more than 24 hours!
Top 16 White Henna Designs:
Here is a pattern-check of white henna designs. Drool-worthy they are:
1. Elegant Lace White Henna:
For brides-to-be, the white henna hands are perfect for the engagement ceremony. The netted design gives the hand a lovely lacey-net glove look.
2. Lotus Flower Henna Design:
The white henna design turns out to be more beautiful when there are flower patterns used in it. Take, for instance, this huge lotus blooming out in the middle. Doesn't it look exotic? It also looks perfect for festive occasions.
3. White Henna Pakistani Design:
White henna patterns virtually stand out on dark-skinned hands. This pic showing Pakistani-Arabic henna motifs is a perfect representation of it.
4. Swirling Henna Design:
Double up the beauty of traditional henna by making swirl patterns using the white henna paste. Do you like what you see?
5. Extravaganza In Henna:
Isn't the one below AWESOME? Needs professional help to excel in the making of this beautiful design on your hands.
6. Henna Design With A Write-Up:
A two-worded text adds more punch to your white henna design. See the design sample below. Isn't the message shown the best one to flaunt?
7. White Henna For The Bride:
Wearing traditional mehndi with flowing white gowns is a mismatch. Go for white henna hands if you are a bride and intend to wear a beautiful flowy white gown!
8. Arabic Designs In White Henna:
Arabic Mehndi patterns are famous the world over. Why not give them a new twist in the form of white henna?
9. Rose Design In White Henna:
Sounds cool a combination of red/pink rose and white henna pattern. Am I right? This particular design gives your mehndi a soft floral touch and makes it look gorgeous too!
10. Dream Catcher In Mehndi:
This design is dedicated to boho babes who wear free-spirited accessories and have a fondness for unique motifs.
11. Paisley White Mehendi:
If paisley is the new trend – then why leave white henna behind? They are quite a favorite. Get paisleys drawn on the back of each hand and be prepared to look a stunner hands-down.
12. Traditional White Mehndi Design:
Perfect for ethnic occasions is this henna tattoo, which has a conventional appeal to it. Relax, you can also team it up with boho flared pants!
[sc:mediad]
13. Bejeweled New Arabic White Mehndi:
Here come white henna hands adorned with Arabic mehndi designs that are inspired by real jewelry.
14. Heart Shaped Henna Design:
Express your romance – not with the boring flower or teddy but through this lovely heart-shaped white mehndi design. This will melt his heart in a unique way.
15. Minimalistic White Mehndi Design:
Must-try for the ones heading to the seashore!
16. Unique Mehndi Design:
Discovered on Pinterest; pinned from Instagram. What more do you want? Start getting this lovely white henna hands done right away.
You must have got fascinated by the rocking white henna design patterns shown above. Which one do you plan to get inked? Do tell us in the comments box below.