Indian ladies, I tell you. They can easily switch their look from traditional to modern and vice-versa when it comes to looking good. Sometimes, their style statement is occasion-based, thanks to the Indian festival calendar which keeps us on our toes.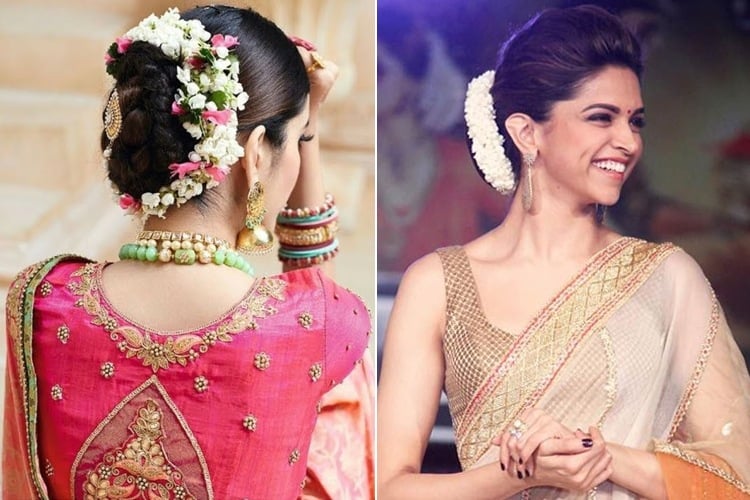 While at other times, it is the corporate dos that influence our dressing and makeup. But gajra hairstyles are timeless in their appeal and truly Indian at heart and spirit.
Ask about the impact of gajras?
Well, they can turn a simple hairstyle into a gorgeous one. It also keeps Indian women attached to their roots. That is why they have been proudly worn on the hair since ages.
List Of Top 16 Gajra Hairstyles:
If you are still stuck on what hairstyle to wear at your bestie's wedding, then these gajra-inspired hairstyles will surely put all your hairdo worries to rest.
1. The White Sun:
It's a time-tested hairstyle – of wearing a gajra in a circle around a hair bun. Looks absolutely stunning and proper. This gajra bun hairstyle will never go out of fashion. You need to give your hair more depth by doing some layering in the front.
2. On The Side:
With this side pin-up hairstyle of Ileana D'Cruz, you get to show off just a bit of that enchanting gajra. Call it a fashion twist! Pin up your hair on one side and decorate it with a small bunch of gajra.
3. Gajra Web:
This is one of the boldest hairstyles with gajra that looks super chic just look at Sonam A. Kapoor. You just need to make a simple bun and create a web of gajra almost wrapping the bun. It will certainly add depth to this traditional hairstyle.
What should be the height of the bun? You decide. There are no rules to follow while wearing your gajra.
4. Tilted Ecstasy:
Wrap your traditional bun with gajras in such a way that they look more prominent and visible on one side than the other. By doing so, you will not have to rotate your head to show off your gajra. Noticed how hairstyles with gajra can look quirky too?
5. Half Moony Affair:
You have heard of a half saree, right? There is yet another "half" twist in fashion – in this half moon hairstyle with gajras. In fact, this hairdo worn by Sonam goes very well with traditional and semi-traditional attires. Accessories like bindi and Anarkali- type earrings make this half-moon bun elegant, to say the least.
6. Deconstructed Gajra Hairstyle:
Fashionable deconstructions sometimes work in our favor. Like for instance, this is one of the quirkiest hairstyles with gajra. Leave your hair open, and place all the flowers in the formation of your choice. You can add or reduce the number of flowers as per your wish.
7. Turns-And-Twists:
For lasses who are more into contemporary hairstyles, this fluidity in gajra bun hairstyle is for you. Make any kind of braid and let the gajra twine around it. This way, the gajra will not overshadow your overall look, but only add more beauty to it.
8. Flower Clip:
Time to say bye to those good old hair clips with beads and stones on them. This gajra hair clip is more awesome and stylish looking. To get this one, just curl up your hair and tie them up using strings of gajras. In fact, this hairdo is best suited for girls who have thick hair.
9. Colorful Gajra:
If you thought gajra is only meant to be in white, think again. Introduce colors of your choice. In fact, add flowers that match your dress color. Better still, set a contrast by introducing different colors of flowers.
[sc:mediad]
10. Simple Half Updo:
Check out this easiest and most adorable way to try new hairstyles with gajra. Where all you need to do is make a simple half updo that suits your dress. Play with your hairstyle – that's all, let it flow and spread its charm.
11. Slick-looking Low Bun:
Middle and deep side hair partings are so trendy these days. To look gorgeous in this hairstyle, do a middle parting, and make sure that your hair is super straight. Make a bun at the nape of your neck and secure it nicely with a gajra. Then make the gajra go all around the bun.
12. Messy-Yet-Delicate:
If you are in love with messy hairstyles, at the same time worried, how you will be able to pull it off for a wedding, worry not. All you need to do is make a nice bun with a pouf, then accessorize it with a gajra. And there you are ready with a gajra hairstyle that gives you a delicate twist.
13. Traditional Cut:
If making a braid for the wedding is on your mind, accessorize it with layers and layers of gajra. Hope you got the cue!
14. One-sided Floral Edge:
Dear Shilpa, how can you look so gorgeous every time and in every costume? In this neat and subtle wedding look of hers, she wears a simple, side-parted low bun. Just take out a few hair strands so that you can get a slightly messy look. And pin up a gajra on one side of the bun. One of the boldest hairstyles with gajra is ready to rock.
15. Gajra In Open Hair:
If you want to show just a bit of gajra (and not the whole of it) then this hairstyle is the one to go for. Make a slightly messy half updo and brush the rest of your hair to one side. Then pin up a string of gajra to the side. This way, people will be able to see the gajra only from one side (which is what you wanted, right?).
16. Tease-n-Twist:
Wanna wear a gajra bun hairstyle but want to look a bit different? This hairdo is the perfect one for you. Make a messy bun by having few strands twisted from the front and wrapped around the bun. Then add support to your bun by adding lots of gajra underneath it.
Got blown away by these gajra hairstyles? There is no doubt a gajra can add an old world charm to your entire look – whether it is placed at the top or free-flowing on the side. Out of all these hairstyling options, which one did you like the most? Feel free to write in the comment box below.