Your sister is the first best friend you ever have in all your life. And a BFF with whom you have shared secrets many a nights. From telling her about your crushes to sharing one another's sorrows, the two of you have been together like soulmates. What better way to celebrate life for the two of you than to have sister tattoos to keep floating the everlasting love and bond?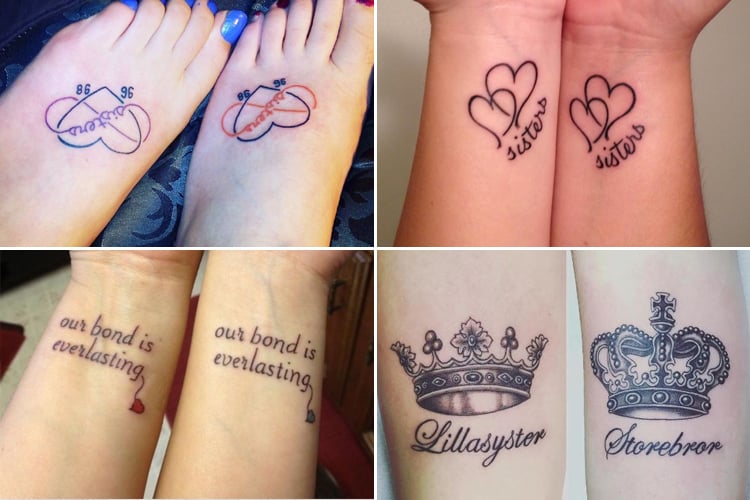 It is the blood that binds the two of you together, and this is one of the strongest bonds with your sister. No matter what the relationship status quo is with your sister, you know deep inside that you love her to bits. She will be your soul friend for life, and this is why, across the world, sisters are getting sister tattoos that are matching, to prove their loyalty and love to one another.
Some of the cutest and sweetest sister tattoos around the world are the best we have seen so far, and we shall share them with you. They spell laughter, good talks and vibes, fun, and more! They have special bonds embedded in the sister tattoo designs, which are very unique and sentimental. We shall show you a couple of very heartfelt, interesting, endearing and funny sister tattoos that you could seek inspiration from.
Matching Sister Tattoos:
These are tattoos that are matching sister tattoos, which speak immensely of the love and bond sisters share.
Who Should Get Them?
Of course, sisters should! However, sister tattoos are not meant for blood relatives alone. There are times when your best friends could double up as sisters. Or maybe there is someone you call a sister who is not blood related but she is more than a sister. So no worries if you do not have a biological sister to get your tattoos done with. Here are a couple of images that you and your sister could have, and inking is fun.
Both Of You Should Be Around
When getting sister tattoos, the two of you need to be around and together at the same time and same place. This ensures that the designs are alike and that the connection through tattoos is made well. Some of the best places to get the tattoos for the two of you would be the sister tattoos on foot, the shin, the ankles, the forearms, the hands and the back of the shoulder too. But then again, it depends on the lifestyle you lead. You and your sister can accordingly decide where to place the tattoos which would sit permanently pretty for life.
The Current Palette Should Be…
The palette for sister tattoos is a wide range for you both to choose from. It could be loud, showy and bright, or elaborate or you could have small sister tattoos as well. Color plays a very important part in curating and wearing these sister tattoos. This is because, the tattoos tell a story as to why the two of you are together and why the two of you decided to have these unique sister tattoos too.
So you could go loud and bold, or small and unique, and it will all depend on the kind of bonding and love the two of you share.
Without much ado, let us now show you a range of cute and very unique sister tattoos ideas.
Get the swinging sister tattoo for the two of you, which represents uniqueness and playful times forever. This is a tattoo idea that can be worn on the hand or the shin of the leg.
1. Quite a heartwarming way to declare your love and gratitude for your sister. This is a tattoo design that says it all, for one another.
2. Matching sister tattoos are fun to have, and they spell uniqueness in their own ways. You could get a pair of lillies as shown in the picture below, one for each of you to share your happiness.
3. If you want to share your relationship to the hilt with your sister, you could express it in words through sister tattoos that would stay for life. Check out this idea which has been done by two sisters on their midriffs
4. Having date of births as sister tattoos is a unique and a fun way to tell the world when were the two of you born. Twins can do this and even non-twin sisters can do it too. This is a wonderful way to remember each others birthday too.
5. One of the best things about having a sister is that she will always be there to support and motivate you. This is a tattoo that proves the same and you too could have this tattoo done to show your gratitude to the one who cares- your sister.
6. Cute cartoon sister tattoos are in trend right now. If you and your sister love all things minimal, and not too loud, these are small sister tattoos that the two of you can wear and flaunt.
7. Since the two of you share almost everything and every aspect of your life, why not have the same matching tattoos too. Here is a beautiful yet very minimal sister tattoo that the two of you can wear.
8. If you do not wish to have tattoos that are too loud and showy, you could wear them small and minimal, and this time we have found one which goes pretty near the ankles or anywhere around the feet.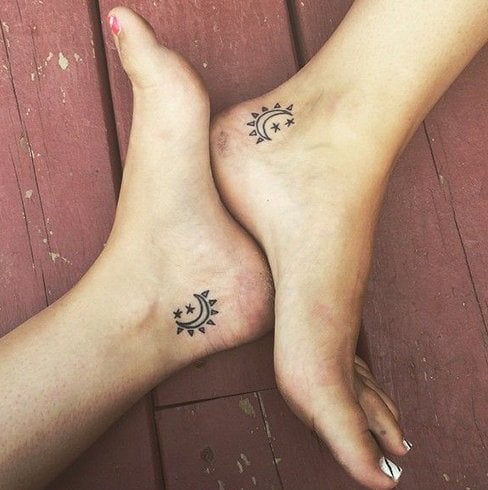 9. Express your love with a sister tattoo inked on the back of the shoulder. When the two of you wear something that is backless and go out together, the world would know that the two of you are sisters bonded with love.
10. If you do not have a biological sister, the sister tattoo can be placed on one of your girly best friends. Cartoon sister tattoos are in vogue and they come in very many shades, hues, designs and styles too. Try this one out!
11. Here is an insanely cool matching tattoo for sisters who are twins. These are identical and they match so perfectly, that it will show the world that the two of you are anchored in each other's hearts.
12. Sister tattoos do not have to be identical and the same, they can be same and reversed. Here is an idea for you to wear with your sister. It is colorful and bold, but reversed on one sister's body.
13. What would be a better way to show more love than to have unique sister tattoos on one another. This would be flaunting each others love for one another and showing the world how much you care for the big sister and little sister alike.
14. Minimal and cute, heart sister tattoos can be worn on the foot or the arms or the back of the shoulder, and this proves that sisters are there for one another and connected through the heart.
We hope you enjoyed this post on sister tattoos! If you are planning to get one of them with your sister or someone you consider one, go right ahead and make that bond an everlasting one. If you already have sister tattoos done, do write in and let us know which one you wore, we want to see them too.