Were you looking for the latest short hairdo for round faces? Well you are in luck. We bring to you short hairstyles for round faces. While we are big believers of empowering oneself with any hairdo, we also suggest you to seek professional advice, alongside. They can guide in selecting a hairstyle that will highlight your best features.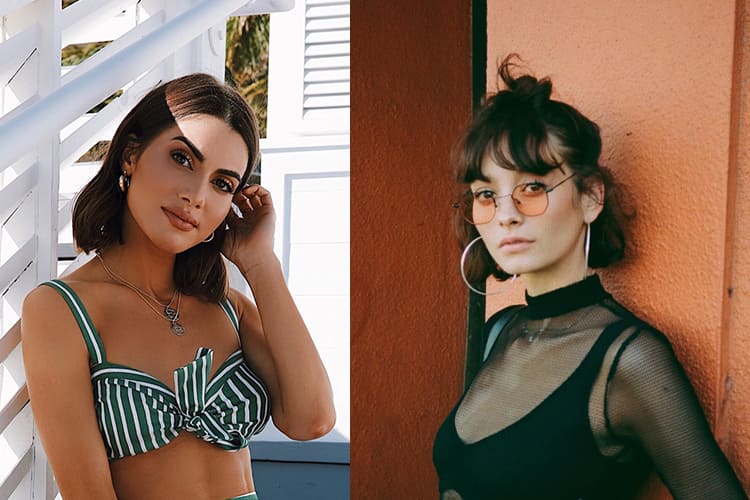 Because the ultimate goal is to fall in love with your hair, right? We think like that at least. Keep scrolling and dive in to see all the fabulous short hairdos of 2021.
Tips On Hairstyles For Round Faces:
Here are few tips on short hairstyles for those with round faces:
Avoid getting a bob cut in one length. Hair experts recommend opting for layers instead to give definition and structure to your face.
Always go for a hairdo that will elongate your face. The style can be made possible by creating soft layers below the jaw line
Keep reading ahead for the latest hairdos for round faces this year has to offer and request them at your next salon trip.
How To Know If You Have Round Face?
Round faces are distinguished by a soft jaw line and identical measurements. For instance, the middle cheekbones are the widest part of your face and your jaw line is long and wide. See our round up of trendy short hairstyles for round face below and choose which hairdo you think will suit you best.
New Chic Short Hairdos Suitable Round Faces:
Looking to switch your hairdo this season? Here are ten flawless short hairstyles for round shape face.
1. Chin Length Bob:
The chin length bob is an ideal haircut that is suitable for round faces. You can create the look by air-drying your hair followed by applying air dry cream. Then take a flat iron to swirl your hair in an S shape. It literally can take just 15 minutes.
A similar cut is portrayed by PLL actress Lucy Hale. The starlet creates her signature bob at home by rinsing her body with a body-building shampoo. After towel drying her hair, she applies mousse or thickening spray. Once her hair is air-dried, she decides on leaving it natural or adding curls. If she wants to add waves, then she uses a flat iron for adding a little bend, followed by using curling iron. Then finish the look with either pomade or serum.
2. Structured Bob:
This is another of our favorite. This is an ideal match to pull off with round faces. In a sense, the hairdo is kind of a bob, but shorter than the traditional cut. This chic hairdo is perfect for summer and fall, too. It can easily highlight the jaw line and make it look elongated. Those with thin hair can also give this look a shot to add volume.
Model Hanna Kleit is donning a similar look and it greatly lifts her features. This cut is perfect if you are having a slightly overgrown bob. All you need is to flat iron your hair, create a side parting and tuck hair behind your ears.
3. Textured Crop And Choppy Fringe:
Having a textured crop doesn't mean having flat hair. You can easily add energy and movement using hair product.
Have a look at singer Vanessa Hudgen's long and short strands. Her choppy fringe will always have a special place in our heart.
4. French Girl Hair:
The French girl hairdo with layers is far from novel. It is an unforeseen mix of loose beach waves and bouncy curls. The trick to create the look is to cut the fringe right above the eyebrows but get little longer at the temples. This hairdo is great for those who want a daring, statement look.
The picture below is of Texas born, L.A bred Columbian and French model Taylor LaShae. On lazy days, she just adds a little amount of Bio oil and run it through her fingers. Inspiration much, isn't it?
5. Angular Bob:
This year, the hairdo of choice for round faces everywhere is, undoubtedly, the elegant, textured bob. In recent months, several celebs have hopped on the angular cut bandwagon. And actress Mila Kunis is one of them.
To create Kunis's bob, you can go for a shorter cut in the back met with choppy ends in the front. Thos bob style appears to be a blunt cut and gives the perfect picture for ultra-sleek waves.
6. Blunt, Chin-Length Bob:
This short hairdo looks strong, beautiful, and timeless. The lovely blunt, chin-length bob is pretty low-maintenance. It can allow the jaw line to appear elongated.
Actress Jenna Dewan chin-length bob style really brings out her caramel highlights. If you are looking for a fresh summer look, then go for this one.
7. Above Shoulders Bob:
The bob cut that sits right above the chin is the most flattering for a round face. So try the cut that's just above the shoulders but below the chin to add length to your face.
8. Soft Blunt Waves:
Soft blunt waves do not overwhelm a round face unlike thick wispy hair. Creating this cut will add texture without adding volume. The soft beach waves are suitable for any hair length.
[sc:mediad]
Adding volume to short hair like the one below will greatly flatter a round face.
9. Side-parted Jaw Line Bob:
Have your bob cut right at the jaw line in order to elongate your face? A side-parted bob that cuts the bone structure can bring dimension to jaw line and give the illusion of elongated face.
10. Pixie Inspired Style:
Expose your face structure with a blunt, pixie cut as the one shown below. Women with round faces who are seeking out for a hairdo that minimizes the plump aspects of their face can go for this ultra-modern look.
FAQ's:
Q. 1. Do round faces look good with short hair?
A. Most women tend to write off short hairdos thinking it won't accentuate their round face. But in fact, it is just the opposite. You can work a short hairdo with a little celeb inspiration and expert advice. If you like a bob cut, opt for few inches longer than normal bob cut to balance the round shape of your face. Instead of opting for layers, go for square layers. The celeb inspiration you can go for are Selena Gomez, Emma Stone, and Miranda Kerr.
Q. 2. Does straight hair suit round faces?
A. Long, straight, and sleek hairdos work well for round faces and add volume to hair to elongate the structure of your face.
Q. 3. Does pixie cut look good on round faces?
A. Pixie cut is the one of the most popular hairdo for round faces. Opt for pixies with side swept bangs to cover the fullness of your face.
Q. 4. Where should I part my hair for a round face?
A. If you have a round face, choose middle or a deep side parting. Doing so can give the illusion of longer face and create symmetry.
Q. 5. What is the most attractive face shape for a woman?
A. All the face shapes are unique and beautiful in their own way. But one face shape that is universally appealing is the oval face shape.
Q. 6. What haircut is best for round faces?
A. The haircuts that are suitable for round faces are side swept bangs, middle parted soft waves, layered lob, textured pixie cut, full waves, beach waves, long and sleek hair.
Celeb hair expert Chad Wood right puts it about round face shapes. She says- "Layering around the face is going to slim and break up a round face shape. This will draw the eye horizontal and bring the focus to the eyes, cheeks, and lips."
Hope all these tips give you better insight about short hairstyles for round faces. Write in to us if you have any queries or feedback in the comment section below.