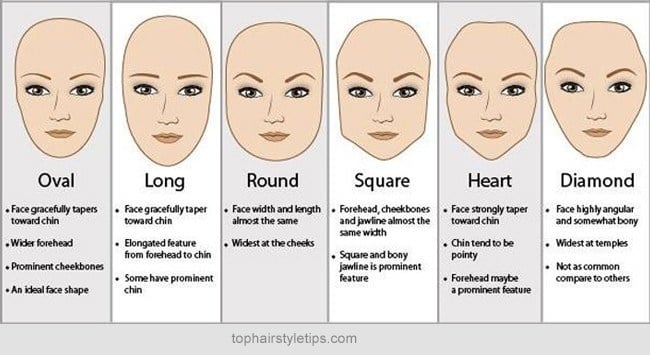 Love that pixie cut on your favourite celebrity or the romantic curls on your best friend – Can't wait to get that hairstyle, right? Wait before you head to the salon! They may look great with their new hairdos, but that doesn't guarantee good looks for you. You certainly don't share the celebrity's or your friend's face, do you? So, before getting all excited about a trendy hairstyle, spare a thought on what looks good on you.
Your hair texture, length and thickness are not the only factors that need consideration when you choose a hairstyle. A good haircut should complement your face shape and enhance your best features. One way to ensure this is by choosing a hairstyle that is opposite in characteristics to your face shape. For example; if you have a round face, add some length and balance your features with irregular fringes and layers.
[Also Read: Pixie Haircuts]
Before I tell you more about haircuts that suit different facial features, it's important to understand what your face shape is. Let's find out:
Know your Face
Getting to know the shape of your face and distinct facial features can help you make the right decisions regarding haircuts and styles. So, what's the shape of your face – Round, square, oval or heart-shaped? It could be long, diamond or triangular shaped too. Don't know yet? You can easily find out yourself:
First, comb your hair away from your face completely and tie it up at the back. Now, use either of the following methods to determine your face shape –
Take a selfie: Hold the camera level with your face and not at an angle. You could have someone else click a picture straight-on. Make sure that you don't smile for the picture, as we need an image of your face in its most natural position.
Trace the shape: You could also stand in front of the mirror and use an old lipstick or marker to trace the shape of your face on the mirror – leave out the ears and trace around the chin and under the hairline.
Now, take a look at the photo you took or the outline you traced. What shape does it resemble the most? It's okay if you couldn't identify the shape at first look. Everyone's got different features and we are here to help. Look closer and take a pick from these –
Round Face: If your face is as wide as it is long, you probably have a round face. Round faces have smooth curved lines and a round chin. You will also notice wide cheekbones and forehead.
Square Face: Broad forehead, wide cheekbones and a wide angular jaw are distinctive characteristics of a squared-off face.
Oval Face: Pretty much similar to the round face, except for a longer chin.  If your face is longer than it is wide, it quite possibly have an oval face. The chin and forehead could be of the same width, but the cheekbones would be wider.
Heart-Shaped Face: Look for a pointy chin and wide forehead with a widow's peak hairline. The cheekbones could be of the same width as the forehead or wider.
Triangular Face:  Broad angular jaw with small narrow forehead.
Diamond Shape: Broad cheekbones with narrow chin and forehead.
Long Face: Equal proportions form forehead to chin – the cheekbones share the same narrow width with the forehead and chin.
Did you identify your face shape? Good! Now, let me tell you all about the hairstyles that best suit each facial feature.
Know your Haircut
When you choose a haircut, your aim should be to soften the flaws in your facial features and enhance your strong points. It's not just the length of the hair that needs consideration when we take this decision, bands, layers and curls can make or break your look.
Angles for a round face
If your face is in a perfect round shape, it needs some irregular angles to balance out the look. Stay away from bulky or blunt one-length cuts – you need uneven layers to frame your smooth curvy face. If you have medium length hair, try a long bob. Long wavy layers also add contrast and lengthen your perfectly round face. Asymmetrical cuts like an angled bob is also a perfect choice. A pixie cut could highlight your cheeks and eyes. Long side swept bangs can make your face look slimmer.
Bangs for an oval face
If you've been blessed with an oval face, you would be happy to know that there is a wide variety of hairstyles to choose from – layers, curls, bangs or waves. Try and maintain medium length hair, as it can help balance the length of your shape. Sleek straight bangs look great in contrast with a defined pointy chin and can bring out your eyes. Your jaw-line is your strength and it can be enhanced with a shoulder-length bob. Avoid the pixie cut, if you want to keep your hair short. Instead, try an angular bob to compliment your chin. But you can never go wrong with long soft waves framing an oval face.
[sc:mediad]
Curls for a square face
Square faces are defined by a strong angular jaw and we need to take attention away from these edgy lines. Long sleek layers and curls can soften your features. Stay away from one-length bobs and blunt bangs. Long straight hair can bring contrast to your blocky features. While messy chin bob can frame your face well and highlight your eyes and mouth, avoid really short hairstyles.
Length for a heart-shaped face
Medium –long length hair brings balance to heart-shaped faces by filling in around the tapered chin area. You can take the attention away from the pointy chin with side-swept bangs, especially with short cuts like the pixie. It can make your eyes look larger, while highlighting the defined jaw line. Avoid edgy layers near the chin area; instead go for layers that end at the cheeks to frame your face.
Short for a triangular face
Keep it short with a lot volume to fill the narrow forehead area. If you want to keep it long, make sure it hits just above the collar bone or lower.
Balance for a diamond face
Create width on the forehead with bangs and balance with layers starting at the chin
Width for a long face
Side-swept bangs, chin-skimming bobs, curls and waves add width to a long face. Avoid long hair as it pulls down the face shape further. Short haircuts are your best friend, especially ones that draw attention to the cheekbones. Always keep it above the collar bone.
So, now you know what to look for in a hairstyle that would complement your face, identify celebrities who share your face shape and keep track of their hairstyles. This way you can easily keep your haircut trendy. Also, seek your hairstylist's advice, especially when you want a haircut that doesn't agree with your face. A little tweak here and there by your hair dresser can usually fix the problem.
Below is a simple way to help you finding the right and flattering hairstyles that suits your face shape. Also see what cuts to avoid based on the shape of the face.