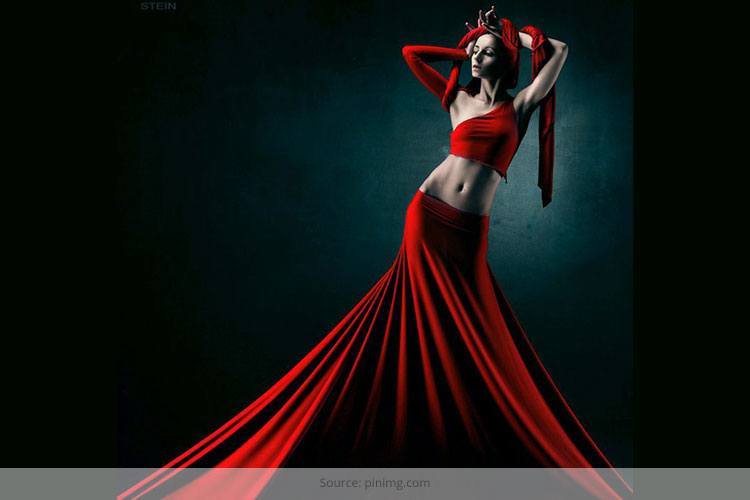 Just about any given woman and on any given day would impromptu sport a dash of red on her. Come any season, clime or more, the variables and plenty of them that too, be it sun, rain or shine, the quaint red would be on her. From work to dates, power meetings to stay-at-home drills, a little touch or a splash of red has always been the norm.
For the beach
A pair of red slingbacks for the feet, with horizontal red stripes for the top and a sexy slit short skirt for the bottom, you are ready to shine with total sexiness at the beach this summer!
[Also Read: 5 Ways To Dress While On A Beach Holiday]
Poison Ivy at a theme party
Red latex cat suit, with red glossy lips and a red headband with horns in the same shade, makes the poisonous diva shine forth like no other woman in the room can!
Get noticed at the bar
The one colour that stands out bright in the dead of the dark night would be red. And it doesn't come as a surprise as to why most PYTs now think of red and the colour to wear and flaunt their curves with, when dancing at a bar, a nightclub or at a wedding!
[Also Read: Different Shade of Red Lipstick]
Heating up the pools in red
A sexy two piece embellished with rhinestones, the red bikini should be a prized possession to own. This summer at the pool parties you have been invited to, wrap the red two piece in a sarong or flaunt the look in style, the men would be on their knees for a dance this time!
A sexy slit on the humble maxi dress
The humble body-hugging maxi dress with a sexy slit and one shoulder off can make magic happen, especially when the ensemble is an all-red gown. Think big at the event, make a splash holding a chunky clutch bag and a quirky neckpiece for minimal touches.
Sexy red lace lingerie
Tired of the two piece and run-of-the-mill lingerie being shown these days? Think of the one piece lace tunic ensemble, in all red. Hubby dearest would be your slave, when you wear the innocent garment with grace!
[sc:mediad]
[Also Read: The Little Red Dress]
Quirky red watches
Create a statement when telling the time, a quirky red watch would gel in well with formal and casual wear. Wear it for boardroom meets to pep things up or at a girls night out or on a date too, and tell the time in style!
Straight up sexiness on a girls night out
Fancy being an individual with a touch of glitz and glamour on an all-girls-night out party? You then should think of an all-red ensemble to play sporty with! While other damsels in the group doll up in colours that run amok with patterns and prints, the all-red look would keep you shining as a diamond in the crown!
Power Friday dressing
Dare to wear an all-red suit for Friday? A summer coat in red with crochet touches and a simple plain red leather midi-skirt for the bottoms, silver neckpiece and dark glasses as accessories along with a chunky clutch vintage bag, why not?
Gorgeous red trench coats
Pair red trench coats with opaque leggings and wear heels for a date, to meet someone at work or maybe for a movie with friends, and the world would be struck with your awesome sense of fashion.
The evolution of red
Quite pristine, gothic, royal and sensual in its own rights, red as a colour has come of age, with women going on the all-red look. Men swoon over the 'Lady in Red' at parties and events, while famous bands and poets, artists and musicians haven't stopped singing or writing praises based on the red damsels. Childhood memories told us of a powerful and intelligent RED RIDING HOOD too. The penultimate secret to hotness, innocence and glamour personified, we dare you to go all red!