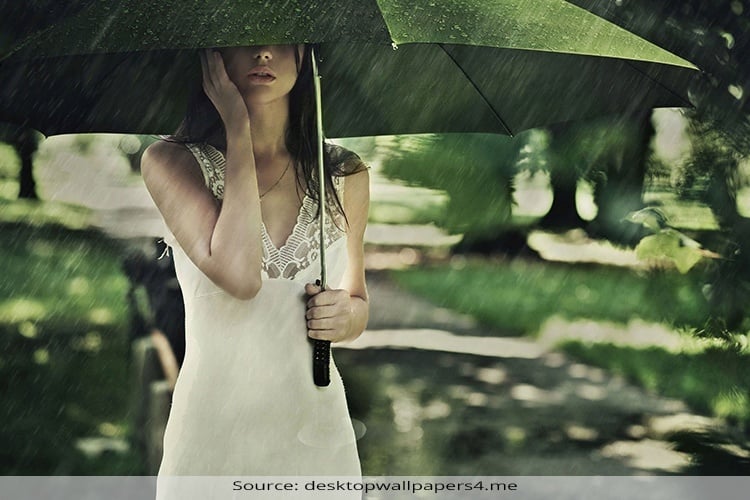 We all love rains and a bit of the mish-mash and wet mud, if not much. It's nice to see the rain drops pelting down with a cup of coffee in hand. But when it comes to walking in a rainy day in pools of water all around, our moods might surely go dampened leaving us sulking.
Most of us know the kind of clothes to wear in rainy reason but how many of us are aware of the clothes to avoid in rainy weather.
For some such as Rihanna, it's a style statement getting out in the gloomy rains. Check out her walking style in the city of New York while carrying a giant black umbrella and wearing a basketball jersey dress.
However, what about the woes of the common man in the heavy rain downpours? No need to worry as we share with you some good tips on the clothing rules you need to follow in rains.
Rainy Season Tips for Clothes
Say no to thick clothes: Avoid wearing clothes made of thick material such as jeans or anything similar during rainy weather. They will make you feel tight and uncomfortable. Opt for light fabrics as they dry up soon and make you feel comfortable and airy. Also, the more time they take in drying up, the more awkward and itchy you will feel.
Avoid long. Go for short: Instead of wearing starched cotton saris, long suits and anarkalis, wear short kurtis or short salwar-kameez. The teenage girls can wear the easy going and fun-spirited shorts, capris or knee-length skirts. This way, you will be able to manage your clothes well without fearing rain to soil down your clothes.
[Also Read: Are You Ready For The Monsoons]
Silk no! For ladies tuned into wearing Indian clothes only, avoid wearing silk. Rain water shall only spoil the silk fabric. Chances are it might leave behind muddy stains on the silk. If that happens, you will have to give the silk garment to drycleaning instead of doing hand wash at home.
Stay away from wearing dark: Keep away from wearing white or yellow garments as they will get mud spoilt when you step out in the rains. Choose dark colours like red, green or blue. If you still want to wear a transparent white as a fashion statement despite the rains, then at least wear a cotton slip underneath your clothes.
Keep leather and suede aside: Rainy weather can damage expensive materials such as suede or leather. Pick materials that will dry up quickly and will not be ruined when they get wet.
[sc:mediad]
Things you can wear in Rains
Put on a high-waist skirt and crop top, and balance out the charm by wearing practical boots.
Wrap around yourself a sleeveless blazer for the rainy season. It will shield your blouses from the rainy water and yet keep you happy and smiling.
Looking around for a stylish rain-resistant coat that doesn't look huge and cumbersome? The choice of fabric plays a pivotal role in repelling water. A good quality trench coat is important. It is not only an eternal classic, but made of heavy-duty cotton, it helps keep the layers underneath dry in moderate rain.
[Also Read: Stylish Waterproof Footwear]
Rainy days don't have to be plain and dreary. Just go about adding some light to the dark sullen days ahead by wearing bold and bright fashion. It will liven up your mood and make you full of enthusiasm.