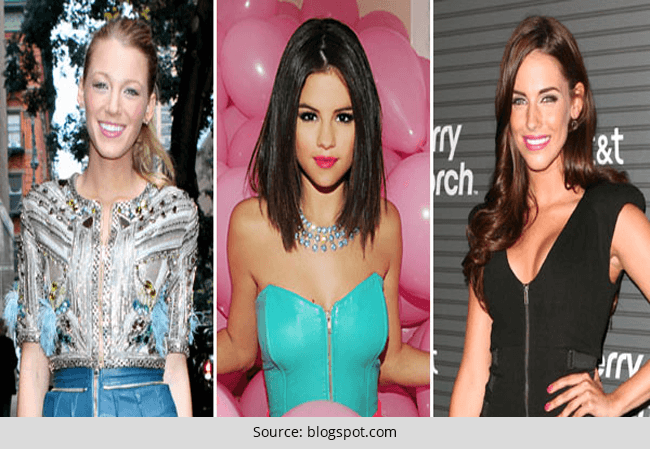 We all know that both Hollywood and Bollywood celebrities are notorious for wearing clothes that look like they have been stitched on them, with no buttons or zippers for fastening. Many a times have we wondered how they manage to get into their clothing without the help of zippers, unlike us mere mortals? Well, the zipper trend is now pushing them in the opposite direction. Celebrities are flaunting zippers, running across unlikely places in their outfits. The end look is a swanky, sometimes a bit of a punk look, that is all the rage right now.
The zipper has gone from being a useful attachment to the clothing to being flaunted as a fashion detail. The metal look of the zipper when combined with a feminine dress creates an interesting rocker chic/style diva combination that is just too good to resist. No wonder all the celebrities are embracing the exposed zipper trend with zest!
Check out Eva Longoria's zipper detailing that adds a little edge to her dress. Don't you just love it?
Charlize Thoern looks casual yet stylish in this pair of cropped jeans with exposed zippers.
Check out these high-waist jeggings from the misschase website with zipper detailing. You can pair it with a crop top for the ultimate exposed zipper look.
Our very own Priyanka Chopra flaunted the exposed zipper trend at two separate occasions.
You can buy plenty of these dresses, jackets, tops, skirts, dresses and trousers from at various online stores.
Is the Exposed Zipper Trend For You?
If you enjoy experimenting with your wardrobe and are keen on keeping with the ever-changing trends, then yes, the exposed zipper is just up your alley. You can even have zippers added on to your otherwise demure outfit to instantly add a little bling and spike to your look. After all, the whole point is to play up the zipper.
Get untraditional and add zippers in unlikely places. The more unusual your zipper placement, the more interesting your outfit. For instance, check out the below zipper detailing.
Play up the zipper with some bold metallic accessories. There is no hard and fast rule with this new trend, so let loose and go crazy. If you think it looks good on you, then go for it without any second thoughts. You can even add zipper detailing to your shoes and bags to incorporate the trend.
Zip it Up—or Not!
And you don't HAVE TO zip up the zipper you know. Check out Kim Kardashian working an open zipper with elegance. It makes her otherwise demure white dress look super sexy and calls attention to her curvy figure.
Jennifer Lawrence also went for the open zipper look. She looked fashion savvy in an open-back LBD that showed off her shapely figure.
Go Big or Go Home
The zipper needs to stand out. So opt for metal zippers in gold, copper, bronze, or silver tones. Steer clear of plastic zippers. The point is to make a statement, so make it right with metallic zippers. Remember the zipper trend is not about utilitarianism. You don't have to make the zipper functional. Just make it look good with strategic placing.
Also, it is a good idea to showcase your zipper with a solid colour instead of patterned or textured clothing. That way, the zipper becomes the hero of the outfit and grabs all the attention. If you put a zipper on a patterned cloth, it may not be very visible and may fail to make any kind of impact.
Just make sure your zipper is not positioned awkwardly, making it jut out and look out of place. There is really no end to how you incorporate the exposed zipper trend to your wardrobe.
Check out this scarf with interesting zipper detailing.
The zipper has been around for centuries as a very useful tool. It has even managed to make a fashion statement now and then, but it has never been as big of a deal as it is now. It is no longer just zip up and down; now it is zip up, down, criss-cross, all-around-the-waist, and anything else you can think about. It is all about how innovative you can get. So go ahead and transform the humble zipper into a fashion must-have.
Note: If you are planning to stitch in the zippers yourself, just make sure to use good quality zippers that will last long. You don't want your zipper to break or get stuck. Also, when buying any zipper-embellished clothing, try to ascertain how they look in natural light. The metallic tones may look nice under bright lights but may look cheap when seen under natural sunlight. So ensure you buy clothing with classy zippers and not cheap rip-offs.